UNL homecoming celebrates the 150 year anniversary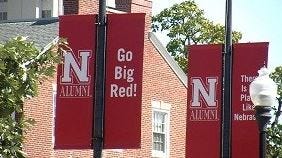 UNL has big plans ahead for next week, and they're adding plenty to involve the community in this year's homecoming.
Homecoming weekend will start this Sunday and will continue through Saturday.
"We just want everyone to come down and enjoy the festivities!" UNL Parade Coordinator, Erika Swenson said.
UNL event coordinators say they like to look at homecoming as part of that crescendo to the 150 years since the university first opened.
"Part of the celebrating that's going on all year is the homecoming festivities, and we want to make this year's homecoming bigger and better than ever," Associate to the Chancellor for External Engagement, Diane Mendenhall said.
They want to make homecoming next week full of fun.
On Friday, there will a music festival, featuring special guest and Lincoln local Hannah Houston, a finalist from "The Voice."
"Part of what's really special this year is we're creating a Cornstock festival, and this will transpire on the east side of memorial stadium on the plaza area. There will be free parking for everyone to come down to the university," Mendenhall said.
The homecoming parade will be next Friday the 4th of October.
"The parade this year is going to be much longer and bigger than it has been in the past. We're also creating a new route for it, so we're starting at the intersection of 16th and vine and walking down towards the stadium and ending it on the east stadium plaza loop," Swenson said.
There will be new floats this year.
"Also doing a new thing this year where student organizations and Greek chapters can have a golf cart in the parade that they decorate up," Swenson said.
And marching in the parade will be UNL alumni.
"We're bringing back members of the 1969 football team, so it'll be their 50th year anniversary as well," Swenson said.
"It's an opportunity for us to reflect back and all the amazing alumni and individuals from the state of nebraska that have brought the university to this point and what we want to do now is just create enthusiasm and just to propel us forward into the next 150 years," Mendenhall said.
You can check out the full details here.