Weather Update: Saturday, May 8
Strong to severe storms are possible in the early evening hours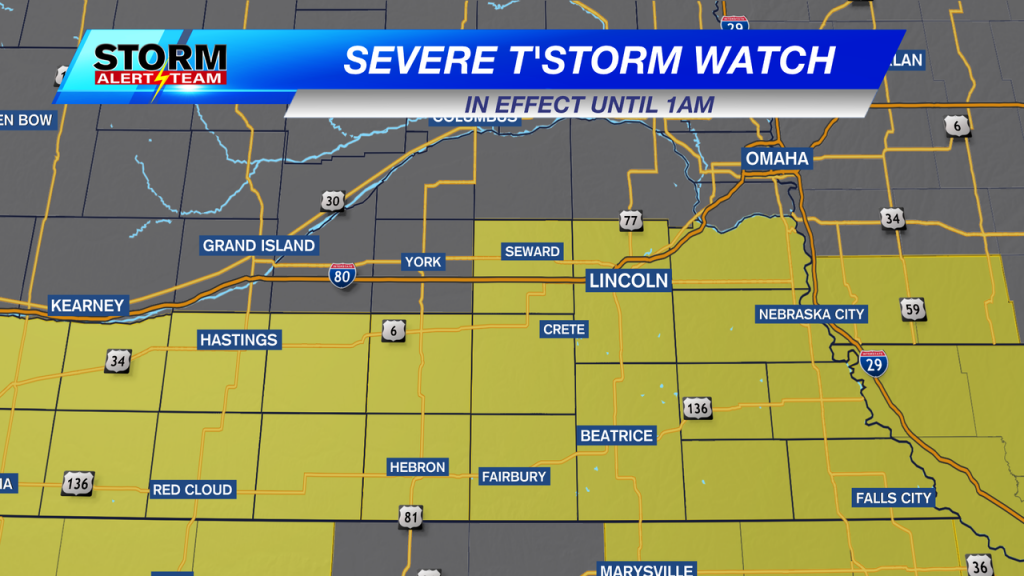 UPDATED 7:00PM
The SEVERE THUNDERSTORM WATCH has been extended to 1AM for the following counties: Lancaster, Cass, Gage, Jefferson, Johnson, Nemaha, Otoe, Pawnee, Richardson, Saline and Seward.
A SEVERE THUNDERSTORM WATCH has been issued for south central Nebraska until 9PM this evening as a warm front pushes its way through our state. Affected counties include Adams, Clay, Franklin, Harlan, Kearney, Nuckolls, Phelps and Webster. These storms have the potential of producing egg-sized hail, 70MPH wind gusts and an isolated tornado. Thunderstorms will clear our state around midnight, giving way to rain showers overnight. Temperatures will drop to the low 40s and gusty winds from the north will continue at 15-20MPH.
Showers will linger throughout the morning, giving us a soggy start to Mother's Day. However, the rain will cease by noon, leaving us with a breezy, cool afternoon as temperatures rise only to the mid 50s. A breeze out of the north at 10-15mph will keep it feeling slightly chilly.
We stay dry and cool for the first half of the week before the rain returns Thursday afternoon.
Sam Wilson
@SamWilsonKLKN
swilson@klkntv.com