'It could have been fatal': Lincoln mother saves 2 girls from hot car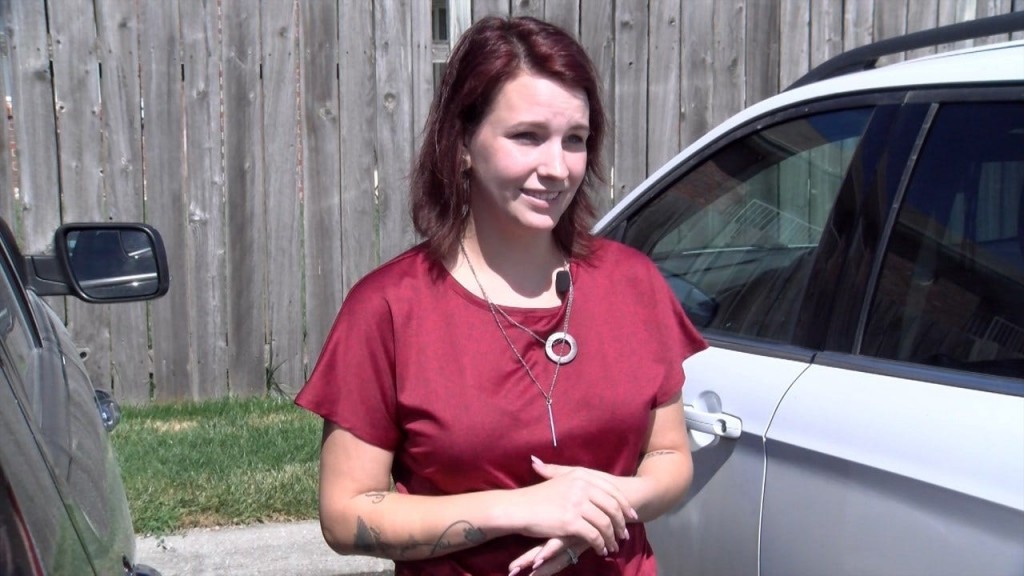 On Sunday afternoon, a Lincoln woman sprang into action after noticing two children were sweating inside of a car.
Her curiosity and quick thinking may have prevented something terrible from happening.

Molly Jackson wants to use this story as a way to educate others on the danger of keeping a child locked in a hot car.

Jackson was taking her kids to go back to school shopping at Kohl's in southeast Lincoln Sunday afternoon.
She says motherly instinct led her to take a glance at the car parked next to hers.

"I peaked through the back window to see how old the baby was and it was a newborn baby, and I decided at that point, I needed to call the authorities because that was not okay," said Jackson.
After calling police, Jackson knocked on the window and asked the 11-year-old girl to unlock the door.
"When I opened the car door I got hit the face with a lot of hot air and that 11-year-old girl, she was dripping with sweat, it was getting into her eyes, she could barely look at me," said Jackson.
Jackson ushered the 11-year-old into her car where there was air conditioning, while another woman went to a nearby store to get the kids some water.
Jackson says the 1–month old baby was dressed in very warm clothing and was struggling to breath.
"I found the baby, who was dressed like it was 20 below outside, she had a blanket over the car seat. I took her out of the car seat, she was shallow breathing, I got her clothes off right away, got her right in the air conditioning, and then within 5 minutes, she started grunting, and moving around… It was heartbreaking," said Jackson.
Jackson says it was a no-brain-er for her to act and potentially save a life.
She has a "Mama Bear" sticker proudly displayed on the back of her car, a gift from her own mother.
"I have two kids of my own, so all I could think about is what if that was my baby? You've seen in Columbus where that newborn died horrifically and I didn't want that to happen," said Jackson.
Jackson wants this story to serve as a reminder to others to act if they encounter a situation like this.
The temperature outside was in the upper 80s.
By using goodcalculators.com/inside-car-temperature-calculator, it is estimated that by sitting inside a locked car at 86 degrees for just twenty minutes, the temperature can skyrocket to around 115 degrees, which is especially dangerous for infants.
To date, 31 children have died from heatstroke this year, including a tragic incident in Columbus, Nebraska last week.
Jackson is happy this story avoided another tragic ending.
"It could have been fatal if we didn't get them out of the car, the paramedics did tell me that I was lucky to get them out when I did," said Jackson.
The mother of the two children, who was from Crete, Nebraska, was cited by Lincoln police for child neglect.
________________________________
Previous reporting:
A woman was cited for leaving two young children in the backseat of a car while she went shopping, authorities said.
Lincoln Fire & Rescue responded to the Kohl's near 27th and Yankee Hill Road Sunday afternoon, after a woman reported a 1-moth-old baby and 11-year-old girl were in the backseat of the car that wasn't running. The woman described the children as wearing heavy clothing and sweating, police said.
The woman knocked on the door, had the girl unlock the car and then called 911, police said.
The 29-year-old mother told authorities she was in the store for approximately 15-20 minutes, police said. The temperature at the time was 86 degrees, according to officials.
Paramedics determined the children didn't need to be hospitalized.
The mother, who was not identified by authorities, was cited and released for child neglect. She was also educated on why leaving her children unattended in a car is not safe, police said.