A pipeline leak in Egypt catches fire, leaving 12 injured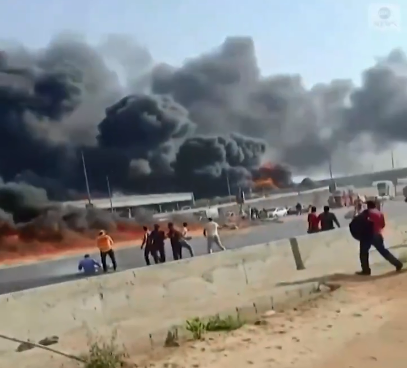 CAIRO, Egypt – A ruptured crude oil pipeline set off a monstrous blaze on a desert highway in Egypt on Tuesday.
Authorities say at least 12 people were injured after a ruptured crude oil pipeline ignited a massive fire on a desert highway in Egypt. https://t.co/wI0FVjVHaB pic.twitter.com/6caJPKuNnn

— ABC News (@ABC) July 14, 2020
According to officials, firefighters tried to contain the flames, which burned several cars and injured 12 people.
Egypt's Health Ministry said it would investigate to determine the exact reasons for the rupture.
However, this is not the first time disaster struck Egypt's pipelines. Last fall, people attempted to siphon off gasoline in the Nile Delta province of Beheira when leaked fuel caught fire, killing seven.