Bash at the Beach draws in sand volleyball players
Nebraska Beach Volleyball and Spikes Beach Bar and Grill host sand volleyball tournament on Sunday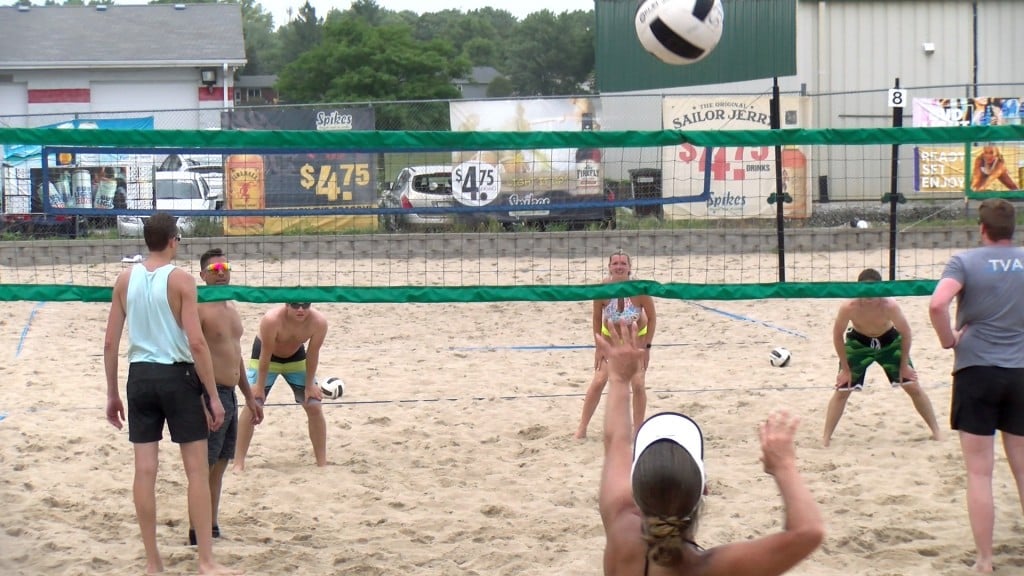 Sunday evening, beach volleyball players competed in the championship round of Bash at the Beach. The three day tournament was hosted by Nebraska Beach Volleyball and Spikes Beach Bar and Grill. It was the first tournament hosted at the bar this summer.
Co-owner of Spikes Beach Bar and Grill Dave Shutko enjoys the event.
"We're a good volleyball community here in Lincoln and Omaha, Shutko said. "It's really nice just to get out and see each other again."
Over 90 players competed in the tournament throughout the weekend. Teams started play on Friday and continued into Saturday. Sunday's games, featured the best of the best, the championship round.
Sand volleyball player Mike Pena thought the competition was tough.
"I'm 5-foot-8, and I don't know if you can see behind me," Pena laughed. "Those people are about a foot taller than me, so we lost."
Pena flew into Lincoln from Las Vegas, Nevada. He said he was visiting a friend for his birthday and heard about the competition.
Not only were players competing for cash prizes, but they were also playing for a cause.
Nebraska Beach Volleyball employee Brandon McCarville said donations were collected throughout the tournament.
"We've done it for a lot of different causes, but these last five years we've been doing it for the American Brain Tumor Association," he said. "Basically raising awareness for brain tumor research."
For McCarville, it feels good to be back on the sand.
"I love my family, but at the end of the day, it was kind of nice to get out and do something with good friends," he said.