RAW VIDEO: Explosion in Nashville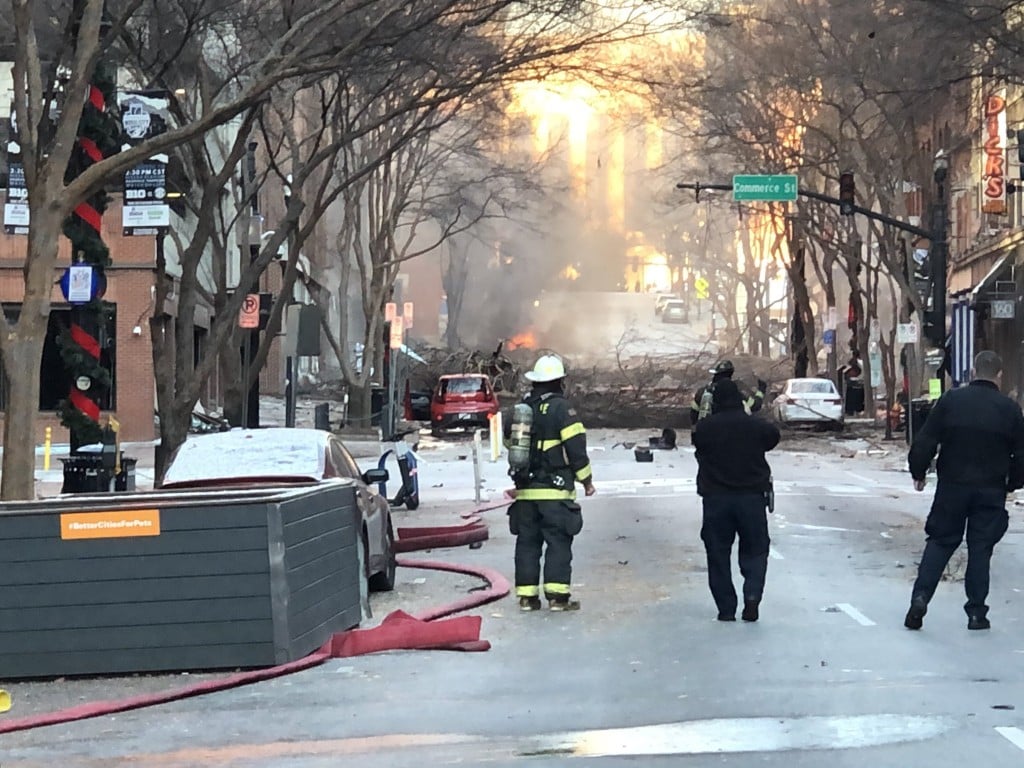 NASHVILLE, Tenn. (KLKN) – The FBI is investigating the explosion that rocked downtown Nashville on Christmas morning damaging 41 buildings and injuring three people, including a child.
Nashville Police Chief John Drake said officers responded to a call for shots fired at 2nd and Commerce at about 5:30 a.m. local time.
The officers discovered an RV with a recording saying a potential bomb would detonate within 15 minutes. Officers evacuated the nearby buildings and called for the bomb squad.
When the RV exploded one officer was knocked to the ground and suffered temporary hearing loss.
Here is a picture of the RV that exploded. Police say it showed up at 1:22 a.m. Nashville time.
Nashville Mayor John Cooper said during an evening news conference "It will be sometime before 2nd A
venue is back to normal".
Three people hospitalized are in stable condition, including a four-year-old girl the mayor said he visited.
Six officers were on scene when the RV blew up and the mayor said they took swift action and directed people away from danger.
"The officers saved lives today," Nashville Police Chief Drake said.
Those officers have been identified as:
Officer Brenna Hosey, who has been with the department for 4 years;
Officer James Luellen, who has been with the department for 3 years;
Officer Michael Sipos, who has been with the department for 16-months;
Officer Amanda Topping, who has been with the department for 21 months;
Officer James Wells, who has been with the department for 21-months; and
Sergeant Timothy Miller, who has been with the department for 11 years.
Drake said the motive is unknown. He called it a "total surprise" that the explosion occurred on Christmas morning. He said there had been no recent threats.
"We had no pre-warnings at all," Drake said.
Chief Drake declined to elaborate on what was found at the scene. ABC News previously reported human remains were discovered.
"We have found tissue that we believe could be remains," Drake said.
The chief speculated the responsible person did not want to harm people but maybe "just wanted to destroy," but he said investigators are still not sure.
The authorities are collecting security camera footage from nearby businesses to help identify the person or persons responsible for parking the RV downtown.
Here is video from ground zero of the explosion. Warning, there is graphic language and it might be disturbing for some to hear.
about 12 minutes after explosion in #nashville #nashvilleexplosion

vantage point – corner of 2nd and Demonbreun pic.twitter.com/M7XjaVnccx

— Amanda Bagley #SaaS #XR (@AmandaReality) December 25, 2020
This is a developing story and we are updating information as we get it.