UPDATE: Suspect in Eagle standoff arrested, threatened to kill brother
Just before 8 o'clock, a standoff with police began near Highway 34 between 3rd and 4th streets.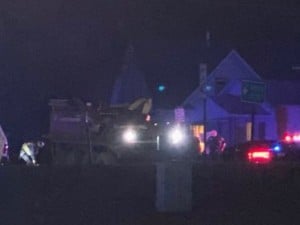 EAGLE, Neb. (KLKN) — The suspect who prompted a major standoff in Eagle Monday has been arrested.
Investigators with the Nebraska State Patrol (NSP) and the U.S. Marshals arrested 65-year-old Richard Carr, Thursday morning. He was discovered at his residence, the same location law enforcement swarmed earlier this week.
Officers were originally called to Carr's residence on a dispute between the suspect and his brother over the family's estate.
According to court documents, Carr initiated the confrontation earlier that day when delivering mail. He punched his brother in the face, knocking him to the ground. The brother then left for work in a pickup truck, only to spot Carr hours later in a white Cadillac.
Carr allegedly chased his brother down, pulling the Cadillac up alongside the truck and ramming the vehicle to force him off the road.
Suddenly, Carr again pulled up next to his brother, brandishing a black pistol and threatening to kill him.
Coming to a stop, Carr began chasing his brother on foot for some time before eventually returning home.
The brother called 911, informing them of Carr's location as, court documents say, he believed he was going to kill someone.
Officers surrounded the home, using a megaphone to contact the suspect for several hours. When they finally obtained a search warrant, Carr had already fled the scene.
Although the suspect was not there, NSP did find two cell phones, a loaded Colt .45 handgun, and a sock full of live rounds.
This morning U.S. Marshals discovered Carr had returned home and arrested him without further incident.
He was charged with making terroristic threats (committing a violent crime with intent to terrorize another) and possession of a firearm by a prohibited person.
According to his criminal history, Carr was a convicted felon involved in a 1974 burglary and a 2011 felony drug charge.
---
LINCOLN, Neb. (KLKN) – Tense moments in the town of Eagle on Monday evening.
Just before 8 o'clock, a standoff with police began near Highway 34 between 3rd and 4th streets.
Police could be heard using a megaphone to try to contact the suspect, asking him to answer his phone.
As the standoff continues, the Nebraska State Patrol advised area businesses to temporarily close, including a Casey's and Dollar General nearby.
Highway 34 has also been closed in both directions and traffic is being diverted.
Police cruisers are surrounding the Casey's, a car dealership and a home, but have not confirmed where the suspect is currently. NSP has also brought in their helicopter, a tank and K9 units to assist in their efforts.
Details are limited as this is a developing story. Please check back for updates.