Couple surprised at their own wedding with guests lining the streets
COVID-19 puts limits on weddings but doesn't stop 'I do'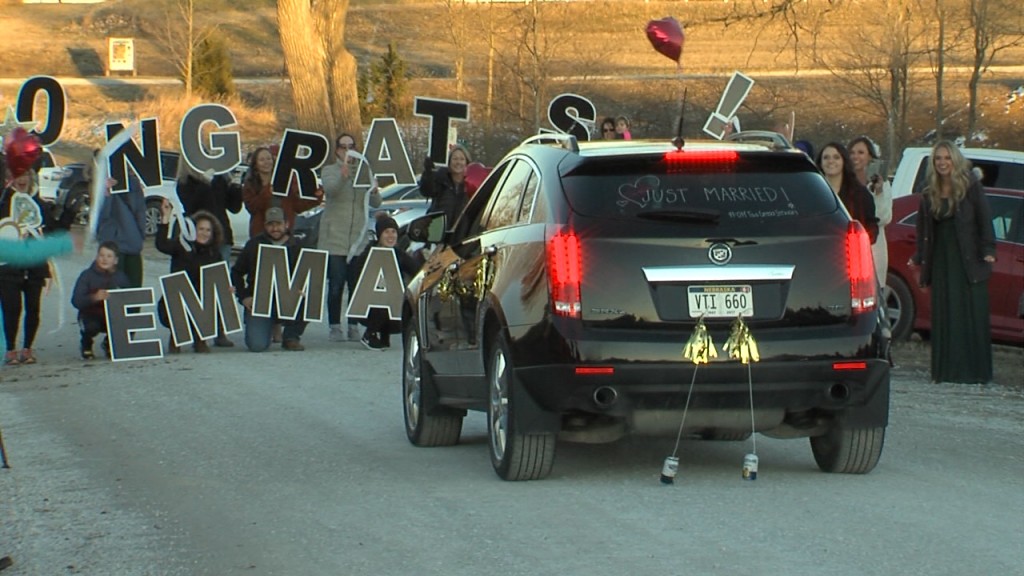 In a weeks time Eli and Emma Stewart changed their wedding guest list three times. From 250 down to 100 and then the final 10 person limit.
"We were getting married no matter what," said newly wed Emma Stewart with a beaming smile.
The two are high school sweet hearts and Friday evening they tied knot. The five year relationship wasn't going on hold for anything.
"The purpose of the wedding is to bring us together in unity and that is the main purpose," said Eli. "But of course celebrating with your friends and family is a big part of it."
A week ago they both sat down and made the tough decisions. Calling off vendors, changing venues and as both would attest to being the most difficult, telling family and friends they wouldn't be able to watch the wedding in person.
They streamed the wedding on Facebook Live for all of the family and friends to watch. Some of those people sitting in their cars waiting to surprise the couple had the stream pulled up and watched it just a few hundred feet down the street.
"It was hard, pretty much just cried alot," said Emma. "We said you for sure can't come. Even that was hard because there were so many people that we were close with and we were looking forward to celebrating with so much."
A family friend offered their home as the new venue in east Lincoln where family and friends lined the neighboring street to surprise the bride and groom.
COVID-19 has put a stand still on many parts of the country. This couple wasn't going to let the pandemic put a stop to their special day.