UPDATE: NSP confirms witnesses help people escape I-80 fiery crash on Friday
Dramatic video shows just how dangerous this fire was.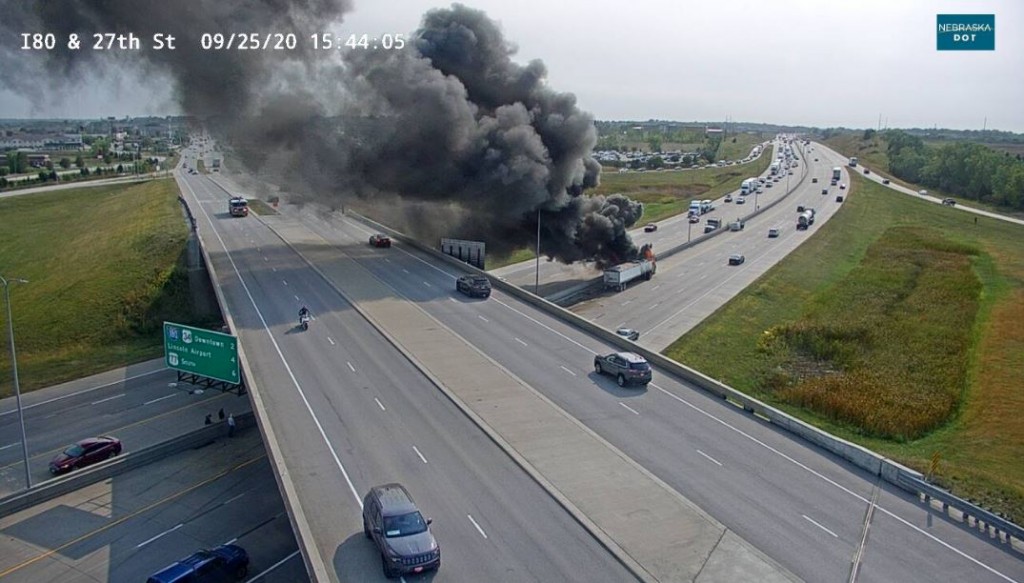 UPDATE: Nebraska State Patrol sent Channel 8 more information about a Friday afternoon crash that involved three vehicles on I-80.
"The crash involved three vehicles, all westbound," says Cody Thomas, NSP public relations director.  "A Chevrolet Impala struck a semi and trailer, then collided with a Chevrolet Trailblazer as all three were traveling westbound on I-80 near the 27th street exit. The two passenger vehicles became stuck between the semi and the center barrier when they came to a stop.
He adds, "A fire started at the crash scene, but witnesses were able to help make sure all four people involved in the crash got out of vehicles safely. No life-threatening injuries are reported. I-80 was closed for about two hours."
—
LINCOLN, Neb. (KLKN) – Emergency crews responded Friday afternoon to a fiery crash on Interstate 80 in Lincoln.
The crash happened around 3:45 p.m. near the 27th St. exit.
Lincoln Fire & Rescue told Channel 8 Eyewitness News a semi truck and three other vehicles were involved.
The Nebraska State Patrol said two people were transported to Bryan West with what are believed to be non-life threatening injuries.
The Lincoln Lancaster County Health Department responded to the scene to try and prevent leaking fuel from entering a nearby waterway.
The cause of the crash is under investigation.
The scene was cleared late Friday night.