Farmers voice concerns over new proposed NRD nitrate regulations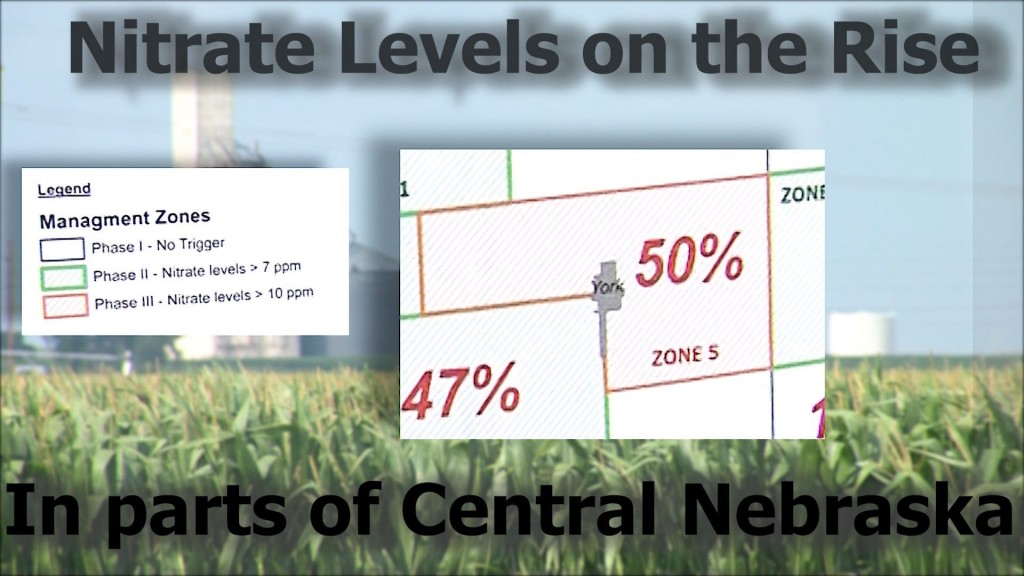 Farmers across central Nebraska showed up to an Upper Big Blue Nebraska Resources District meeting in York.
Over a dozen members sit on the NRD board and heard testimony from a handful of farmers. Taking the stand to speak was Jonathan Rempel.
Rempel said he compiled data and numbers, taking 60 hours of research, in hopes of swaying the board to rethink their proposal on nitrate regulations.
"I didn't wake up looking for a fight, a fight found me," said Rempel.
The NRD argues NITRATE LEVELS ARE TOO HIGH IN THE GROUNDWATER and action needs to be taken. Otherwise there are serious threats imposed on drink water in the area.
Rod DeBuhr is an assistant manager with the Upper Big Blue NRD and when asked what's the highest levels he has seen, his response, "The highest amount of nitrates I've seen, over 100 parts per million, in this basin in the last 5 years."
The EPA says anything over 10 parts per million is unsafe.
Much of the Upper Big Blue Basin, which has more than 50,000 residents has had readings of over 7 and in the York area it's seen readings at the 10 mark.
For people with private wells or communities that don't have advanced treatment plants it can be a health concern, mainly for newborns.
"Especially for people who have water intake, like a baby formula, things like that, and then there's some new studies out that suggest nitrates can also be linked to some forms of cancer," said DeBuhr.
So the NRD has proposed new rules when it comes to applying fertilizer.
It limits the time and amount of fertilizer farmers can put it on their fields. Also calling for an additional time release compound that slows the breakdown of certain kinds of fertilizer into nitrates.
Which would prevent the nitrates from releasing and running off into local water supplies.
Farmer Tom Peterson says the changes would cost him an extra $27,000 to $42,000 per year. He says $42,000 is more than he took home last year in earnings.
"You guys are sitting here looking to put a young farmer out of business, this is one way you can do it with the stroke of a pen," said Peterson.
Projections to out of pocket farmer expense:
"The average producer will have to spend a minimum of 30 dollars an acre to accomplish the rules that are laid out," said Rempel. "This action you are proposing to take is at best unproven, unreasonable, unaffordable and impossible to implement."
Many farmers say they already play by the rules and use the minimum amount of nitrogen needed.
"This land is part of us. We love this land, no one can take care of this farm land more than us," said Greg Boehr.
The farmers hope to see more economic studies and research into the possible changes.
"Not every time there is a problem does the government need to make regulations. A lot of the time you can do things through education," said Andy Peard of Phillips, NE.
Road blocks will be faced along the way. Both sides agree to that. However there are solutions to be implemented and common ground needs to be found for an answer.
"It's not a fast fix, it's taken us a lot of years to get to where we are and it will take us a lot of years to get to where it is remediated," said Water Dept. Manger with the NRD, Marie Krausnick.
"Hopefully all of us working together can come up with some sort of solution that works for the farmers and works for all the people that drink the water," added Krausnick.