Former Husker Kenny Bell helping with Husker Football Fantasy Camp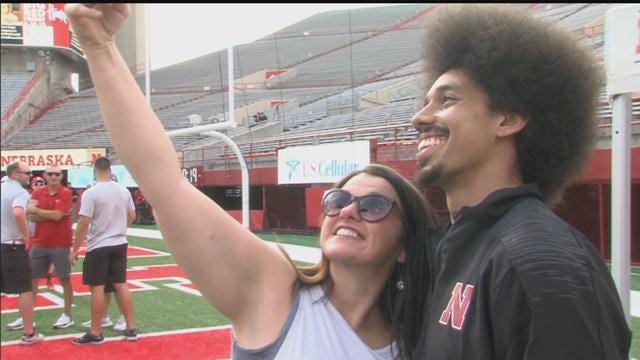 From: US Cellular
Kenny Bell, who racked up 181 receptions for 2,689 yards and 21 touchdowns as a Nebraska wide receiver from 2011-14, will help guide the Oct. 12 U.S. Cellular Husker Fantasy Camp at Memorial Stadium. The camp brings 20 fans and their guests on a Memorial Stadium behind-the-scenes tour that includes a walk through the team tunnel and on to the field for drills. Fantasy camp participants will hear a "chalk talk" from Bell and other Husker alumni and receive a shirt, lunch, playbook and souvenir photo.
There are two ways fans can enter the sixth annual U.S. Cellular Husker Fantasy Camp Sweepstakes. U.S. Cellular will award three camp spots during the Aug. 1 Husker Football Fan Day. During Fan Day, attendees can enter by texting HUSKER to 83648. They must be present to win.
Individuals also can enter the sweepstakes at www.camphusker.com from Aug. 1 through Sept. 9.
"As the official wireless provider of Husker Nation, we are thrilled to provide fans with the opportunity for an unforgettable experience," said Mike Adams, U.S. Cellular's director of sales for Nebraska and Iowa. "Nebraska football fans are among the most passionate in college football, and we want to provide them with an exciting and fun opportunity to attend camp. At U.S. Cellular, we strive to build a connection with our communities that extends beyond our business."
Bell also will greet people at Husker Football Fan Day Aug. 1 at Memorial Stadium. The event runs from 5:30 to 7:30 p.m.
Bell and U.S. Cellular associates will help Fan Day guests "recharge" by offering them water and free phone charging. They also will give U.S. Cellular customers special passes that allow them access into Memorial Stadium prior to the doors opening. Bell will lead the VIP group into the stadium from Gate 16 at 5:15 p.m.
The sweepstakes is open to legal residents of Nebraska, Iowa, Kansas and Missouri 19 years or older. No purchase is necessary to enter the sweepstakes. Complete information on eligibility, entry and prizes is included in the Fantasy Camp's official rules at www.camphusker.com.