Group begins effort to recall Lincoln mayor, 4 city council members
A group has begun an effort to recall Lincoln's mayor and four city council members.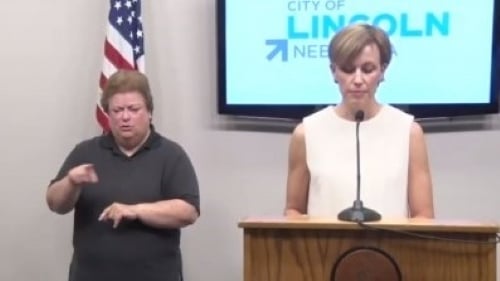 LINCOLN, Neb. (KLKN) – A group has begun an effort to recall Lincoln's mayor and four city council members.
LNK Recall said it has filed affidavits with the Lancaster County Election Commissioner to start a "non-partisan, grassroots movement led by business owners and citizens."
"The goal of the recall is to hold our leaders accountable for ethical, transparent, and cooperative leadership that listens to the citizens of Lincoln," an unnamed spokesperson for the group said in a press release.
At a press conference Monday, members of the group expressed their concern after the Mayor declared a state of emergency for the city at the beginning of the pandemic in March.
"She also wanted to seek authoritarian control and micromanage everyone's lives," Robert Borer said.
The group also said they were unhappy with the City Councils decision to push forward with a vote to appoint Health Director Pat Lopez. Samuel Lyon said by moving forward and not allowing enough time for citizens to peak up, the council was not willing to hear from the people of Lincoln.
"At some point you're going to want to come before the council and you will need to be heard. When city council suspended their rules to silence the voice of Lincoln, they have dropped their veil of even pretending to listen to Lincoln citizens," Lyons said.
Election Commissioner Dave Shively told Channel 8 Eyewitness News he has received affidavits to recall Mayor Leirion Gaylor Baird, District 1 Councilman James Michael Bowers, District 2 Councilman Richard Meginnis, District 3 Councilwoman Jane Raybould and District 4 Councilwoman Tammy Ward.
Shively says he will notify the officials about the recall petitions. After that, they will have 20 days to submit a defense statement.
After the 20-day period is up, Shively says his office would then have five days to issue the petitions to principal circulators.
The petitions would each need a different number of signatures in order to move forward. The numbers needed are as follows:
Gaylor Baird – 21,652 signatures
Bowers – 4,864
Meginnis – 8,009
Raybould – 5,362
Ward – 2,495
The number of signatures needed is representative of 35% of the total votes cast for each office in the last general election. The signatures would have to be gathered within 30 days.
The group says it will hold a press conference at 5:30 p.m. Monday at the County-City Building. The City Council also meets there at 5:30 p.m.
Mayor Leirion Gaylor Baird sent the following statement to Channel 8 Eyewitness News:
"I am focused every minute on doing the job that the people of Lincoln elected me to do.  Right now, that includes working with the City Council and our Health Department to lead the city through an unprecedented global pandemic. I am not going to be distracted by a small group of people who want to divide our community."