Husker baseball set to open Will Bolt era at Baylor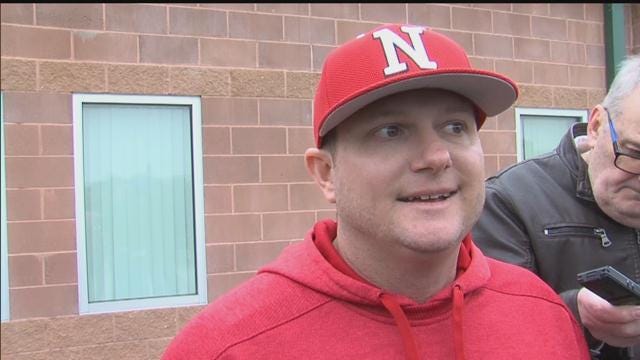 From: Nebraska Athletics
The Nebraska baseball team begins a new decade and a new era this weekend, as first-year Head Coach Will Bolt leads the Huskers into Waco, Texas for a three-game series against Baylor.
Friday's season opener is set for 6:35 p.m. (CT) at Baylor Ballpark. Saturday's game is scheduled for 2:05 p.m., one hour earlier than the originally scheduled time due to Baylor's men's basketball team hosting a game at 3 p.m. Sunday's series finale will begin at 1:05 p.m.
All three games will be streamed online via Big 12 Now on ESPN+. A subscription to ESPN+ online streaming is $4.99 per month. John Morris (play-by-play) and Pat Combs (analyst) will call Friday and Sunday's games. Lincoln Rose will announce Saturday's game with Combs.
Fans can listen to Greg Sharpe and Nick Handley call the action this weekend on the Learfield IMG College Husker Sports Network. Every game this season can be heard on Huskers.com and the Official Nebraska Huskers App for both iOS and android devices. All three games of the Baylor series will be carried on TuneIn.com and the TuneIn App on the Husker Sports Network channel. Fans in Lincoln can listen on 1400 AM and fans in Omaha can listen on 590 AM.
WATCH
Huskers thrilled to open the Will Bolt era:
Will Bolt on teaching failure:
Next Up
The Huskers continue their season-opening road stretch next weekend when they journey to San Diego, Calif., for the Tony Gwynn Legacy. The Huskers battle San Diego (Feb. 21), San Diego State (Feb. 22) and Arizona (Feb. 23) in the eight-team tournament, which also features Iowa, Southern Illinois, Seattle and USC.
Preseason Honors and Big Ten Coaches' Poll
• Aaron Palensky, Spencer Schwellenbach and Gareth Stroh each claimed spots on the Big Ten Preseason Honors List, announced by the conference on Wednesday.
• In the Big Ten preseason coaches' poll, Nebraska is picked to finish fourth in the conference, behind 2019 College World Series runner-up Michigan, 2019 Big Ten Tournament champion Ohio State and Minnesota. Indiana, the 2019 Big Ten regular-season champion, is tabbed fifth and Illinois rounds out the top six.
• Sophomore relief pitcher Shay Schanaman earned a spot on the NCBWA Stopper of the Year Preseason Watch List, announced on Monday. The award is given to the top relief pitcher in NCAA Division I Baseball each season.
Scouting the Baylor Bears
• Baylor went 35-19 last season and finished second in the Big 12 with a 14-8 record in conference play. The Bears qualified for the NCAA Tournament, where they went 1-2 at the Los Angeles Regional.
• Baylor didn't lose any position starters or starting pitchers from last year's squad. Additionally, the Bears welcome 14 newcomers to the roster for 2020.
• Steve Rodriguez holds a record of 130-92 as he enters his fifth season as the head coach of the Bears. He holds a career record of 416-392 as he begins his 17th year overall. Rodriguez is assisted by Jon Strauss, Mike Taylor and Mitch Karraker.
• Baylor leads the all-time series against Nebraska, 35-29-1, dating back to the first meeting in 1938. In Waco, Texas, the Bears hold a 23-10-1 advantage over the Huskers despite NU winning 2-of-3 last season.
Bolt and New Staff Begin a New Era
• Head Coach Will Bolt, who captained Nebraska's first two College World Series teams in 2001 and 2002, begins his first season as the team's skipper in 2020. He was named the 24th head coach in program history – and NU's sixth head coach since 1947 – on June 14, 2019.
• Bolt brings 11 years of NCAA Division I coaching experience to the Nebraska program, having served in assistant coaching roles at Texas A&M and Nebraska. Bolt also spent four years as the head coach at Texarkana College.
• Jeff Christy and Lance Harvell joined Bolt's staff as assistant coaches on June 19. Christy coaches pitchers and catchers. Harvell serves as NU's recruiting coordinator and coaches hitters and outfielders.
• Danny Marcuzzo was added to the staff as a volunteer assistant and camp coordinator on Aug. 19. He coaches infielders.
Gomes Transitions to Starter Role as NU Replaces Rotation
• Nebraska will replace its weekend rotation this season after departed seniors Matt Waldron, Nate Fisher and Reece Eddins combined to start 42 of Nebraska's 56 games (75 percent) on the mound last season, including all 24 Big Ten games.
• Senior left-handed pitcher Gareth Stroh, who sat out the 2019 season, toes the rubber on Friday night for the first time in a Husker uniform. Stroh spent two years at Purdue (2017, 2018) and went 10-6 with a 4.34 ERA in 32 appearances with 86 strikeouts over 159.2 innings. In 2017, he earned third-team All-Big Ten accolades. Stroh played his first year of collegiate baseball at Coffeyville Community College in Kansas in 2016.
• Sophomore right-hander Colby Gomes gets the start on Saturday after earning NCBWA First-Team Freshman All-America honors last season as a relief pitcher. Serving as NU's closer in 2019, Gomes tallied 13 saves, tied for the third-most in a single season in program history.
• Sophomore lefty Cade Povich will make his Husker debut on Sunday after spending last season at South Mountain Community College in Phoenix, Ariz. Povich went 10-1 with a 1.52 ERA, eight complete games and five shutouts en route to first-team All-ACCAC and All-Region honors.
Numbers to Watch
• Gunner Hellstrom enters the season with the longest current hitting streak on the team (8).
• Aaron Palensky enters the season with the longest current reaching base streak on the team (21). Spencer Schwellenbach has the second-highest active on-base streak (12).
• 3 – Mojo Hagge (8) is three triples away from joining Nebraska's top-10 career triples list. Alex Gordon is 10th in program history with 11 career triples.
• 7 – Luke Roskam (93) is seven RBIs away from reaching 100 career RBIs.
• 14 – Gareth Stroh (86) is 14 strikeouts away from reaching 100 career strikeouts on the NCAA Division I level. He spent two seasons at Purdue (2017, 2018) before transferring to Nebraska and sat out the 2019 campaign.
• 18 – Jaxon Hallmark (82) is 18 hits away from his 100th career hit.
Palensky Looks to Continue Production at the Plate
• Nebraska returns nine of the 11 position players who started at least half of the Huskers' games last season, as only departed seniors Angelo Altavilla and Alex Henwood are gone.
• Junior outfielder Aaron Palensky led the Husker offense in nearly every statistical category last season, including batting average (.320), hits (71), runs scored (43), home runs (7) and total bases (107) en route to second-team All-Big Ten honors.
• Returners Mojo Hagge (.280), Spencer Schwellenbach (.275) and Joe Acker (.260) round out the top four batting averages of Huskers to play in at least 40 games last season.
NU to Face Seven NCAA Tournament Qualifiers from 2019
• Two of Nebraska's 2020 opponents are ranked in D1Baseball's Preseason Top 25, as the Huskers battle No. 9 Arizona State (Feb. 28-March 1) and No. 13 Michigan (April 24-26) later this season. At the 2019 NCAA Tournament, the Sun Devils went 1-2 at the Baton Rouge Regional, while the Wolverines took runner-up honors at the College World Series.
• Nebraska's two intrastate rivals, Creighton and Omaha, each qualified for last year's NCAA Tournament.
• NU's home Big Ten series are against Northwestern, Rutgers, Ohio State and Penn State. Last season, the Buckeyes made it to the NCAA Tournament after winning the Big Ten Tournament.
• The Huskers' road Big Ten series are against Maryland, Purdue, CWS runner-up Michigan and Indiana. The Hoosiers qualified for the NCAA Tournament in 2019.
• The Big Ten teams not included in Nebraska's 2020 regular-season schedule are Illinois, Minnesota, Iowa and Michigan State.
Nebraska Splits Fall Games
• Nebraska went 1-1 in its fall 2019 exhibition games, taking advantage of the NCAA Division I legislation adopted in April 2018 that allows two fall exhibitions that do not count toward a team's 56-game spring schedule.
• On Sept. 21 in Wichita, Kan., NU produced 18 hits and four home runs en route to a 10-8 win over Wichita State in a 12-inning contest.
• On Oct. 19 at Hawks Field, Nebraska lost to Kansas, 7-1, in a 12-inning game. NU took an early 1-0 lead before the Jayhawks scored seven runs in the last five innings.
Huskers Seek Fifth NCAA Tournament Berth in Seven Years
• As a new decade of Nebraska baseball begins, the Huskers look to continue their recent trend of qualifying for the NCAA Tournament. NU has made it to NCAA Regionals in four of the last six seasons (2014, 2016, 2017, 2019).
• In the past 21 seasons, Nebraska has made 13 NCAA Regional appearances. During the span, the Huskers have qualified for four NCAA Super Regionals and advanced to the College World Series on three occasions.
Big Red Among Big Ten's Best
• Nebraska, who enters its ninth season as a member of the Big Ten in 2020, has finished in the top three of the regular-season standings five times. In 2017, the Huskers captured the conference title.
• The Huskers have qualified for the eight-team Big Ten Tournament in seven of their eight years as a member of the conference. NU has advanced to the championship game on three occasions (2013, 2014, 2019).
Hawks Field Celebrates 19th Year in 2020
• The 2020 campaign marks Nebraska's 19th year playing home games at Hawks Field at Haymarket Park. The Huskers moved to Hawks Field in 2002 after playing at Buck Beltzer Stadium for 23 years from 1979 to 2001.
• Nebraska holds a 365-139-1 record at Hawks Field and has posted a winning record at home in each of the last 18 seasons. This season, the Huskers have 24 home games scheduled, beginning on March 6 against Columbia.
• Nebraska has ranked in the top 15 nationally in average attendance in each of the past six years. Last season, the Huskers ranked ninth in the nation with an average of 4,426 fans per home game.