Husker hoops falls just short at No. 9 Maryland, 72-70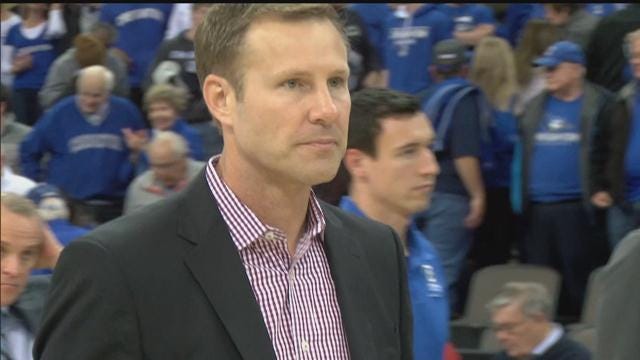 Cam Mack's game-winning shot was blocked by Jalen Smith as No. 9 Maryland survived over Nebraska, 72-70, Tuesday night.
The Huskers rallied from a 14-point second half deficit, only to drop their ninth-straight game. Haanif Cheatham led the Big Red with 20 points, 18 of which came in the second half.
Smith led the Terrapins with 16 points and 12 rebounds.
Up next, Nebraska will host Wisconsin at Pinnacle Bank Arena on Saturday at 1:15 p.m.
From: Nebraska Athletics
Nebraska Post-Game Notes
Nebraska fell to Maryland 72-70, as the Terrapins remained perfect at home this season (14-0). The two-point margin marked the seventh time in the 10 all-time meetings between Nebraska and Maryland that the game has been decided by five or fewer points.
The Huskers have played four games at the XFINITY Center, with the four games decided by a total of 10 points, including three straight games by two points.
Nebraska went 7-of-33 from the 3-point line in tonight's game. With the seven makes, the Huskers have made 200 3-pointers this season, becoming the 10th team in school history to make 200 3-pointers in a season.
With the season-high 33 3-point attempts, the Huskers have shot 611 3-pointers this year, becoming the seventh team in school history to attempt 600 3-pointers in a season.
Haanif Cheatham, who was questionable for the game after suffering an injury Saturday at Iowa, scored a game-high 20 points, including 18 in the second half. His 21 points were his second-highest total in Big Ten play and marked his third 20-point game this season.
Matej Kavas scored 11 points, marking his first career Big Ten Conference game in double figures. It was his first double-figure effort since Dec. 29.
Cam Mack dished out eight assists in the game to give him 156 assists this season. He passed Tyronn Lue (152) to move into fifth place on Nebraska's single-season assists list, while becoming only the fourth Husker to record 150 assists in a season.
Freshman Kevin Cross made his first career start as Nebraska utilized its sixth different starting lineup this season. Cross became the third true freshman to start for the Huskers this season, joining Charlie Easley and Yvan Ouedraogo.