Husker Hoops falls to Michigan, drops sixth-straight game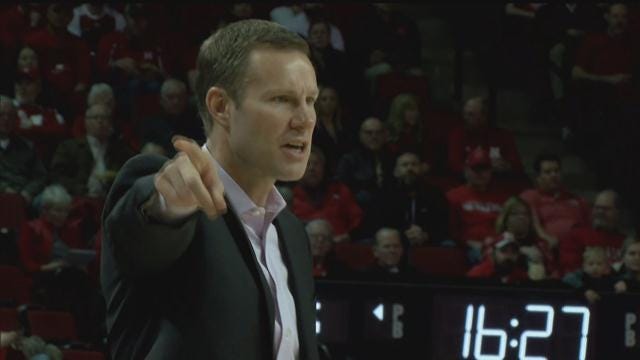 From: Nebraska Athletics
Cam Mack had 19 points and nine assists, but a second-half lull proved costly as Michigan posted a 79-68 win over the Huskers Tuesday evening.
Mack continued his strong shooting, going 7-of-14 from the floor, including a career-high five 3-pointers for the Huskers. He was one of three Huskers to finish in double figures, as Haanif Cheatham had 17 points on 7-of-11 shooting, while Kevin Cross came off the bench to add 17 points, including a trio of 3-pointers for the Huskers (7-14, 2-8 Big Ten).
Trailing 48-41, Cross keyed a 11-2 Husker run, scoring seven of his 17 points to help the Huskers erase the deficit and a 52-50 lead on a Cross jumper with 13:49 left. The Huskers' lead would be short-lived, as Michigan responded with a decisive 19-3 surge to regain control.
Bandon Johns Jr. and Franz Wagner combined for 12 of the Wolverines' 19 points in the run, while Nebraska missed 11 of 12 shots in that stretch.
Eli Brooks led three Wolverines (12-8, 3-6 Big Ten in double figures with 20 points and nine rebounds while Wagner (18) and Johns (16) both finished in double figures for the victors.
The Huskers and Wolverines traded baskets in a competitive first half as the Wolverines took a 40-35 lead into the locker room. After a tribute from both teams to Kobe Bryant to start the contest, the Huskers scored the first five points and led 11-7 after a basket by Cheatham.
Michigan came back five straight points of their own and either team led by three points until Michigan used a 7-0 run to push the margin to 38-50. Mack, who had 13 of his points in the first half, kept the Huskers within striking distance, hitting a runner to beat the first half buzzer, as Nebraska shot 50 percent in the first 20 minutes, including 5-of-11 from 3-point range.
Behind the play of Mack and Dachon Burke Jr., Nebraska pulled to within 43-41 early in the second half before a 5-0 Michigan surge extended the lead to 48-41, setting the stage for NU's flurry.
The Huskers return to action Saturday night as they host No. 24 Penn State in the annual Coaches vs. Cancer Suits and Sneakers game. Tipoff time at PBA is set for 6 p.m.
Nebraska Postgame Notes:
*-Cam Mack reached double figures for the 19th time in 21 games, finishing with a team-high 19 points. Mack's five 3-pointers tonight is a career high, topping his previous best of four against Rutgers on Jan. 24. He had had 19-or-more points in three of the Huskers' last four contests
*-Mack finished with nine assists, the and climbed into Nebraska's single-season top-10 list on Tuesday. He moved past Tyronn Lue (136, 1997) and Cookie Belcher (138, 1999) into ninth place with 142 assists.
*-Kevin Cross reached double figures for the seventh time this season, the most since Glynn Watson Jr. had 16 double figures games in 2015-16, finishing with 17 points off the bench.
*-Cross matchedhis career with three 3-points (also at Wisconsin, at Northwestern).
*-Haanif Cheatham's 17 points were his highest total since scoring 17 against Texas A&M-Corpus Christi on Dec. 29.
*-Nebraska's 16 assists matched NU's highest total since Dec. 15.
Nebraska Coach Fred Hoiberg
On if Michigan's second-half run had to do with Nebraska not making shots
"No, I think it was more than that. I thought our flow was really good that got us that lead. We were scoring but we just had trouble getting stops so we couldn't extend it. I thought the offense was creating some really good opportunities, when it was in Cam's [Mack] hands we were getting a lot of good things accomplished. When we went through that drought, I think we had a 1 for 12 stretch and it goes from a two-point lead to a 10-point deficit pretty quickly, the ball stopped moving. A couple of possessions never shifted sides and didn't get across, and we had been having pretty good possessions all night long; we were shooting high percentage and shot it well from behind the arc. We missed a couple of layups in that stretch, we missed a couple right at the rim, but then we just took some out of character shots and missed a couple opens three's. Again, the looks that we were getting were based on player and ball movement, when we stopped doing that and stopped getting the ball in the right guys' hands, the quality possessions weren't as good. That's when they went on their run and started controlling the tempo and getting the ball inside. Their advantage tonight was in the paint. It's unfortunate because I think we had a really good rhythm going and when we stopped it almost sucked the energy out of our group, and you got to find a way to keep going and stay together, keep fighting together."
On what has been causing Nebraska to fall behind in the last six games
"We have stretches, it's every game. We had a three-minute stretch against Rutgers where we didn't do the job in transition after doing it for a majority of the rest of the game. We've struggled coming out of the gate with energy. Tonight we got the lead in the second half we were scoring the ball and took the lead so the energy was much better coming out in the second half. Then that eight-minute stretch where we weren't getting the same type of possessions that we had the majority of that game, it cost us and it's costing us games. We have these droughts and lulls and that's what is digging the hole and it's hard to keep the energy to get out of that hole and sustain the energy once you get out of it."
On holding the ball for Kobe
"It was a no-brainer. Juwan and I both played against Kobe and to honor him before the game and have the two possesions was absolutely a no brainer."
Senior guard Haanif Cheatham
On the challenge of Michigan's size
"I think that's been a problem for us all season—size, rebounding. Offensive rebounding and defensive rebounding. That's been a problem for us, something we've been battling. It's something we've been watching film on, worked on in practice. I think these next ten games we have to go all out, leave it all on the court for forty minutes, no matter what."
On the general feeling after six losses in a row
"I think that we're at a point where we have to go all out. We came in this season knowing we would have ups and downs, every team has it. Right now we're in a tough stretch. I think it's something that we have to focus on, have to pull together for these next ten games instead of pulling apart. Put it all in the works and competing forty minutes straight."
Sophomore guard Cam Mack
On the last ten minutes
"I felt like the ball just didn't move, and we got a little stagnant and our defensive intensity didn't pick up when we weren't scoring. We just have to go back and watch film."

On second half droughts
"I think we just need to come together more instead of everybody fading away, everybody trying to make a superman play. I feel like we should all just buy in together and listen to what Coach (Hoiberg) is telling us because he's a great coach and we need to buy in and listen to him more."