Husker hoops heads to No. 17 Iowa on Saturday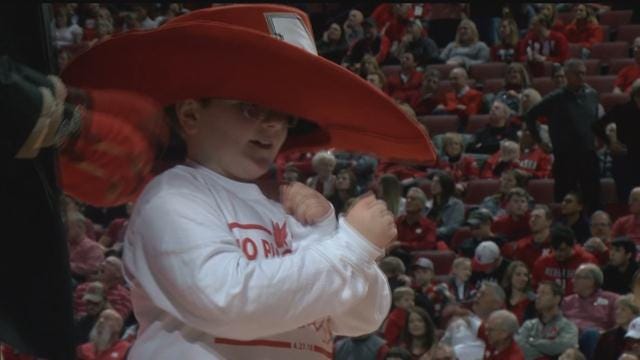 From: Nebraska Athletics
After a week off, the Nebraska men's basketball team begins a two-game road trip this Saturday, Feb. 8, as the Huskers travel to Iowa City to take on the Iowa Hawkeyes. Tipoff from Carver-Hawkeye Arena is slated for shortly after 5 p.m. (central) and will be carried on BTN with Kevin Kugler and Stephen Bardo on the call. The game can also be streamed via the web, smartphones, tablets and connected devices through the Fox Sports app.
Fans can follow all of the action across the state of Nebraska on the Learfield IMG College Husker Sports Network with Kent Pavelka and Jake Muhleisen on the call. The game will also be available on Huskers.com, the Huskers app and TuneIn radio. The pregame show begins one hour prior to tipoff.
Nebraska (7-15, 2-9 Big Ten) continues a stretch against three straight ranked opponents to begin the month of February with Saturday's matchup against the No. 17 Hawkeyes. The Huskers look to bounce back following a 76-64 loss to No. 24 Penn State on Feb. 1. In that game, the Nittany Lions used a 22-6 second-half spurt to break open a five-point contest. Penn State held Nebraska to 38 percent shooting and put four players in double figures.
For Nebraska, one of the highlights was the play of senior guard Haanif Cheatham, who finished with team highs in both scoring (15) and rebounding (eight) against the Nittany Lions. Cheatham, a fifth-year senior, is making the most of his lone season at Nebraska, averaging 12.4 ppg on 49 percent shooting. In two games last week, he averaged 16.0 points on 57 percent shooting and 5.0 rebounds per game.
Iowa (16-7, 7-5 Big Ten) was unable to slow down Purdue on Wednesday, falling 106-68 in West Lafayette. The Boilermakers used an early 17-0 run to take control and shot 63 percent from the field, including 19-of-34 from 3-point range. Junior forward Luka Garza led Iowa with 26 points, but was the only Hawkeye in double figures.
The Hawkeyes feature one of the nation's top big men in Garza, who was one of six Big Ten players on the final Wooden Award list this week. He enters Saturday's game leading the Big Ten in scoring (23.2 ppg) and ranking third in rebounding (10 rpg). In conference play, Garza is averaging 26.4 points and 9.8 rebounds per game.
Nebraska won the first meeting in Lincoln, 76-70, on Jan. 7, and look to beat a Hawkeye team that is 11-1 at home, including 10 straight wins.

PLAYER SPOTLIGHT
Junior guard Thorir Thorbjarnarson is shooting 46.3 percent from 3-point range, which would rank fourth in school history in 3-point percentage. In Big Ten play, Thorbjarnarson is the only player currently in the top five both in 3-point percentage and 3-pointers per game.

NUMBERS TO KNOW
2.42 – Cam Mack's assist-to-turnover ratio, which is second in the conference. Saturday's game against the Hawkeyes features the players with the top two assist-to-turnover ratios in the Big Ten in Mack and Iowa's Connor McCaffery.

5 – The Penn State loss marked just the fifth time all season where Nebraska has had more turnovers than assists, including the only time in Big Ten play. The Huskers are fourth in the Big Ten in assist-to-turnover ratio (1.3-to-1), including first in conference games only (1.5-to-1).

7.7 – Kevin Cross has been one of the Big Ten's top scoring reserves this season. He ranks fifth among players who have exclusively come off the bench in 2019-20, and is the only freshman in the group. Cross ranks sixth among Big Ten true freshmen in scoring this season as of Feb 6.

| | | | |
| --- | --- | --- | --- |
| No. | Name | School | PPG |
| 1. | Micah Potter | Wisconsin | 9.2 |
| 2. | Izaiah Brockington | Penn State | 9.1 |
| 3. | Jacob Young | Rutgers | 8.5 |
| 4. | Alan Griffin | Illinois | 8.3 |
| 5. | | Nebraska | 7.7 |
Min 50 percent of games played; 0 starts

50 – Returning point total from last season, all by Thorir Thorbjarnarson. That is the lowest by any power conference team in the last decade.

SCOUTING IOWA
Iowa comes into Saturday's game with a 16-7 record following Wednesday's loss at Purdue. In that game, Purdue raced out to a 61-36 lead and cruised to a 36-point win. The Boilermakers shot 63 percent and put five players in double figures. For Iowa,
Luka Garza had 26 points on 10-17 shooting, but no other Iowa player had more than nine points. The Hawkeyes shot 42 percent, including 6-of-25 from 3-point range.
Iowa has been solid since consecutive road losses at Penn State and Nebraska to open 2020. Since then, Iowa is 6-2, including wins over Maryland, Wisconsin, Michigan and Illinois in that stretch. The Hawkeyes put together a solid non-conference
campaign with wins over Texas Tech, Syracuse, Iowa State and Cincinnati, all of those away from Carver-Hawkeye Arena.
Iowa is an explosive offensive team, as the Hawkeyes lead the Big Ten in scoring offense at 78.2 points per game. The Hawkeyes are among the conference leaders in assists (17.7, second), assist-to-turnover ratio (1.5-to-1, first) and 3-point shooting (.349, second).
Garza is one of the frontrunners for Big Ten Player of the Year, as he leads the Big Ten in scoring 23.2 points per game and ranks third in rebounding. He has scored 20+ points in eight straight games dating back to Jan. 10. Sophomore Joe Weiskamp is at 14.8 points and 6.1 rebounds per game and leads the Hawkeyes with 46 3-pointers. Redshirt freshman CJ Frederick also averages double figures with 11.5 points per game and is shooting 48.3 percent from 3-point range.

SERIES HISTORY
The Hawkeyes lead the all-time series, 20-13 in a series that dates back to 1907. It is NU's third-oldest series against a Big Ten foe, as only NU's series with Minnesota and Wisconsin have been around longer. The teams had not met since 1976 before NU joined the Big Ten in 2011-12. Nebraska is 6-8 against the Hawkeyes since joining the Big Ten and the home team has won the last seven meetings dating back to 2016. The Huskers are just 2-16 all-time in Iowa City. Nebraska's last road win in the series was on Jan. 26, 2012, a 79-73 win in Carver-Hawkeye Arena, which was its first road win since joining the Big Ten.
Last Meeting: Cam Mack had his fourth double-double of the season, while Thorir Thorbjarnarson tied his career high with 17 points to lead Nebraska to a 76-70 victory over Iowa on Jan. 7. Mack poured in 15 points and dished out 10 assists for Nebraska, as the Huskers put five players in double figures in posting their fourth straight win over the Hawkeyes in Lincoln.
In addition to Mack and Thorbjarnarson, who grabbed a team-high nine rebounds, Haanif Cheatham added 14 while Dachon Burke Jr. and Kevin Cross also netted double figures with 13 points and 11 points, respectively.
Nebraska led by as many as 12 in the first half, only to see Iowa take a 51-50 lead with 12:41 remaining. The Hawkeyes' lead would last just 38 seconds, as Cross sparked a significant run with six points in an 8-2 spurt, as Nebraska took a 58-53 lead
with 7:25 left. Iowa chipped away, pulling even at 59-all after a Joe Wieskamp basket with 5:20 remaining, but Thorbjarnarson's two 3-pointers keyed an 8-2 run to push the lead to back to 67-61.
Wieskamp finished with a game-high 21 points, while Luka Garza added 16 points and 18 rebounds. The Huskers also limited Iowa to just 4-of-33 from 3-point range, while hitting 10 3-pointers.

LAST TIME OUT
Haanif Cheatham had 15 points and eight boards to lead three Huskers in double figures, but Nebraska could not sustain a strong start in a 76-64 loss to No. 24 Penn State on Feb. 1.
Nebraska raced out to an early 9-2 lead and hit its first five field goals, as Cheatham scored 10 of the Huskers' first 13 points, as Nebraska built a 13-7 lead. The Huskers led 20-18 after a Thorir Thorbjarnarson 3-pointer, but the Nittany Lions ran off nine straight points to take a 27-20 cushion. The Huskers kept fighting, as Dachon Burke Jr. scored seven straight points as part of a 9-2 run, as the Huskers pulled within 31-30 with 4:21 left in the half. NU, which shot 38 percent in the first half, was within striking distance, as Thorbjarnarson's 3-point play with 46 seconds left in the half made it 38-33.
Penn State took control by scoring the first eight points of the second half and used a 22-6 spurt in the first 7:12 to build a 60-39 lead. Lamar Stevens and Mike Watkins combined for 13 of the Nittany Lions points
Stevens and Myreon Jones had 13 points each to lead four Nittany Lions in double figures, while Watkins had 11 points and a game-high 17 rebounds for the winners, who picked up their second win in 10 games in Lincoln.
In addition to Cheatham, Thorbjarnarson had 12 points, while Burke Jr. added 11 markers for the Huskers.

STORYLINES
• Nebraska is going for its first-ever season sweep of the Hawkeyes since joining the Big Ten in 2011-12, while a win on Saturday would also mark the Huskers' first-ever three-game win streak against Iowa in men's basketball. NU is just 2-16 all-time in Iowa City with the last win coming in 2012.
• Nebraska Head Coach Fred Hoiberg and Iowa Coach Fran McCaffery have squared off six times, including five times when Hoiberg coached at Iowa State, Hoiberg-coached teams are 5-1 in those matchups.
• Iowa is the Huskers' fourth ranked opponent this season, as NU looks to snap a four-game losing streak against ranked foes dating back to last season's Big Ten Tournament. All-time Nebraska is 2-13 against teams ranked No. 17 in the AP poll with the wins coming against Iowa State (1957) and Marquette (1958). In all, Nebraska is in the middle of a stretch of five ranked opponents in six games (Penn State, at Iowa, at Maryland, Michigan State, at Illinois).
• Saturday's matchup features the two top 3-point shooters in the Big Ten in Iowa's C.J. Frederick (1st, .482) and Nebraska's Thorir Thorbjarnarson (2nd, .463).
• ESPN's BPI has Nebraska with the second-hardest strength of schedule remaining as of Feb. 6. In fact, the top eight toughest schedules are from the Big Ten.
• Senior Haanif Cheatham comes into the Iowa game after putting together two of his best Big Ten performances last week. In NU's games against Michigan and No. 24 Penn State, the senior guard averaged 16.0 ppg on 57 percent shooting and 5.0 rpg. Saturday's game will be his 95th career start at the college level.
• Cam Mack enters Saturday's game needing just five assists to be the fourth player in school history with 150 assists in a season (Brian Carr-3x; Charles Richardson Jr. and Tyronn Lue).
• With 188 3-pointers this year, the Huskers are just six 3-pointers away from cracking the top-10 list for most 3-pointers in a season. NU is also just 12 3-pointers from reaching 200 in a season for the 10th time in school history.
• Nebraska is in a stretch where it will play 14 straight games against teams currently ranked in the top 50 of the NET. In all, 12 of the 14 Big Ten teams are ranked in the top 55 of the NET as of Feb. 6.
• Nebraska enters Saturday's game leading in the Big Ten in turnover margin with +3.0 per game. The Huskers are second in the Big Ten in forcing turnovers (14.2 per game) and second in taking care of the basketball (11.2 per game). NU is 24th nationally in fewest turnovers per game as of Feb. 6. During his tenure at Iowa State, Hoiberg's teams ranked in the top three in the Big 12 in fewest turnovers per game in four of his five seasons at the school.
• Despite being undersized and having just one player who had played in a Big Ten game entering the season, Nebraska's play in Big Ten action is starting to resemble the team's that Coach Hoiberg had at Iowa State, especially with ball movement and limiting turnovers. In Big Ten games, NU is in the top three in six offensive categories entering the weekend, including assist-to-turnover ratio and 3-point shooting.