Husker men wrap up non-conference play against Texas A&M-Corpus Christi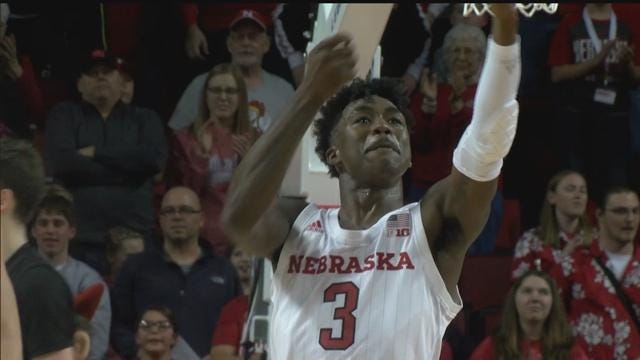 From: Nebraska Athletics
The Nebraska men's basketball team hits the court for the final time in 2019 on Sunday afternoon, as the Huskers take on Texas A&M-Corpus Christi. Tipoff at Pinnacle Bank Arena is set for 1 p.m. and a limited number of tickets are available for purchase by visiting Huskers.com/Tickets or at the Pinnacle Bank Arena box office beginning 90 minutes prior to tipoff.
The Kids Zone on the North Concourse will open 90 minutes prior to tipoff and will be open until 12:45 p.m. Sunday's game will also feature a halftime performance from the legendary Red Panda.
Sunday's matchup will be carried nationally on BTN with Chris Vosters and Nick Bahe on the call. The game can also be streamed via the web, smartphones, tablets and connected devices through the Fox Sports app.
Fans can follow all of the action across the state of Nebraska on the Learfield IMG College Husker Sports Network with Kent Pavelka and Jake Muhleisen on the call. The game will also be available on Huskers.com, the Huskers app and TuneIn radio. The pregame show begins one hour prior to tipoff.
Nebraska (5-7) looks to bounce back from a disappointing 75-74 loss to North Dakota on Dec. 21. In that game, the Huskers rallied from an eight-point deficit to take a 71-69 lead after a Matej Kavas 3-pointer, but could not hold on for the win. De'Sean Allen-Eikens free throw with 7.3 seconds left broke a 74-all tie, while Dachon Burke missed a potential game winner at the buzzer for NU. Cam Mack led four Huskers in double figures with 19 points, seven rebounds and seven assists, while Kavas came off the bench for a season-high 12 points, including 4-of-5 from 3-point range.
Mack runs a balanced Husker offense, as the sophomore is averaging 13.0 points and 6.7 assists per game, piloting an attack that has eight players averaging at least 5.8 points per game.
Texas A&M-Corpus Christi (4-8) comes to Lincoln looking to snap a three-game losing streak after a 71-67 setback at Central Arkansas on Dec. 21. In that game, Islander guard Myles Smith put on a show with a 31-point effort, including 6-of-10 shooting from 3-point range, but Texas A&M-CC could not hold on, as Central Arkansas rallied in the final four minutes for the win. Smith leads the Islanders at 16.7 points per game.
PLAYER SPOTLIGHT
Cam Mack is one of 11 players in Division I – and two in the Big Ten – with three double-figure assists performances in 2019-20. Mack is 13th nationally with 6.6 assists per game through the Huskers' first 12 contests.
NUMBERS TO KNOW
1.20-to-1 – Nebraska's assist-to-turnover ratio for the season, but since the loss to Georgia Tech on Dec. 4, it is 1.49-to-1, while averaging 16.0 assists per game in that stretch.
.455 – Thorir Thorbjarnarson is tied for seventh in the Big Ten in 3-point percentage entering the weekend. He is 15-of-33 from long range this season after going a combined 6-of-28 behind the 3-point stripe in his first two years.
8 – Nebraska has had eight of its nine eligible scholarship players reach double figures this season. The Huskers have three players currently averaging double figures.
17.6 – Points per game for junior guard Dachon Burke over the last three games, as he is shooting 51 percent from the floor, including 47 percent from 3-point range, during that stretch.

5.8 – Rebounds per game for freshman Yvan Ouedraogo, which is fourth among all Big Ten freshmen. His rebounds per game is on track to be the highest by a Husker freshman since Aleks Maric grabbed 6.3 rebounds per game in 2005-06.
50- Returning point total from last season, all by Thorir Thorbjarnarson. That is the lowest by any power conference team since the 2009-10 season.
SCOUTING TEXAS A&M-CORPUS CHRISTI
Texas A&M-Corpus Christi comes to Lincoln with a 4-8 mark after dropping a 71-67 decision to Central Arkansas on Dec. 21. In that game, Myles Smith led the Islanders with a career-high 31-point effort, including six 3-pointers, and grabbed a team-high seven rebounds while no other player reached double figures. TAMU-CC led 40-29 at the break but was outscored 42-27 in the final 20 minutes in dropping its third straight game. Nebraska will be the third power conference team the Islanders have faced in 2019-20 after losing at Vanderbilt (71-66) and at Texas A&M (63-60). In all, six of the 12 games the Islanders have played have been decided by six points or less.
Willis Wilson is in his ninth year as head coach at the school and has guided the Islanders to a trio of 20-win seasons and four postseason appearances, including the CIT title game in 2017. Prior to taking the TAMU-CC program, he spent 16 seasons at Rice, finishing his tenure as the school's winningest coach.
Smith, a 6-foot junior guard, paces the Islanders in scoring at 16.7 points per game, while shooting 41 percent from 3-point range. One of two returning starters, he also pulls down 5.6 rebounds per game and is third on the team in both assists and steals. Jashawn Talton also averages double figures, as he scores 12.7 points per game and hauls in a team-high 7.4 rebounds per contest. In all, TAMU-CC has five players averaging at least seven points per game, and the team allows just 65.3 points per game.
Series History: The matchup is the first between Nebraska and Texas A&M-Corpus Christi, while Nebraska is 10-2 all-time against current Southland Conference members.