Husker women look to bounce back at Wisconsin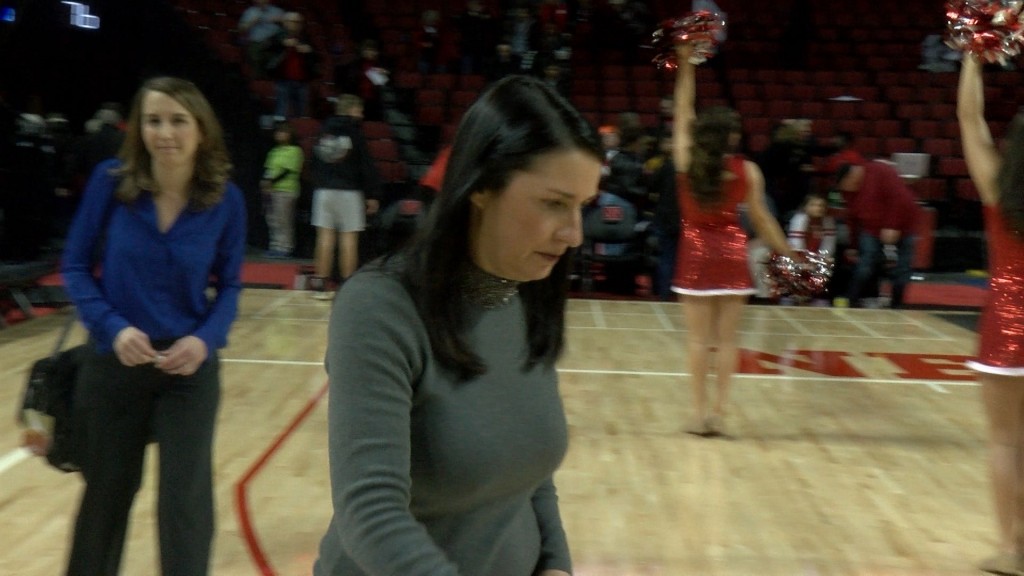 From: Nebraska Athletics
The Nebraska women's basketball team makes a quick trip to Wisconsin this weekend to take on the Badgers Saturday. Tip-off between the Huskers (14-5, 4-4 Big Ten) and the Badgers (10-9, 2-6 Big Ten) is set for 11 a.m. (CT) at the Kohl Center in Madison.
Live television coverage will be provided by the Big Ten Network with Sloane Martin on play-by-play and Vera Jones providing commentary.
Live radio coverage for Saturday's game can be heard on B107.3 FM in Lincoln and CD 105.9 FM in Omaha beginning at 10:45 a.m. (CT). Stations across the state will also carry the broadcast on the Learfield IMG College Husker Sports Network. Free live audio can be found at Huskers.com, the Huskers App.
Nebraska heads to Wisconsin looking to rebound from a disappointing 76-68 loss to Purdue on Wednesday at Pinnacle Bank Arena. The Huskers dug themselves a 39-18 hole midway through the second quarter, before producing a massive 25-point swing to take a 63-59 lead with 4:30 left in the game. However, Purdue responded with an 11-0 run to regain control over the next three minutes.
Senior guard Nicea Eliely continued her strong play with 15 points, five rebounds, three assists and two steals for the Huskers. She scored five straight points midway through the fourth to shoot Nebraska to its four-point lead.
Sophomores Ashtyn Veerbeek (13 points), Sam Haiby (10) and Leigha Brown (10) all added double figures against the Boilermakers. Brown led the Huskers with 15 points in the first meeting this season against Wisconsin, a 65-50 NU win (Jan. 9) in Lincoln. Haiby added seven assists.
Brown continues to make a strong case for Big Ten Sixth Player of the Year honors. The 6-1 guard from Auburn, Ind., is averaging a team-high 13.3 points per game for the Huskers. She leads Nebraska with 15 double-figure scoring efforts this season, including three straight games.
Senior Hannah Whitish makes her final homecoming as a Husker to Wisconsin. Whitish was the 2016 Wisconsin Miss Basketball at Barneveld High School. In two previous trips to Madison as a Husker, Whitish has averaged 12.5 points and 5.5 assists per game but is 0-2.
Another former Husker great from Wisconsin was two-time WNBA All-Star Anna DeForge, who was a teammate of Nebraska Coach Amy Williams (1995-98). DeForge, who was an All-Star with the Indiana Fever and Phoenix Mercury, was the 1994 Wisconsin Miss Basketball.
Scouting The Wisconsin Badgers
• Head coach Jonathan Tsipis brings his fourth Wisconsin team into Saturday's game following a 72-62 win at Minnesota on Wednesday night, snapping a 13-game series losing streak to their border rivals. The Badgers improved to 10-9 overall and 2-6 in the Big Ten, snapping a four-game losing streak that began with a 65-50 loss to Nebraska in Lincoln (Jan. 9).
• Last season, Wisconsin finished with a 15-18 overall record that included a 4-14 Big Ten mark. The 15 wins for the Badgers were their most since 2010-11 (18-15), which was also their last winning season in women's basketball.
• Tsipis, who is 43-70 in his four seasons at Wisconsin, has his Badgers taking pride in their defense. Wisconsin is allowing 63.3 points per game and has only allowed one opponent (Iowa – 85) to score 75 in any game this season. Colorado (74) and Purdue (72) are the only other Badger foes to hit 70.
• Last season, the Badgers defeated Nebraska, 70-69, on a Kelly Karlis buzzer-beating three-pointer in the corner in Madison (Jan. 27, 2019).
• Wisconsin is led by outstanding sophomore Imani Lewis. The 6-1 forward is averaging team bests of 15.2 points and 9.1 rebounds per game, including 18.5 points and 11.9 boards in Big Ten play, after her huge 23-point, 16-rebound effort at Minnesota. She has taken nearly 23 percent of UW's shots in league play. She had 18 points and 10 rebounds in the first meeting with NU in Lincoln.
• Senior Abby Laszewski, a 6-3 forward, has added 11.1 points and 6.7 rebounds on the season. The Huskers held Laszewski in check with just three points and two rebounds in the first meeting. Neither Lewis nor Laszewski have attempted a three-pointer this season.
• Freshman Sydney Hilliard has made an immediate impact. The 5-11 guard is averaging 9.6 points and 4.8 rebounds on the season and has started all eight Big Ten contests. Hilliard had nine points and three assists in Lincoln.
• Senior point guard Kendra Van Leeuwen has averaged 6.1 points, 3.8 rebounds and a team-best 4.2 assists. She managed five points and four assists against the Huskers in Lincoln.
• Junior Niya Beverley rounds out Wisconsin's starting five with 7.8 points and 2.3 rebounds per game. Over the last three games, Beverley is averaging 12.7 points, 3.7 rebounds, 3.3 assists and 1.0 steal, while going 15-of-31 from the field and 5-of-5 at the free throw line. She's averaging 15.0 points and 4.0 rebounds in UW's Big Ten wins, and 7.7 points and 1.8 rebounds in the Badgers' Big Ten losses. She had 10 points, four rebounds, five assists and four steals in Wisconsin's win over Nebraska last season in Madison.
• Senior Suzanne Gilreath leads Wisconsin from long range with 31 three-pointers on the year, including 8-of-22 in Big Ten play. Gilreath is averaging 6.2 points per game.
• Freshman Julie Pospisilova has added more pop from long range with 16 threes on the season. Pospisilova started nine non-conference games and is averaging 4.8 points per game on the year, but just 2.0 points in 16.1 minutes in Big Ten play.
• Freshman Tara Stauffacher is one of five Badgers to play in all 19 games this season. She is averaging 2.9 points and 2.4 rebounds per game. She did not score in the first meeting with NU.
• As a team, Wisconsin is averaging 64.9 points per game on the season while shooting 41.2 percent from the field, including 29.4 percent from three-point range. UW is averaging just 4.6 threes per game. In last season's win over Nebraska, Wisconsin went just 2-for-10 including the game-winner at the buzzer. The Badgers went 3-for-10 from long range in Lincoln this season.
• In Big Ten play, Wisconsin is shooting 40 percent from the field, including 25.9 percent (28-108) from three-point range. UW owns a plus-1.8 rebound margin on the season but a minus-0.7 turnover margin. However, the Badgers own a plus-0.1 turnover margin and a minus-2.0 rebound margin in Big Ten play.
• For the season, Wisconsin is holding opponents to just 38.6 percent shooting from the field, including 30.8 percent from long range.
Nebraska vs. Wisconsin Series History
• Nebraska leads the all-time series with Wisconsin, 10-7, including a 65-50 win over the Badgers at Pinnacle Bank Arena on Jan. 9. All 10 of NU's victories over the Badgers have come as Big Ten foes.
• The Badgers have won back-to-back games against the Huskers in Madison, including a 70-69 win over the Huskers at the Kohl Center on Jan. 27, 2019. Nicea Eliely hit a driving layup with 0.7 seconds left to give NU a 69-67 lead, before Kelly Karlis answered with a three in front of the Wisconsin bench as time expired. Taylor Kissinger led Nebraska with 15 points, while Kate Cain added 14 points and seven rebounds. Hannah Whitish and Nicea Eliely each had 12 points.
• Wisconsin rolled to an 82-56 win in Madison Feb. 9, 2017 – the largest victory margin in the series.
• The Huskers are 10-2 against the Badgers as Big Ten Conference opponents, including 6-0 in Lincoln and 4-0 at Pinnacle Bank Arena. Nebraska is 4-2 against Wisconsin at the Kohl Center. Nebraska's first three wins at the Kohl Center were by a combined nine points, including a 71-70 OT win on Feb. 5, 2014, a 55-53 win on Feb. 28, 2013, and a 75-69 win on Jan. 12, 2012 – the first meeting between the schools as Big Ten foes.
• Wisconsin won the first five meetings between the two school as non-conference opponents, including a pair of overtime victories at the Devaney Center in Lincoln and three wins in Madison. All five of the non-conference meetings between the schools were decided by 10 or fewer points.
• Twelve of 17 meetings have been decided by 10 or fewer points, including three overtime games.
Nebraska Streaks
• Kate Cain owns Nebraska's longest streak of consecutive starts (80).
• Nicea Eliely owns Nebraska's second-longest streak of starts (75).
• Nicea Eliely and Leigha Brown are the only Huskers to score points in each of Nebraska's first 19 games this season.
• Kate Cain and Isabelle Bourne are the only Huskers to record at least one rebound for Nebraska in all 19 games this season.
• Eliely was the only Husker to score in all 30 games last season, and the only Husker to score in all of Nebraska's games against Big Ten Conference foes. She has scored in 53 consecutive games overall. She did not score in a win over Penn State on Feb. 22, 2018, the only time in the past three seasons (including 2019-20, 73 games) that Eliely was shut out.
• The Huskers have knocked down at least one three in 361 straight games dating back to a loss at UTEP on Dec. 20, 2008. Nebraska has hit at least two three-pointers in 240 consecutive games.
Numbers to Watch
(2) Kristian Hudson needs two assists to reach 400 in her career (383 at FIU).
(6) Kate Cain is six blocked shots away from matching the Nebraska career block record held by Janet Smith (238, 1979-82).
(7) Kristian Hudson needs seven rebounds to reach 400 in her career (372 at FIU).
(12) Hannah Whitish is 12 assists away from No. 6 on the Nebraska career assist list (444, Amy Stephens, 1986-89).
(22) Nicea Eliely is 22 points away from 900 in her career.