Husker wrestling unveils new stage setting for dual against Penn State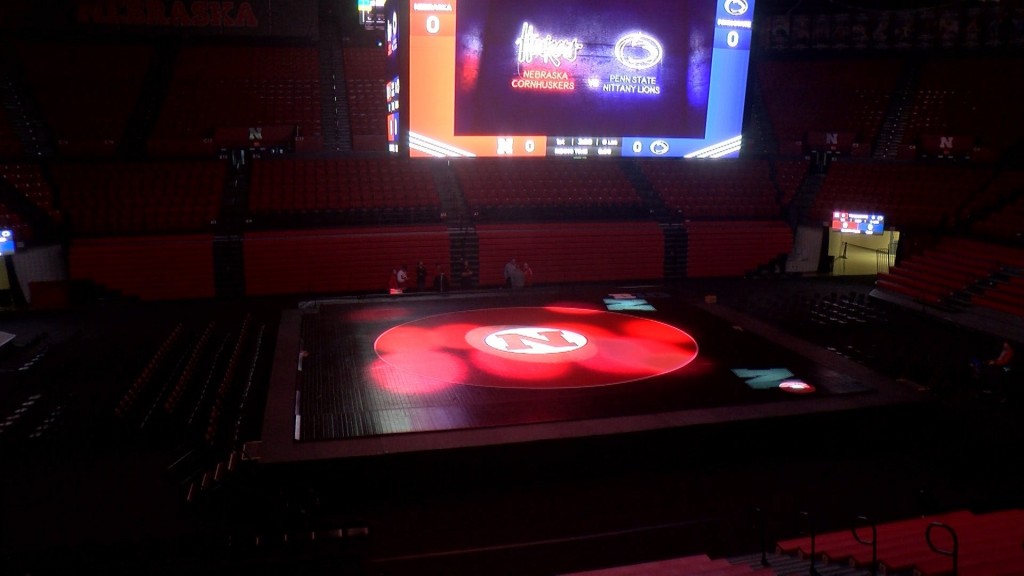 Nebraska wrestling has unveiled a new stage setting for its upcoming dual with Penn State. The mat will be elevated with floor seating at the Devaney Center.
Husker coach Mark Manning talks about the new setup and breaks down the matchup with the Nittany Lions at the video links below.
WATCH:
Mark Manning on new setup
Huskers set to battle Nittany Lions
From: Nebraska Athletics
The No. 7 Nebraska wrestling team welcomes two Big Ten opponents to Lincoln this weekend, facing off against No. 2 Penn State in a high-stakes dual on Friday night before grappling with Michigan State on Sunday afternoon. Friday's action will begin at 6 p.m. and be televised by BTN (with streaming available on the Fox Sports App) while Sunday's matchup starts at 2 p.m. and can be streamed online via BTN+ (subscription required).
The Nittany Lions (6-1, 3-0 Big Ten) have won eight of the last nine NCAA Championships. Despite season-ending injuries to both 2019 NCAA Champion Anthony Cassar (HWT) and Kent State graduate transfer and 2018 NCAA Championships third-place finisher Kyle Conel (197), Penn State has continued its on-mat success. Their lone loss of the 2019-20 campaign came at the hands of then-No. 6 Arizona State, a 19-18 setback during which PSU forfeited a match, giving the Sun Devils six critical team points.
Michigan State (5-5, 1-3 Big Ten) is coming off their first conference victory, a 36-0 blanking of Maryland on Jan. 19. The Spartans' lineup features ranked wrestlers No. 20 Jake Tucker (157) and No. 17 Cam Caffey (184), who have a combined record of 22-6 on the season. MSU wrestles Clarion in East Lansing, Mich., on Jan. 24 before their matchup with the Huskers on Jan. 26.
The Huskers (5-2, 0-2 Big Ten), meanwhile, are looking to snap a two-meet losing streak. NU is coming off a 26-6 setback at Iowa, a matchup which saw seven bouts decided by three points or less. Of those seven decisions, only one involved a Husker grappler getting his hand raised in victory. Bright spots for the Big Red included two top-five upsets, as Chad Red Jr. (141) was a 6-2 winner over then-No. 5 Max Murin and Eric Schultz (197) was a 3-1 victor over then-No. 5 Jacob Warner.
Friday's dual marks the return of the Pepsi Pack the House promotion, featuring $1 admission and $1 Pepsi products. Sunday's dual will be part of Tumble N' Rumble, a combined event featuring the Nebraska wrestling and men's gymnastics teams competing simultaneously. There will also be a giveaway on Sunday, with free t-shirts being given to the first 500 fans and free pop sockets given to the first 300 fans.