Huskers fall on road to Minnesota, 30-23
Scott Frost moves to 5-17 on one possession games.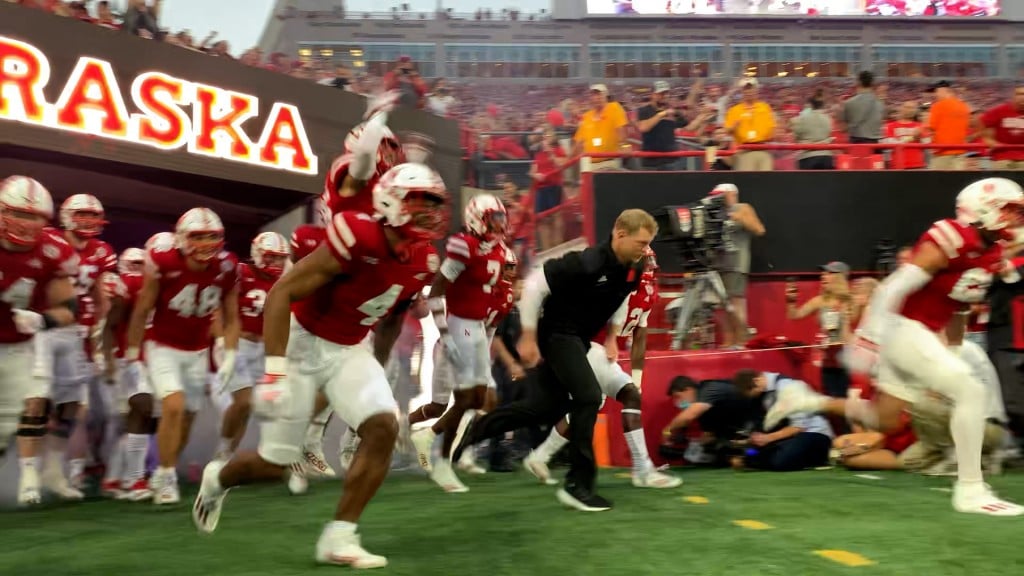 MINNEAPOLIS, Minn. (KLKN/Nebraska Athletics) – Costly mistakes hurt the Huskers as they fall on the road to Minnesota, 30-23.
A slow start offensively for Nebraska as the Huskers opening drive lasted less than a minute. Minnesota responded with a 14 play, 7:42 drive that ended with a 5-yard touchdown pass to Brevyn Spann-Ford. The Gophers took a 7-0 lead.
Nebraska would score on the next drive as Connor Culp hit a 50-yard field goal, cutting Minnesota's lead to 7-3. But the Blackshirts struggled against this Minnesota offense who quickly added another seven to the board thanks to a Tanner Morgan touchdown pass.
The Husker defense finally gained momentum when Cam Taylor-Britt stopped a Minnesota trick play with a tackle for a 12-yard loss. Minnesota then missed a 50-yard field goal attempt.
Nebraska responded with Rahmir Johnson running in a 6-yard touchdown, but Connor Culp missed his fourth extra point of the season. The first half ended with another Gopher touchdown as the Huskers trailed 21-9 at halftime.
A whirlwind of a third quarter began with two Nebraska interceptions from Cam Taylor-Britt and Deontai Williams. The Huskers were able to capitalize off William's play with Johnson scoring his second touchdown of the day.
Nebraska's offense was more productive in the second half. However, on fourth and goal, Nebraska had the ball on the one-yard line when Minnesota's defense came up with a huge stop not letting Jaquez Yant into the end zone. The score remained at 21-16 heading into the final quarter of the game.
Nebraska's costly mistake came in the fourth quarter when Adrian Martinez was called for intentional grounding in Minnesota's end zone resulting in a safety and loss of possession.
The Huskers took advantage of their remaining time marching down field within a minute. Martinez connected with Allen this time in the end zone to make it a one-possession game with one minute remaining. But, that's all Minnesota would need.
Nebraska falls on the road for the fourth time this season, 30-23 the final.
POST GAME NOTES:
The Minnesota victory was its third straight in the series. Since Nebraska joined the Big Ten the Gophers have a 6-5 edge and now lead the all-time series 35-25-2, including 24-13-2 in Minneapolis.
With 241 passing yards against Minnesota, Nebraska has passed for at least 200 yards in all eight games this season and for nine straight games dating back to the final game of 2020. The streak of throwing for at least 200 yards in each of the first eight games ties for the longest season-opening streak in school history. It also marks Nebraska's longest streak of 200-yard passing games since a school-record 20-game streak spanning the 2007, 2008 and 2009 seasons.
Tight end Austin Allen had five catches for a career-high 121 yards. His previous career high was 61 yards against Fordham earlier this season. Each of Allen's first four receptions covered at least 20 yards, while his fifth reception was a 9-yard touchdown that marked his third career touchdown catch and second in as many weeks.
Allen is the first Nebraska tight end to have 100 receiving yards in a game since Tyler Hoppes had five catches for 105 yards at Purdue on Oct. 28, 2017.
With his five catches, Allen pushed his career receptions total to 51. He is the 10th tight end in school history with 50 career catches.
Allen is the fourth Husker to have a 100-yard receiving game this season, joining Rahmir Johnson, Samori Toure and Oliver Martin. This is the first time since 2007 Nebraska has had four different players have a 100-yard receiving game in the same season.   
Running back Rahmir Johnson rushed 11 times for a career-high 83 yards and two touchdowns. Johnson's 83 yards bettered his previous career high of 76 rushing yards at Michigan State. Today's game marked his second multi-TD game of the season (also 2 rush TD vs. Northwestern).
Quarterback Adrian Martinez accounted for 224 yards of total offense, ending his school-record eight-game streak with at least 250 yards of total offense.
Martinez completed 18 passes in today's game, giving him 617 career completions. He is the second Husker with 600 career completions and is eight completions shy of Tommy Armstrong's career record of 625 completions.
With his one passing touchdown in the game, Martinez became the eighth Husker to have 10 passing and 10 rushing touchdowns in the same season, joining Taylor Martinez (2010 & 2012), Eric Crouch (2000), Tommie Frazier (1995), Mickey Joseph (1990), Gerry Gdowski (1989), Steve Taylor (1988) and Turner Gill (1983).
Cornerback Cam Taylor-Britt had a 12-yard sack in the second quarter, marking his first sack in the past two seasons. He now has 2.5 career sacks. Taylor-Britt also tied his career high with 2.0 TFLs.
Taylor-Britt had a third-quarter interception to end a Gopher scoring threat. It marked his first interception of the 2021 season and the sixth of his Nebraska career.
Senior safety Deontai Williams had a third-quarter interception, marking his team-leading fourth interception of the season and the sixth of his career. He is the first Husker to have four interceptions in a season since 2016. Williams entered today's game tied for sixth nationally in interceptions.
Place-kicker Connor Culp connected on a 50-yard field goal in the first quarter. It marked his second 50-plus field goal of the season, with him also hitting a career-long 51-yarder at Oklahoma.
Receiver Brody Belt made his first career start in today's game.