Huskers rally to beat Rutgers, 28-21
Dedrick Mills and Adrian Martinez combined to run for over 344 yards as Nebraska rallied to beat Rutgers, 28-21, on Friday night to kickoff the Big Ten's "Champions Week".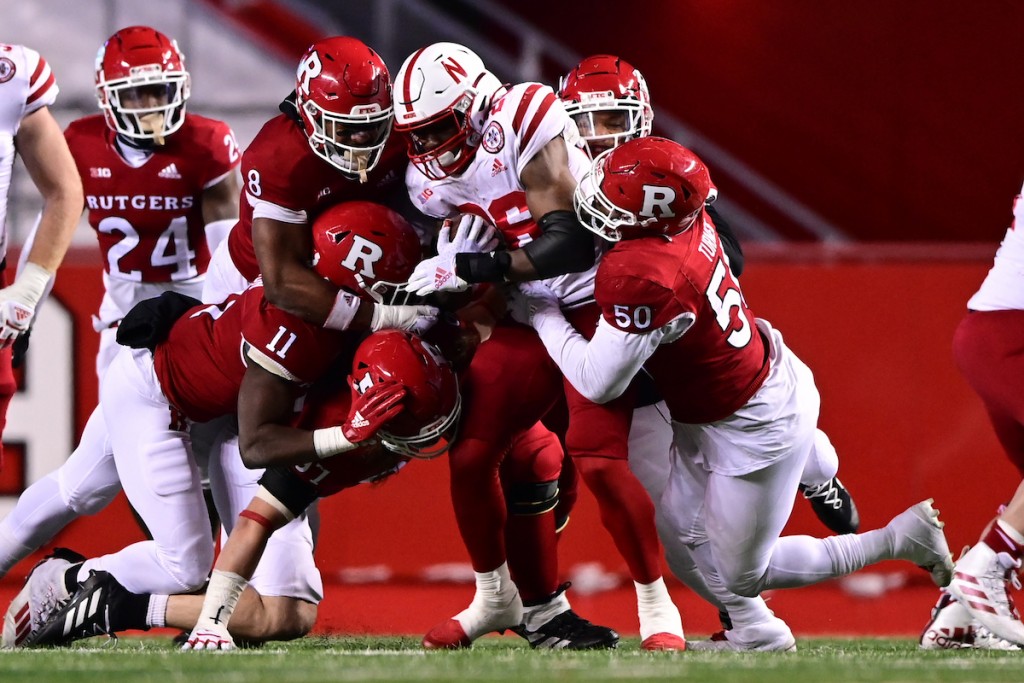 PISCATAWAY, N.J. (KLKN) — Dedrick Mills and Adrian Martinez combined to run for over 344 yards as Nebraska rallied to beat Rutgers, 28-21, on Friday night to kickoff the Big Ten's "Champions Week".
Nebraska compiled 620 yards of total offense, including 365 yards on the ground as a team.
The Huskers overcame a rocky start offensively with four fumbles in the game's first 11 minutes, losing two of them. Martinez accounted for three turnovers in the first half, two fumbles and an interception in the end zone, that led to 14 Rutgers' points.
However, the Big Red came out on fire in the second half. Martinez scoring on a 41-yard touchdown run to even the game at 14.
Rutgers quickly reclaimed the lead on a 98-yard touchdown on the ensuing kickoff by Aron Cruikshank, his second kickoff return for a touchdown against Nebraska in his career with the first coming when he was with Wisconsin in 2019. Martinez then threw his second interception of the game in the following Husker possession.
Martinez responded in a big way though. A 14-yard touchdown pass to Wan'Dale Robinson and a 1-yard touchdown run gave the Huskers the lead at 28-21 early in the fourth quarter. Martinez had 153 yards rushing and 255 through the air.
Mills was the key though throughout the game. The senior came into the night with just 205 yards rushing for the season but almost doubled that total on the night.
The Huskers season likely comes to an end now even though they are still eligible for the postseason with the shortened year.
LIVE POSTGAME COVERAGE
POSTGAME NOTES
Nebraska improves to 5-0 all-time against Rutgers with tonight's 28-21 win.
Tonight's win marks only the second time in school history that Nebraska has won twice in the month of December. The only time the Huskers have won two December games in the same season came in 1976 when Nebraska defeated Hawaii, 68-3, in Honolulu (Dec. 4) and defeated Texas Tech, 27-24, in the Astro-Bluebonnet Bowl in Houston (Dec. 31).
Nebraska trailed 14-7 at halftime before rallying for a 28-21 victory. This marks the first time since 2019 at Illinois that Nebraska overcome a halftime deficit to win. Nebraska trailed Illinois 21-14 at half and 35-27 after three quarters, before winning 42-38.
This was Nebraska fifth road game in eight games this season.  This is the first time Nebraska has played more road games than home games since last time Nebraska played more road games than home games in a season was 1946 (5 road games, 4 home games).
The Nebraska offense gained a season-high 620 yards, bettering a 442-yard effort at Northwestern. The Huskers' 620 yards of total offense was their highest since rolling up 674 yards at Illinois in 2019.
Nebraska's 365 rushing yards were a season high, surpassing its 224 yards at Northwestern, and the most since rushing for 383 vs. Minnesota in 2018. Nebraska averaged 6.3 yards per carry in tonight's win.
Nebraska's 11-play, 96-yard touchdown drive in the third quarter was its longest of the season in yardage. Nebraska also posted scoring drives of 92 and 90 yards in the second half. The Huskers were the first FBS team with three 90-yard drives in a single half this season. Nebraska's previous long before tonight was a 79-yard drive at Purdue.
Senior running back Dedrick Mills rushed 25 times for a career-high 191 yards, his third 100-yard rushing game in two seasons at Nebraska and his fifth career 100-yard game overall. His previous career high was 188 yards against Wisconsin in 2019.
With his 191 yards, Mills increased his Nebraska career total to 1,141. He is the 67th Husker to post 1,000 career rushing yards.  Mills posted his two longest runs of the season, a 43-yard run in the second quarter before a 50-yard run in the fourth quarter. His 50-yarder was his longest rush since a 61-yarder against Northern Illinois in 2019.
Mills also tied or set career bests in catches (six, tied) and yards (45). He also had six catches against Northwestern, while his previous career high in receiving yards was 34 vs. Iowa in 2019.
Quarterback Adrian Martinez completed 24-of-28 passes for a season-high 255 yards and rushed 23 times for 157 yards and yards touchdowns. Martinez increased his career total offense yardage to 7,404, making him the fourth Husker with 7,000 career total offense yards. He joins Tommy Armstrong Jr. (10,690), Taylor Martinez (10,233) and Eric Crouch (7,915) in the Huskers' 7,000-yard club.
Martinez accounted for 412 yards of total offense, his fifth career 400-yard performance. That extended his own school record for 400-yard total offense performances. It was also his 13th
career 300-yard total offense game. That ties Tommy Armstrong Jr. for the most 300-yard total offense games in Nebraska history.
Martinez's career-high 157 rushing yards marks his second 100-yard rushing game of 2020 and the fifth of his Nebraska career. His previous career high in rushing yards was 125 against Minnesota in 2018. His 157 rushing yards was the most by a Husker quarterback since Taylor Martinez rushed for 205 yards at Michigan State in 2012. Adrian Martinez's 41-yard touchdown run in the third quarter was a season long rush for Martinez.
Martinez completed 24 passes to move into third place on Nebraska's career completions list with 481. He moved past Zac Taylor (470) in tonight's game.  Over the last four games, he completed 81 of 105 passes (77.1 percent).
Martinez had a 45-yard punt downed at the Rutgers 2 in the first quarter. It was the first punt by a Husker quarterback since Wayne Weber in 1965.
With both Mills (191 yards) and Martinez (157 yards) rushing for better than 100 yards, tonight's game marked the first time Nebraska has had a pair of 100-yard rushers since a 2018 win over Minnesota when Nebraska had three players rush for better than 100 yards (Martinez, Devine Ozigbo, Maurice Washington). It was the first time NU had multiple 100-yard rushers in a conference road game since 2012 (at Michigan State).
True freshman Turner Corcoran drew the start at left tackle. Corcoran is just the sixth true freshman to start a game on the offensive line in Nebraska history and the first to ever start at left tackle. He joined Matt Slauson (RT, 2005), Jacob Hickman (C, 2006), Javorio Burkes (RT, 2007), Tyler Moore (RT, 2011) and Brenden Jaimes (RT, 2017) as true freshmen offensive linemen to start for Nebraska.
Corcoran was one of three freshmen to start on the offensive line, joining right tackle Bryce Benhart and left guard Ethan Piper. Tonight's game marks the first game in Husker history that Nebraska has started three freshmen on the offensive line.
Nebraska sophomore receiver Wan'Dale Robinson caught six passes for 79 yards and a touchdown to increase his season receptions total to 51.  This is the 15th individual 50-catch season in Nebraska school history. Robinson had a season-long 38-yard catch in the second quarter.
Robinson's 1-yard touchdown run in the second quarter was his first rushing touchdown of the 2020 season, and his third-quarter TD catch was his first receiving TD of 2020.
Senior tight end Jack Stoll had season highs with three receptions for 44 yards.
Redshirt freshman linebacker Nick Henrich had a career-high 12 tackles in the game in his first career start.
Cam Taylor-Britt's fourth quarter interception was his second of the season (also PSU) and ffith of his career.
Nebraska out-gained Rutgers, 365-59, in the second half and limited the Scarlet Knights to 252 total yards.
Nebraska finished with eight tackles for loss, its second-highest total of the season.