'It was packed': Lincoln woman describes weekend trip to Lake of the Ozarks
Lacey Tomhave says she wanted to have fun with her family over Memorial Day weekend - and she wasn't alone.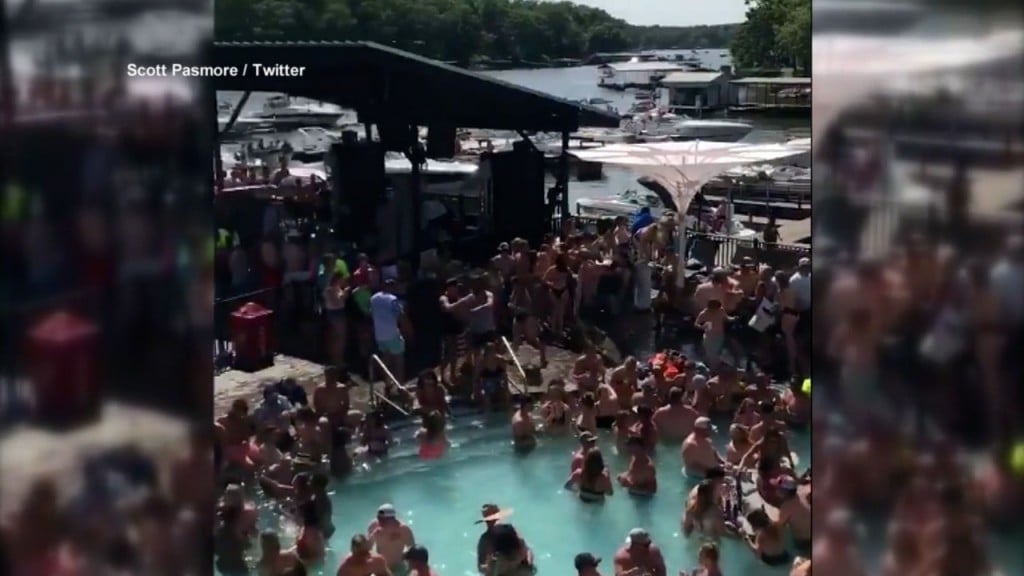 A Lincoln woman is among the hundreds of people who enjoyed a weekend at Lake of the Ozarks in Missouri – many of whom are now being asked to self-quarantine.
Lacey Tomhave says she wanted to have fun with her family over Memorial Day weekend – and she wasn't alone.
"There was a lot of locals, I saw license plates from Virginia, Oklahoma, all sorts of places," Tomhave told Channel 8 Eyewitness News.
Viral video shows a pool packed with people partying, many of whom were not practicing social distancing. Crowds flooded some bars and restaurants at the lakes, which attract Missouri residents, as well as people in surrounding states, including Illinois, Kansas, Arkansas and Iowa.
"Tourists, or people down there, I didn't see very many masks," Tomhave said. "And obviously, as you saw, places were packed, it was packed, so I was a little wary."
Missouri's statewide stay-at-home order expired earlier this month, but an order from the state health director requires 6-foot social distancing until at least the end of May. The order leaves it up to local and state health officials to enforce social distancing.
Tomhave says her family took precautions, and primarily stayed on a private boat.
"We did our part, we still carried out all our food from restaurants, we didn't sit in anywhere, our kids didn't go into any of the stores or restaurants. I walked the strip with my one friend," she said.
The St. Louis County Department of Health issued an advisory Monday evening urging anyone who recently ignored social distancing guidelines while they visited the Ozarks to self-quarantine for 14 days or until they test negative for coronavirus. On Tuesday, the Kansas Department of Health and Environment also recommended a two-week self-quarantine for those travelers.
Missouri has 12,167 confirmed coronavirus cases as of Tuesday morning, which represents a 1.7% increase over the last 24 hours and a 7.9% rise over the last week, according to data from the Missouri Department of Health and Senior Services. St. Louis County has the highest number of cases in the state — 4,544 — and in the last two weeks saw 612 new cases, health department data showed.
Tomhave says she understands how a situation like this could have gotten out of control, but she also knows people want to get back to life as they knew it before the pandemic.
"It's a lot of people, it's a good time, and I think everybody is kind of going stir crazy right now, so everybody just wants to get out of their house," she said."
Tomhave says her family is planning to go back to the Ozarks this summer. She says she doesn't see an issue in having fun outdoors as long as you take precautions to protect yourself and those around you.