It's deadline day for registering to vote by mail or online in Nebraska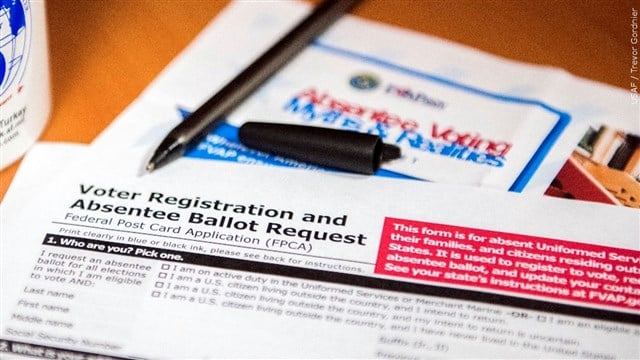 LINCOLN, Neb. (KLKN) – The Lancaster County election commissioner is reminding everyone that Friday is the last day for mail-in and online voter registration.
Dave Shively says you can register online as long as you have a valid Nebraska driver's license or state ID.
You'll have to do so by midnight Friday to be registered in time for the Nov. 8 general election.
The only way to do so after that will be in person at the election commission office.
Anyone registering for the first time or people who have moved, changed their name or want to change their political party must have a mail-in form postmarked by Oct. 21.
"It's against the law to use or vote at an address where you no longer reside," Shively said. "So you wanna make sure that your registration is up to date, your name is up to date, everything like that is up to date."
Forms are available at most post offices, banks and libraries.  You can even download a voter registration form from the election commissioner's website and mail it to the election office.
The website also tells you what's on the ballot so you can prepare ahead of time.
"Log on to our website, and go to our voter view checklist," Shively said. "And it will actually provide you with a sample ballot for your precinct, so if you want to research ahead of time, you can do that."
If you have a mail-in ballot, you can mail it from your own mailbox or from the post office, but it must be received by Election Day.
"If they're getting an absentee ballot, they can drop it in the mail of course," he said. "They have up until 8 o'clock on Election Day to get that back to us. We have to receive it by 8 o clock, or they can drop it in the drop box here."
The drop box for ballots is located in front of the election commission office at 601 N. 46th St.
Any residents who miss online or mail-in registration Friday may register in person at that office through Oct. 28.
The League of Women Voters also has a resource for voting, with information about making a voting plan, finding your polling location, verifying registration and learning who the candidates are this November.