Lincoln student creates prom dress out of duct tape, dreams, and culture
She needs your vote to help win the grand prize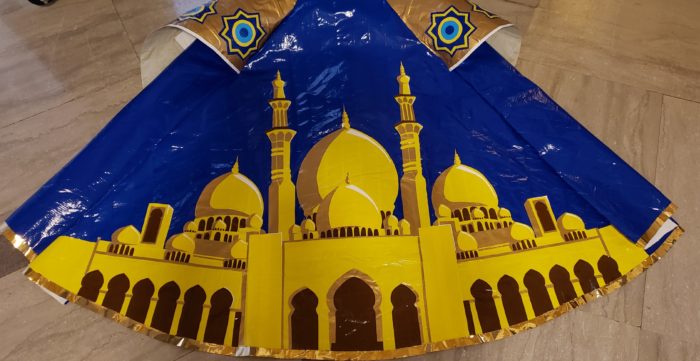 LINCOLN, Neb. (KLKN) – A sticky situation could help a Lincoln student get scholarship money. She's a finalist in a contest to make a prom dress out of duct tape.
Zaineb Aljumayaat is a recent Lincoln High School graduate. She saw the "Stuck At Prom" contest to make a dress or tuxedo completely out of duct tape and knew she had to give it a try.
She is now one of the five finalists for dresses. She could win $10,000 in scholarship money but the votes are made by people in the community so she needs support from Nebraskans.
She stated in her entry, "For this dress, I wanted to create something that represents my culture and history. I am a Middle Eastern Muslim woman and I wanted this dress to showcase the beauty and extravagance of that part of the world. Over the past few decades, there has been so much misunderstanding and hate towards the Arab world and I want to take the attention off of that and bring people's eyes to the art and beauty of my people."
"If there is one thing all human beings have in common, it would be our creativity and art."
As for the inspiration of her dress, she wanted to showcase fashion mixed with architecture. "The mosque in the front of the dress was inspired by the Sheikh Zayed mosque located in Abu Dhabi. It is one of the most beautiful mosques in the world and it truly speaks to the beauty of Middle Eastern architecture. Creating the mosque was the most difficult and time-consuming aspect of creating this dress because I had to cut out every little piece and stick it onto the dress to make a perfect illusion of shadows and highlights. It is even more difficult to take photos because every little glare ruins the beauty of the piece," Aljumayaat wrote.
She said the headpiece was one of the more challenging parts of this project.
She said, "I was inspired by ancient Middle Eastern and Egyptian fashion. I wanted to create something that suited my hijab and the aesthetic of the dress. It was very difficult to create something that did both and it honestly happened by chance. I picked up an unused sheet of tape and began shaping it onto my head. I kept playing with it until I came to this shape and thankfully I was able to create something beautiful!"
And if she hasn't convinced you to vote for her yet, read this, "Creating this dress was a huge challenge but I am very proud that I was able to create something that represents myself and my culture. Additionally creating this has allowed me to broaden my artistic abilities as I continue my love for creativity into art school this fall. I am so excited to create more things like this in my future because I know this is only the beginning for me!"
Good luck, Zaineb!