Nebraska falls to Purdue on the road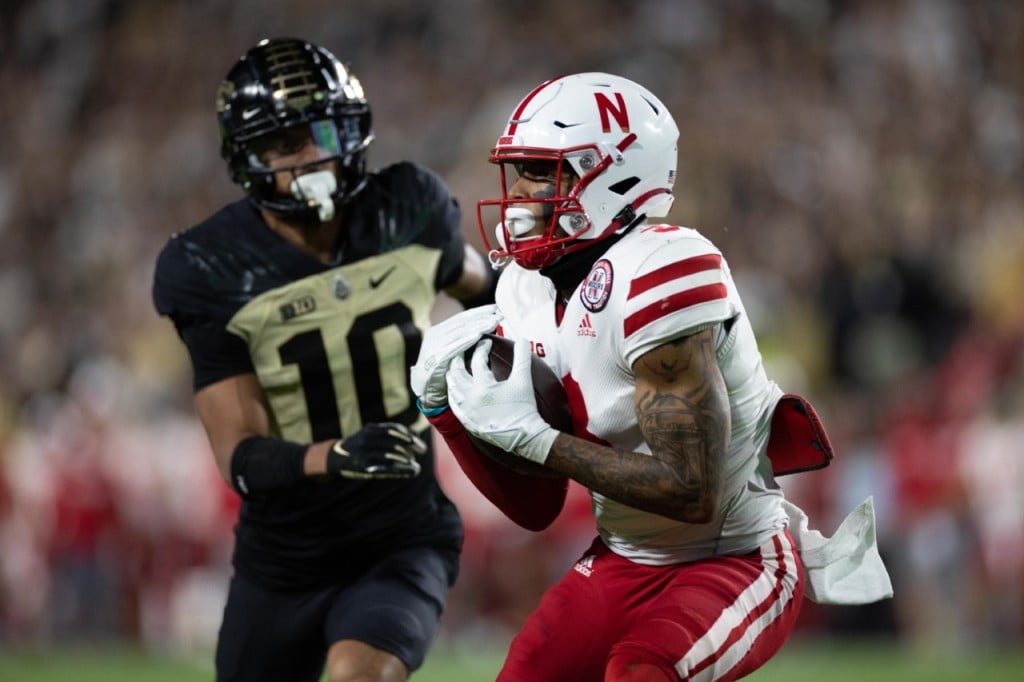 LINCOLN, Neb. (KLKN) —The Nebraska Cornhuskers lost 43-37 on the road against Purdue Saturday.
Nebraska's defense secured an interception in the endzone on Purdue's first drive. Freshman DB Malcom Hartzog collected the pick.
Purdue got the scoring going early thanks to a passing touchdown by QB Aidan O'Connell who connected with WR TJ Sheffield for a 2 yard score.
In the second quarter, the Huskers were down 10 to 0 before Jaquez Yant scored a rushing TD to cut the deficit to 10-7.
Later in the quarter, Nebraska kicker Timmy Bleekrode knocked in a 36 yard field goal to tie the game up 10-10.
With 5:39 left in the second, Purdue found the endzone thanks to a 31-yard reception by WR Charlie Jones giving the Boilermakers a 17-10 lead.
Purdue added to their lead with a 37 yard field goal to make the score 20 to 10.
After an interception, Purdue's offense capitalized scoring a rushing touchdown with just 39 seconds left in the half extending their lead to 27-10.
Huskers do find another field goal before the half to make it 27-13.
Break time in West Lafayette. pic.twitter.com/aIm0jgJ8Jy

— Nebraska Football (@HuskerFBNation) October 16, 2022
In the second half, the Huskers got on the board first as QB Casey Thompson connected with Trey Palmer for a 37-yard touchdown. Cutting the Purdue lead to 27-20.
Purdue attempts a field goal and cannot connect. Score remains 27-20.
Huskers knock in a field goal late in the 3rd to cut the Purdue lead to 4. 27-23.
FG #3 is good for @Timmybleekrode.

Huskers pull within four, 23-27. pic.twitter.com/tqRR26b9hG

— Nebraska Football (@HuskerFBNation) October 16, 2022
With 2:18 left in the 3rd quarter, Purdue found another score as O'Connell connected with Sheffield again for the TD. 34-23 Boilermakers.
The Huskers found the endzone once again before the 4th quarter as Thompson finds Palmer once again for a score. 34-30.
GO OFF THREE.

72-YARD TD, @treythekiid3. pic.twitter.com/NDwl4KKsgq

— Nebraska Football (@HuskerFBNation) October 16, 2022
The Boilermakers score again to push their lead to 43-30 in the 4th quarter.
Huskers find a late game TD thanks to a goal line score by Anthony Grant.
Boilermakers walk away with the win 43-37.
Nebraska will be back at home to face Illinios in two weeks.
Trey Palmer caught seven passes for 237 yards with touchdowns of 37 and 72 yards in the third quarter. Palmer's 237 receiving yards marked the most receiving yards in Nebraska history.
Casey Thompson threw for 354 yards and two touchdowns.
Place-kicker Timmy Bleekrode connected on two first-half field goals, and a third-quarter field goal. Those are his first three made field goals since the North Dakota game on Sept. 3.
Fought till the end
but came up short. pic.twitter.com/Oa3c6vfbWm

— Nebraska Football (@HuskerFBNation) October 16, 2022