Local dentists still waiting for COVID-19 vaccine
Dentists in Lancaster County say they feel like they haven't been properly prioritized when it comes to getting the COVID-19 vaccine.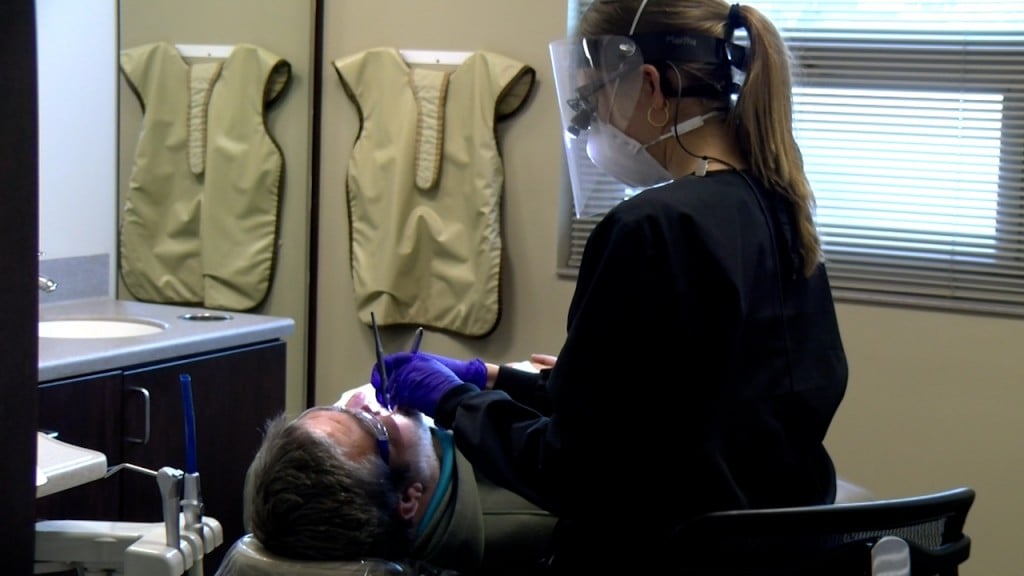 LINCOLN, Neb. (KLKN) – Dentists in Lancaster County are expressing concern as they continue to wait for their COVID-19 vaccinations, despite being in phase 1A.
Most dentists in the county, that aren't associated with the hospital systems, still haven't received their first dose.
"We realize tiers one and two are hospital folks, and that's great. So, we're in tier three, but then patients come into the dentist's office and saying they got the vaccine," says David O'Doherty, executive director of the Nebraska Dental Association, which represents 70% of dentists statewide. "[When] we ask what they do and they say they work in the filing department of the hospital…that's not right. And it was happening a lot."
According to the Nebraska Department of Health and Human Services state vaccination plan, dental staff is in tier three of phase 1A. In other words, they're in line after all frontline medical workers and long term care facilities.
But, as the health department says it's already preparing for phase two vaccinations, some dentists wonder if they were properly prioritized.
"We're all in this together, and we want everyone to be able to get vaccinated, but I think people like respiratory therapists, pulmonologists, dentists and people like that that are more directly involved with patient care and aerosol situations," says Dr. Justin Dworak, a dentist with the Maranatha Dental Group. "You know there's just some confusion in the dental community as to why we're not maybe a little higher of a priority in that regard."
"They're working in a very close environment with a lot of aerosol sprays [from] patients mouths so if anyone needs in, it would be a dentist and their hygienists and assistants," O'Doherty says.
Communicating with both the state and local health departments has been inconsistent and frustrating, O'Doherty says.
"The health departments on the east side of the state say they don't have enough although the DHHS was saying they've got enough to move into phase 1B by the end of the month. So the messaging was very confusing, and hearing that people who aren't clinical were getting the vaccine is very disappointing," he says.
Dworak says he understands that vaccinating large populations is a big task, and is sympathetic to the busy, hard-working members of the state and local health departments. They tell him that his vaccine will come next month.
"They think sometime in February the dental professionals in this area will have access to get vaccinated," says Dworak.
In a statement to Channel 8 News, the Nebraska DHHS says:
DHHS is working hard to provide COVID-19 vaccinations to Nebraskans as quickly as possible. Phase 1A includes frontline health care workers and residents and staff of long-term care facilities. We continue to vaccinate hospital staff and health care workers who are providing direct patient care, as well as paramedics, emergency medical technicians, and others. Dentists are included in Phase 1A as part of Tier III, so are able to get vaccinated now depending on how their region is progressing through the Tiers within Phase 1A.
Certain areas of Nebraska may progress through the phase tiers faster. More rural areas of the state simply have fewer people who need to be vaccinated, and due to that, there are some rural areas beginning to progress past Phase 1A. However, in more densely populated areas of Nebraska, this process will take at least two to three additional weeks given the much higher volume of people. We ask that those in Phases 1B and 1C be patient as we move through this process.
We welcome interested Nebraskans to review the COVID-19 vaccination web page and rollout plan, which can be found on the DHHS website. A list of the tiers can be found here:  http://dhhs.ne.gov/Documents/COVID-19-Vaccine-Phase-1A-Allocation-Recommendations.pdf We also recommend that Nebraskans check out their local public health department's website for additional info on scheduling vaccines in their specific areas.