Midland University adding women's flag football as varsity sport
Women's Flag Football will be the 33rd varsity program offered by the university located in Fremont, Neb.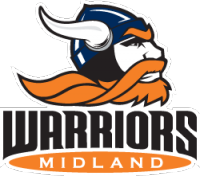 From: Midland University Athletics
FREMONT, Neb.  – Midland University, a private, liberal arts college providing relevant academic opportunities and a variety of athletic programs to students, has announced the addition of Women's Flag Football to its athletic offerings beginning with the 2020-21 academic year. Women's Flag Football will be the 33rd varsity program offered by the university located in Fremont, Neb. Women's flag football is on its way to becoming an official National Association of Intercollegiate Athletics (NAIA) varsity sport, thanks to a two-year partnership between the NAIA, the National Football League (NFL) and Reigning Champs Experiences (RCX).
"We are excited to partner with the NAIA, the NFL, and RCX with the addition of women's flag football," said Midland University President Jody Horner. "We continue to strive to create new opportunities for students to pursue their passions outside of the classroom, while they earn their degree. To be on the ground floor of a new sport alongside the NAIA and the NFL is a great opportunity for all of us at Midland. We look forward to helping grow the sport of women's flag football."
Midland has experienced record growth over the last decade and is recognized as Nebraska's fastest-growing college. The University also has the largest athletic department in the state. Students are drawn to the institution's dynamic course and athletic offerings, scholarship opportunities, and inclusive community.
"Football is for everyone," said Troy Vincent, executive vice president of football operations for the NFL. "This groundbreaking and historic joint venture provides an opportunity for the values, fun and competitive environment of football to be enjoyed as a varsity sport by female student-athletes attending NAIA institutions across America."
"The NAIA is thrilled to partner with the NFL and RCX in launching women's flag football," said Jim Carr, NAIA president and CEO. "This is a fantastic opportunity for our members to expand their athletics programming with support from valuable partners like RCX and one of the most relevant and successful professional sports leagues in the world."
The first competitive season will be held in the spring of 2021 with an emerging sport or invitational championship in the spring of 2022 hosted by the NAIA. An emerging sport in the NAIA is defined as at least 15 participating institutions, while invitational can be defined as at least 25. A sport must have a minimum of 40 participating institutions to be considered for full championship status.
For more information on Midland University please visit www.midlandu.edu
For more information on NAIA Women's Flag Football please visit www.naia.org/sports/wflag/index.