MUST SEE: Nebraska Rancher gets cattle to pay amazing tribute to essential workers
In true Nebraska fashion, 600 cattle, lined up almost perfectly in the shape of an EKG with a heart to honor our healthcare heroes.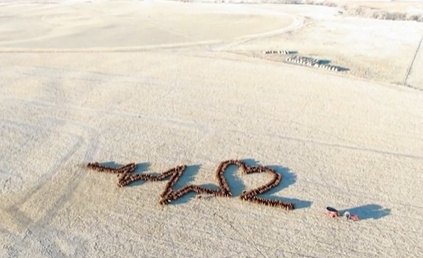 BRIDGEPORT, Neb. (KLKN) – A Red Angus Cattle Rancher has paid a tribute to all essential workers you won't soon forget.
He lined up his cattle in a field in the shape of an EKG with a special heart shape in the middle, sent up a drone, and made a dedication video to doctors, nurses, first responders, and all other essential workers who've repeatedly gone above and beyond this year of battling a pandemic.
This isn't David Schuler's first rodeo, this is his third video he has made. Last year he spelled out the word "Beef" for the Beef Promotional Campaign and on Valentine's day, lined up the cattle into the shape of a heart.
"This year the only thing that made sense to me was to honor our true heroes, the backbone to the heartbeat," Schuler said.
He dedicated it to America's Heroes and signed it from America's Backbone.
WATCH FULL VIDEO HERE:
How does he do it?
He just put the food down in the shape of the design he wanted, something he has been experimenting with for years, and the cows just stood there to eat while he recorded the video. Schuler said he had about 15 minutes to snap the perfect production until the cattle got bored and wander away.
Schuler may have captured hundreds of cattle but he has now captured the attention of millions of people.
"It's a very Nebraskan thing to do, it kind of took off and it's just not Nebraska anymore, I'm getting calls from people in Houston and text messages from ER Nurses across the country," Schuler said.