Nebraska dominates Northwestern, 56-7
The Huskers dominated from the first snap beating the Wildcats 56-7 on Homecoming night.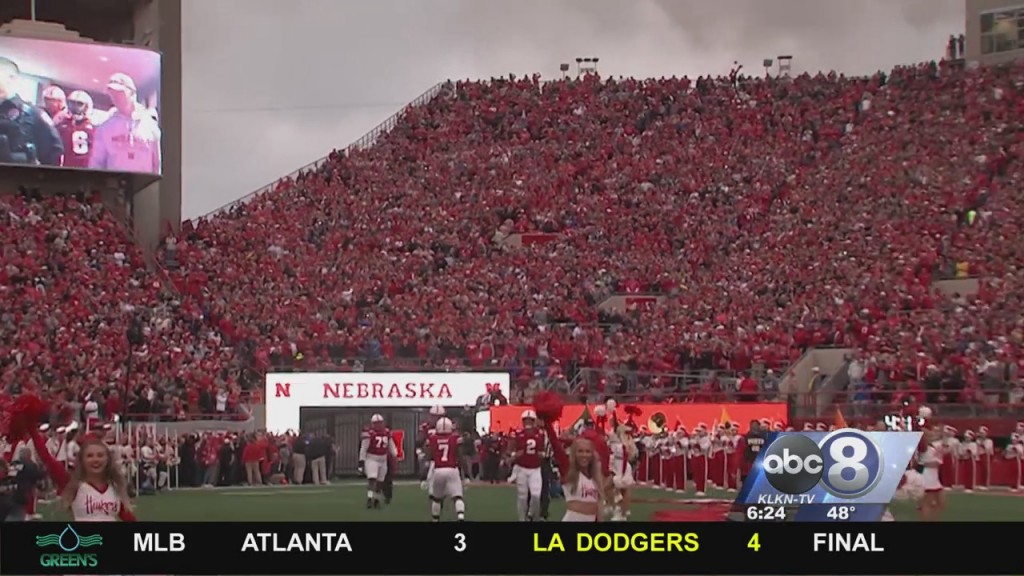 LINCOLN, Neb. (KLKN/Nebraska Athletics) – Nebraska dominated Northwestern from the first snap beating the Wildcats 56-7.
It only took Nebraska 40 seconds to put points up on the board. The first play of the game Adrian Martinez hit Samori Toure downfield for 70 yards. Two plays later Martinez ran the ball for a touchdown taking the early 7-0 lead. This was the first time this season Nebraska scored on their opening drive.
The Nebraska offense took advantage of their second drive as Jaquez Yant ran for 64 yards into the red zone. Martinez scored his second rushing touchdown taking the 14-0 lead.
And Martinez continued that energy into the Huskers' next drive as he scored his third straight rushing touchdown. He capped off an 11 play, 64 yard run downfield, totaling 217 yards in the first three drives.
Nebraska started the second quarter boasting a 14-point lead, and Rahmir Johnson added seven more with a five-yard carry into the end zone.
Northwestern pressured early in the second, but Jojo Domann forced a fumble at Nebraska's own one-yard line as Deontre Thomas recovered possession.
But it wouldn't be until the final minute of the first half when Nebraska scored again. Rahmir Johnson followed-up a 23-yard run with a nine-yard touchdown carry, his second touchdown of the quarter.
Nebraska kicked off the second half with an 83-yard run from Zavier Betts. Nebraska up 42-7.
The Huskers would go on to score the most points during the Scott Frost era as Nebraska beats Northwestern 56-7 on Homecoming night.
POSTGAME NOTES:
Nebraska improved to 9-6 all-time against Northwestern, including 5-3 in Lincoln. The Huskers are now 6-5 against Northwestern since joining the Big Ten in 2011.
The Huskers' 49-point margin of victory marked the first time in six meetings in Lincoln since 2011 that the final Nebraska-Northwestern margin was more than seven points. The combined margin in the previous five meetings in Lincoln was 18 points.
Nebraska's 49-point victory matched the largest win margin in the series – Nebraska's 66-17 win in 2000 Alamo Bowl.
Nebraska improved to 3-0 in home games this season, marking its first 3-0 home start since going 7-0 in 2016.
Nebraska improved to 8-3 in Big Ten home openers since joining the league and won for the 10th time in its past 12 home games.
Nebraska improved to 48-8 all-time in night games at Memorial Stadium, including 7-3 against Big Ten opponents since joining the conference. Nebraska is 2-1 in night games under Coach Scott Frost.
Nebraska's 56 points were its most in a Big Ten Conference game, bettering its 54 points at Maryland in 2019. It is the Huskers' most points in a conference game since also scoring 56 at Kansas State in 2008 (56-28 win).
The Huskers' 56 points are the most under Scott Frost and the most since Nebraska scored 59 points against South Dakota State in 2013.
Tonight marked the Nebraska's largest margin of victory since joining the Big Ten, the previous high was 47 points at Maryland in 2019. Nebraska last won by more than 49 points in a conference game when it won, 59-0, at Baylor in 2001 as member of the Big 12.
Nebraska's 21 first-quarter points are its most this season and its most since also scoring 21 vs. Illinois in 2018. The Huskers' 35 first-half points are its most since holding a 38-21 halftime lead against Illinois in 2018.
Nebraska finished with 427 rushing yards, its second-highest total in a Big Ten Conference game, trailing only 458 vs. Illinois in 2014.
Nebraska's seven rushing touchdowns were its most in a Big Ten Conference game.
Nebraska finished the game with 657 total yards, marking its second game with better than 600 yards this season (663 vs. Fordham). NU has six games with at least 600 yards under Scott Frost. Northwestern had not allowed 600 yards of total offense since a 2005 game against Arizona State.
Nebraska had a 70-yard completion from Adrian Martinez to Samori Toure on the game's first play to set up a touchdown. On its second drive, running back Jacquez Yant had a 64-yard run to set up another score. The two long scrimmage plays give Nebraska eight plays of at least 50 yards this season. Nebraska's eight 50-yard plays in 2021 are its most since 2014, when NU had 11 50-yard plus plays.
The 70-yard reception by Toure marked his third reception of at least 68 yards this season. Toure had a pair of 68-yard touchdown receptions against Buffalo on Sept. 11.  Toure later caught a 38-yard touchdown and finished with two catches for 108 yards, marking his third 100-yard receiving game in 2021.
The 64-yard run by Yant was the longest run by a Husker running back since a 66-yard touchdown run by Devine Ozigbo against Illinois in 2018.
Yant rushed 13 times for 127 yards in the game, after entering the Northwestern game with five career carries for 25 yards. Yant rushed seven times for 109 yards before halftime alone. It marked the second 100-yard rushing game by a Nebraska running back this season (Markese Stepp vs. Fordham).
Martinez had three rushing touchdowns in the first quarter to give him a career-high nine rushing touchdowns this season and 31 in his Nebraska career. He is now tied for eighth in career rushing touchdowns and is the fourth quarterback to reach that total joining Eric Crouch, Steve Taylor and Taylor Martinez.
Martinez is the third Husker with 30 rushing and 30 passing touchdowns, joining Steve Taylor and Taylor Martinez.
Martinez rushed for eight times for 57 yards, and moved up three spots to seventh on the Big Ten's career quarterback rushing list. Martinez passed Minnesota's Rickey Foggie, Michigan's Rick Leach and Northwestern's Kain Colter in tonight's game. Martinez now has 2,195 career rushing yards.
Martinez accounted for 259 yards of total offense, including 224 in the first half. It marked Martinez's seventh consecutive game with at least 250 yards of total offense, an ongoing school record.
Martinez passed for 202 yards in the game, increasing his career passing total to 7,091 yards making him the third Husker with 7,000 career passing yards.
True freshman left tackle Teddy Prochazka earned his first career start at left tackle on Saturday night. Prochazka joins Turner Corcoran (2020 at Rutgers) as the only true freshmen to start a game at left tackle in the modern era of Nebraska football.
Prochazka also became just the seventh true freshman offensive lineman to start any game for Nebraska joining Corcoran, Brenden Jaimes (9 in 2017), Tyler Moore (4 in 2011), Javorio Burkes (3 in 2007), Jacob Hickman (1 in 2006) and Matt Slauson (3 in 2005).
In addition to Prochazka, left guard Nouredin Nouili made his first career start in tonight's game.
Running back Rahmir Johnson had a pair of second-quarter touchdowns, his first two touchdowns of the 2021 season. Tonight is Johnson's first career multi-TD game and he now has four career rushing touchdowns.
Receiver Zavier Betts opened the second half with an 83-yard touchdown run, marking the longest run by a Husker since a 92-yard touchdown run by Taylor Martinez at UCLA on Sept. 8, 2012. The 83-yard run was just one yard shy of ranking among the 10 longest runs in Nebraska history.
JoJo Domann had a 9-yard sack in the first quarter, and a 10-yard sack in the second quarter for his first career multi-sack game. He now has five consecutive games with at least one tackle for loss, a career-best streak for Domann. He finished the game with a team-high 10 total tackles.
Domann forced two fumbles in the game, giving him nine in his career. He entered the game tied for fifth in FBS with seven career forced fumbles.
Garrett Nelson had a 12-yard sack in the third quarter. Nelson entered the game leading the Big Ten with seven tackles for loss. Nelson has now had at least one tackle for loss in five of six games this season and eight of his last nine games dating back to the 2020 season.
Scott Frost improved to 24-0 in his coaching career when his teams score at least 35 points.
Nebraska has outscored its opponents 136-17 at home this season and have not trailed in the three home games.
Linebacker Luke Reimer had five tackles in the game to push his career total to 102.
Punter William Pryzstup had an 84-yard punt in the third quarter, tying for the second-longest punt in school history. It is the longest punt since Sam Koch had an 84-yarder against Pittsburgh in 2005, and is bettered only by an 87-yard punt by Mike Stigge against Oklahoma State in 1992.