Nebraska Gov. Pete Ricketts signs tax relief bill into law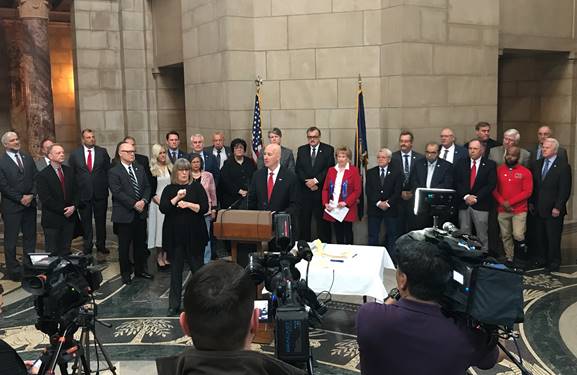 LINCOLN, Neb. (KLKN) – Gov. Pete Ricketts signed a bill Wednesday that will bring tax relief to Nebraskans.
Ricketts was joined by state senators, agriculture groups, business leaders, senior citizen advocates and other tax relief supports as he signed the bill into law at the Capitol's rotunda.
Last week, the nearly $900 million-dollar tax cut was passed 43-0 in the Nebraska Legislature.
LB873 will cut the top individual and corporate income tax rates to 5.84% by 2027. That's down from 6.8% for individuals and 7.5% for corporations.
"Today, we enacted historic tax relief legislation for Nebraska," Ricketts said.  "LB873 is the biggest tax relief package in state history.  It will provide 12 times more annual tax relief than any tax bill passed in any prior administration.  Senior citizens, families, ag producers, and small businesses will see major tax savings in the coming years as a result of LB873."
The bill will also create more income tax credits for property owners, who will be able to get back money that they pay in community college taxes.
Income taxes on Social Security benefits would also be eliminated by 2025.