Nebraska Track & Field takes home eight titles on day one of Graduate Classic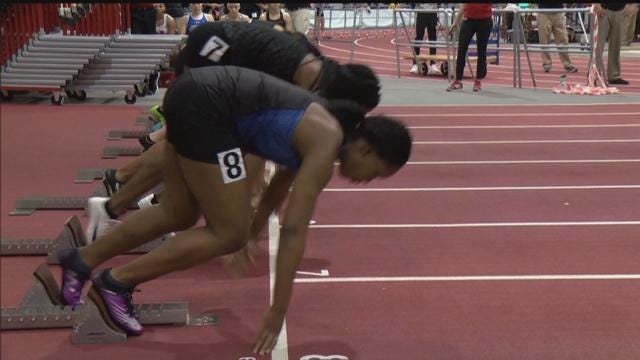 From: Nebraska Athletics
The Nebraska track and field team opened the 2020 season with day one of the Graduate Classic at the Bob Devaney Sports Center Indoor Track on Friday. The Huskers captured eight individual titles on the first day of competition in front of a crowd of 1,848 at the newly renovated Devaney Center Indoor Track.
Sophomore transfer Alencar Pereira was the top collegiate finisher in the men's weight throw with a toss of 68-0 1/2 (20.74m), a personal best by more than three feet and the No. 3 mark in school history.
In addition to Pereira, the Husker women's distance runners stood out on the first day of the season. Elsa Forsberg led a 1-2 finish for the Husker women in the 1,000 meters. Her PR of 2:53.55 was good to win the event for the second straight year and edge teammate Emma Bresser, who also ran a PR of 2:55.31. Judi Jones won the mile race by more than 25 seconds with a personal-best time of 4:57.03. Erika Freyhof continued the dominance by the Husker women's distance runners with a personal-best winning time of 9:41.98 in the 3,000 meters, the second-fastest time in the Big Ten this season.
Ryan Eastman made it a Husker sweep in the mile with a personal-best race of 4:20.52. Freshman Brent Wetovick, from Fullerton, Nebraska, won the 800 meters in his first collegiate race with a personal-best time of 1:52.76. Daniel Mattern was the runner-up in the 1,000 meters with a personal-best time of 2:30.17.
Defending Big Ten champion Mayson Conner won his first high jump title of the season, clearing 7-1 3/4 (2.18m). Andy Jacobs took the women's pole vault title with a clearance of 12-5 1/2 (3.80m)
Ieva Turke was the runner-up in the long jump with a mark of 19-4 (5.89m). Jamesha Hardig placed third in the women's weight throw at 59-1 1/2 (18.02m).
George Siliman led all athletes in the 60-meter hurdles qualifying with a time of 8.27. Noah Lukz posted the fastest 60 meters qualifying time of 6.93.
Day two of the Graduate Classic begins on Saturday with heptathlon events at 9:30 a.m. and track and field events at Noon.