Nebraska women's basketball snaps four-game skid with win over Illinois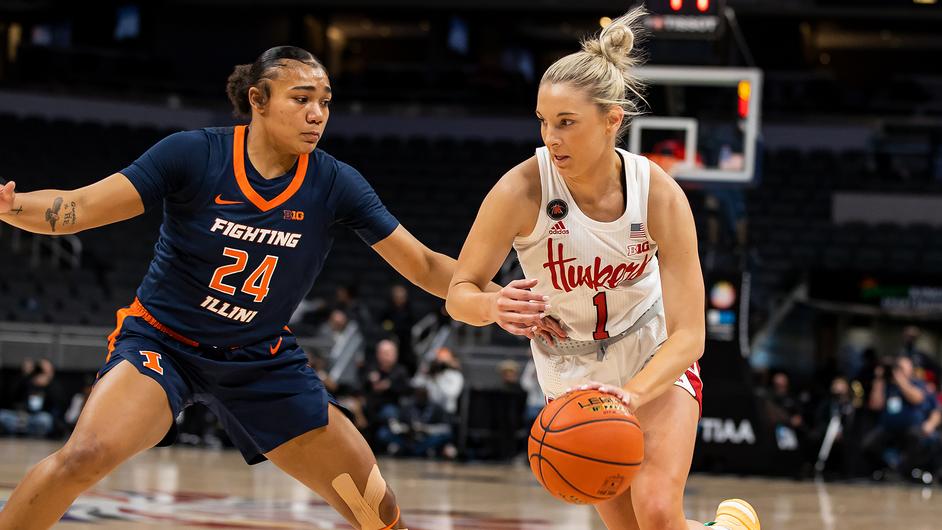 CHAMPAIGN, Ill. (Nebraska Athletics) – Jaz Shelley led five Huskers in double figures with 26 points on Wednesday night in a 90-57 Big Ten road win at No. 25 Illinois.
Isabelle Bourne added a double-double with 16 points and 13 rebounds as Nebraska put together its most complete and consistent performance of the season.
Nebraska improved to 15-13 overall and 7-10 in the Big Ten while snapping a four-game losing streak.
Shelley starred from start to finish, hitting eight of 14 shots from the field, including six of 11 3-pointers and all four of her free throw attempts, while adding five rebounds and a game-high six assists.
Bourne, a 6-foot-2 forward from Canberra, Australia, was just as efficient, hitting eight of 13 shots while dominating the glass for a Big Red unit that out-rebounded Illinois, 44-24 on the game, including 29-12 in the second half.
Alexis Markowski added a strong effort of her own inside with 11 points, seven rebounds and four assists, while guard Sam Haiby contributed 12 points, seven rebounds and four assists of her own.
Maddie Krull rounded out Nebraska's five starters in double figures with 11 points on 5-of-9 shooting, including a 3-pointer.
The Huskers also got contributions off the bench, including a pair of 3-pointers from Kendall Coley, while Annika Stewart added four points and two rebounds. The 10 combined points from Coley and Stewart came on 4-for-4 combined shooting.
Callin Hake added a 3-pointer, while Maggie Mendelson managed one point and three boards.
As a team, Nebraska shot a sizzling 59% from the floor, while knocking down eight of 10 free throws – all in the second half.
The Huskers also committed just nine turnovers against the Illini.
Makira Cook led Illinois with 16 points and five assists but went just 6-for-20 from the field, while Adalia McKenzie and Genesis Bryant each contributed 10 points.
The Huskers held Kendall Bostic to eight points – all in the first half – while limiting the Big Ten's leading rebounder to just three boards.
The Huskers held Illinois to just 34.3% shooting on the night, including six of 26 3-pointers. Illinois also knocked down five of seven free throws and committed just six turnovers.
Nebraska took a 45-35 lead to the locker room at halftime on the strength of efficient offense and strong rebounding.
The Huskers hit 66.7% of their shots from the field in the half, including 15 of 17 field goals.
Bourne led the Big Red inside with eight points on 4-of-4 field-goal shooting, including six straight points midway through the second quarter to turn a 30-30 tie into a 36-30 NU edge.
Markowski added six points on 3-of-3 shooting at the rim while adding four first-half rebounds.
Krull added six points of her own at the rim on three attempts, Stewart contributed four points on a pair of field goals, and Haiby pitched in six points on 3-of-5 field-goal shooting, including a buzzer-beating 10-foot jumper to end the half.
While the Huskers sizzled inside the arc, Shelley did plenty of damage from long range by hitting four of eight 3-pointers in the first half to lead the Big Red with 12 first-half points.
She added four rebounds, three assists and a steal in the half.
Nebraska hit five of 13 3s overall in the half, including a triple off the bench from Coley.
Nebraska returns home to close the regular season against Northwestern on Sunday.
Tip-off between the Huskers and Wildcats on Senior Day at Pinnacle Bank Arena is set for 1 p.m., with tickets on sale now at Huskers.com.
A live video stream will be provided to subscribers of Big Ten Plus, and fans can listen on Huskers Radio Network stations, Huskers.com and the Huskers App.