Nebraskans for Medical Marijuana files two new petitions for 2024 ballot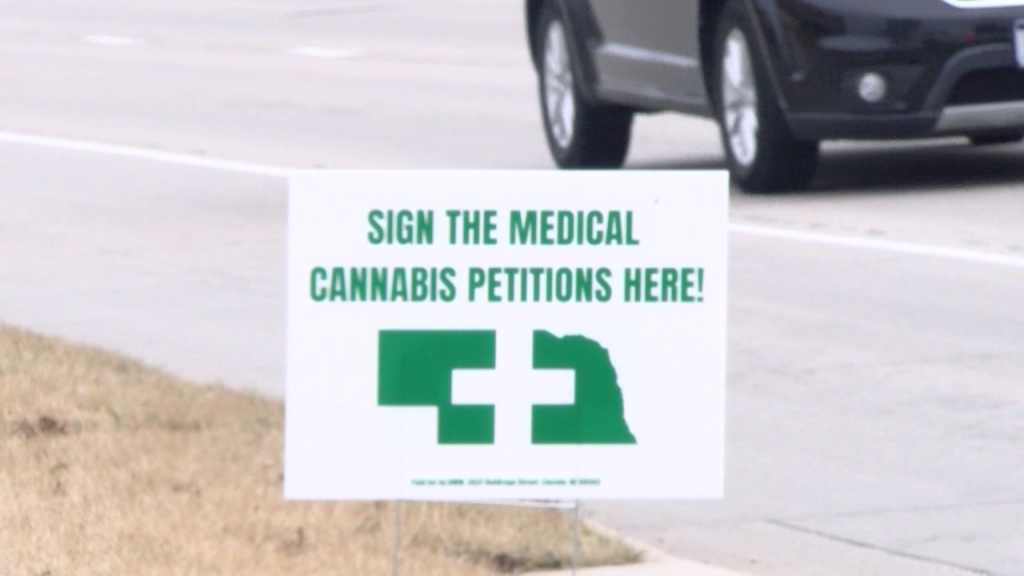 LINCOLN, Neb. (KLKN) – A Nebraska group is trying once again to get two medical marijuana initiatives onto the ballot.
On Thursday, Nebraskans for Medical Marijuana filed the petitions, which mimic the language of the initiatives that were filed last year.
One petition focuses on giving patients the right to use medical cannabis when a doctor deems it necessary, while the second one deals with the production of cannabis.
This is the group's third attempt at getting the initiatives on the ballot.  Last year, both petitions failed to meet the state's signature requirements.
Secretary of State Bob Evnen said they fell about 10,000 signatures short of the required total.  They also did not meet the multicounty signature requirement.
SEE ALSO: Federal court upholds multicounty signature requirement for petitions in Nebraska
"We have no choice but to keep petitioning our government," Crista Eggers, a co-chair of the group, said in a press release. "The Legislature refuses to act despite the will of over 80% of Nebraskans (from all parties, regions, ages, etc) supporting this."
If the petitions are successful, the initiatives will be placed on the Nov. 5, 2024, general election ballot.
"The way to succeed is to never give up and every time we hit a setback we grow stronger," said Sen. Anna Wishart, another co-chair.
The group says it will be about three weeks until the petitions can be printed.
More information can be found on the Nebraskans for Medical Marijuana's website.
"For over 10 years we've advocated, educated and fought, trying to do it the right way … and every year we come up empty handed," Eggers said in the release. "So we will go to the ballot once again."
SEE ALSO: Nebraska's medical marijuana petitions fail to meet signature requirements
A bill to legalize medical marijuana was introduced early this year in the Legislature but got stuck in committee.  
The organization Smart Approaches to Marijuana of Nebraska says these new petitions are not a surprise.
It believes that legalizing marijuana's medical use is one step closer to its full legalization.  
"The medical label is simply another term for marijuana that is utilized to gain commercial acceptance and give the industry a foothold," said the co-chair, John Kuehn.
SEE ALSO: Supporters tell Nebraska lawmakers marijuana is safe medical option, not 'devil lettuce'
Nebraskans for Medical Marijuana is planning a campaign and signature drive launch in early June.
The deadline for signatures is July 5, 2024.