Nurses place 164 shoes on White house lawn, representing a grim statistic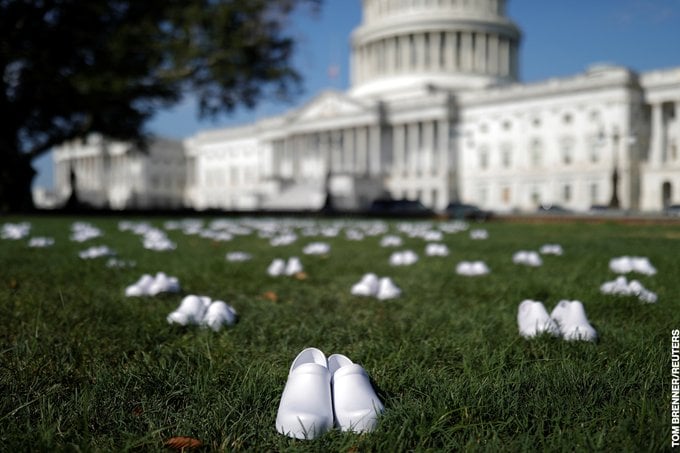 WASHINGTON, D.C. (ABC News) – Tuesday, the National Nurses United union (NNU) illustrated a grim statistic in the fight against COVID-19, placing 164 pairs of nurses shoes on the lawn of the U.S. Capitol to mourn the number of nurses who have died in the pandemic.
NNU's Stephanie Simms addressed the media, saying "there are no words that can fully express the anger and the sadness I feel this morning".
Also, noting two months ago, nurses had placed 88 pairs of shoes in front of the White House, and demanded that the President and Congress protect hospital workers lives by providing sufficient PPE and other protections.
"We urged President Trump and Congress to show the leadership required to protect the American people".
On that day there were just under 28 new COVID-19 cases, and 78,000 people had died from COVID in the US. On Sunday a staggering 63,000 new cases were reported, and more than 140,000 deaths.
"That is more than double the number, demonstrating a complete and utter failure of presidential and congressional leadership," Simms said. "Today we see more than 164 pairs of shoes, nurses shoes. Mothers, fathers, brothers and sisters, sons and daughters. All gone".
At Tuesday morning's event, the nurses called on Congress to step up "in the absence of presidential leadership," to enact workplace protections for hospital employees, and provide more PPE for medical workers. Simms said that the House acted by passing the Heroes Act, and she urged the Senate to approve that measure.
"On May 15th we thanked the House for acting and called on the Senate to swiftly pass the Heroes Act into law. But Senate Majority Leader Mitch McConnell instead did nothing… he called a recess and went on vacation. So nurses continue to die," said Simms. "Senator Mitch McConnell can use his immense power to do the right thing and shepherd the passage of the Heroes Act. The question is, will he act to save lives or will he continue to turn a deaf ear to the pain and suffering of the American people. Including the nation's nurses."
The gathered nurses then read the 164 names of nurses who have died due to coronavirus.