NWS confirms rare Christmas tornadoes in Nebraska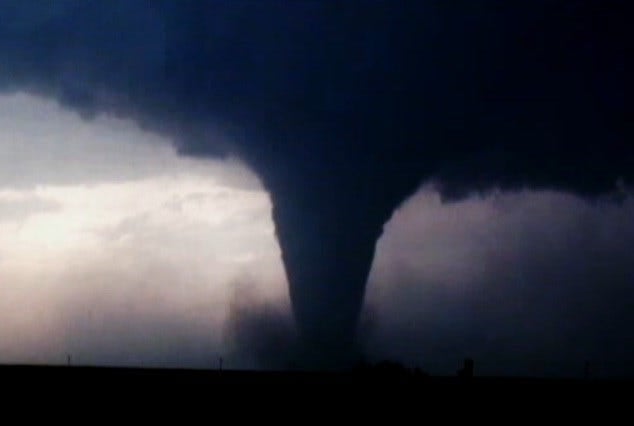 Posted By: Channel 8 Eyewitness News
8@klkntv.com
(NWS Hastings) – Christmas Day 2016 brought rare December tornadoes northwest of Alton, Kansas and near Funk, Nebraska. The brief, weak tornadoes developed just before noon along a line of thunderstorms. The first tornado touched down at 11:45 AM approximately four miles northwest of Alton, KS and tracked northeast for 1.9 miles. The tornado was rated EF-0 and damaged trees in shelter belts, fencing, a bin feeder, small shed and soffits and shingles on a home. The second tornado set down at 11:50 AM 2.8 miles south of Funk, NE and tracked northeast for 2.8 miles. The tornado was rated EF-1 and damaged at least six power poles and four center pivot systems.
The Nebraska tornado near Funk is the 'latest calendar year' tornado in Nebraska since 1950 and is the first December tornado since December 13, 1975. In 1975, a tornado tracked eight miles between Chester and Gilead in Thayer County and a brief tornado occurred near Steinauer in Pawnee County.
In Kansas, prior to 2016, it appears at least eight tornadoes occurred in Kansas in December since 1950. The most recent December tornado was an EF-0 in Harper County on December 14, 2014. Prior to that two tornadoes occurred in Cherokee County on December 18, 2002. The latest 'calendar year' tornado was on December 26, 1959 when an F2 tornado occurred west of Talmage in Dickinson County.
In addition to the tornadoes, thunderstorms produced damaging winds into the afternoon on Christmas, then during the evening hurricane force winds of 60 to near 80 mph blasted the region behind a cold front. More information on the winds and damage can be found here.