Second annual 'Burgers for Blankets' fundraiser gathers more than one thousand blankets for homeless shelter
The blankets are being delivered Monday morning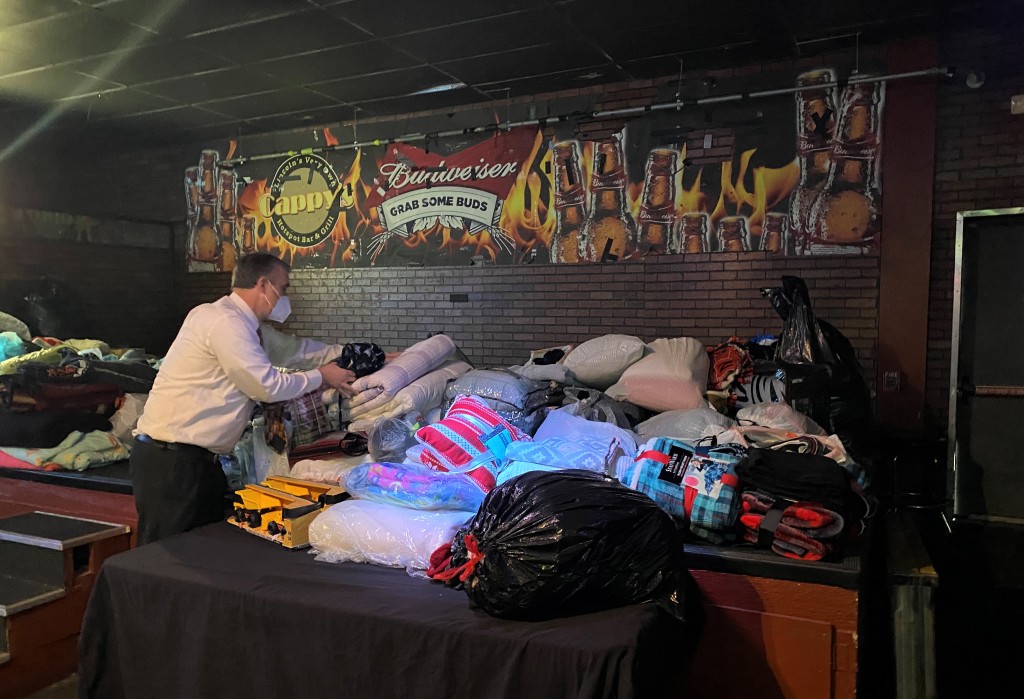 MONDAY, FEBRUARY 15 Update: More than 1,000 blankets were collected over the weekend, as well as dozens of bags of winter clothes for the homeless. Thank you to everyone who donated. We were blown away by the giving hearts of our community.
BLANKET UPDATE: 2:50 p.m.
Thank you to everyone who took the time to donate today! So far, we've collected well over 200 blankets and several bags of winter clothes and pillows.
---
LINCOLN, Neb. (KLKN) — If you like a good burger and giving back to the community, you may want to stop by Cappy's Bar & Grill, 5560 S 48th St, this weekend. Channel 8 News will be there live from 5am – 6:30pm Friday helping take donations.
Starting Friday, Cappy's will host "Burgers for Blankets," a donation drive for the homeless. People are encouraged to stop by and give blankets or warm clothing items to the People's City Mission to distribute to the homeless.
"We'll take not only new blankets but gently used blankets the guys can use," People's City Mission's Pastor Tom said. "I think they may collect some gloves too. We can use all sizes for women, kids, and men."
In exchange for a donation, each person will get a coupon for a free hamburger and fries basket right from Cappy's kitchen.
Channel 8 will be at Cappy's helping with the drive Friday, Feb. 12 from 5 a.m. to 6:30 p.m. Stop by and say hi to Rod Fowler and the Channel 8 team!
We've already gotten a big donation before the official event started! The Del Gould Meat Company and The Tastee Trailer worked together and they will provide 200 pounds of hamburger a week for four weeks to the People's City Mission. That's 800 pounds of meat to help feed the needy in our community.
During last year's event at CJ's Bar and Grill, nearly 100 blankets were donated, and organizers are hoping to go well above that this year.
With dangerously cold temperatures setting in, the need to help the homeless could never be greater.
"I can't believe a better time to do this then right now," Pastor Tom said. "It's below zero. I think for the next week or two it's going to be below zero. Our guys are feeling it. Many of them are homeless. They're not really adequately prepared for this kind of weather."
Due to the weather, the mission has opened its doors to anyone, suspending its negative COVID-19 test requirement. Pastor Tom said the shelter usually sees about 150 men. In the past week, that number has grown to 200.
If you are interested in donating, you can stop by Cappy's Bar & Grill Friday through Sunday. The bar's hours are Friday and Saturday 11 a.m. to 2 a.m. and Sunday 11:30 a.m. to 12 a.m.
Make sure to tune into Channel 8 on Friday for live coverage of the event.