Strong storms possible Tuesday night in to early Wednesday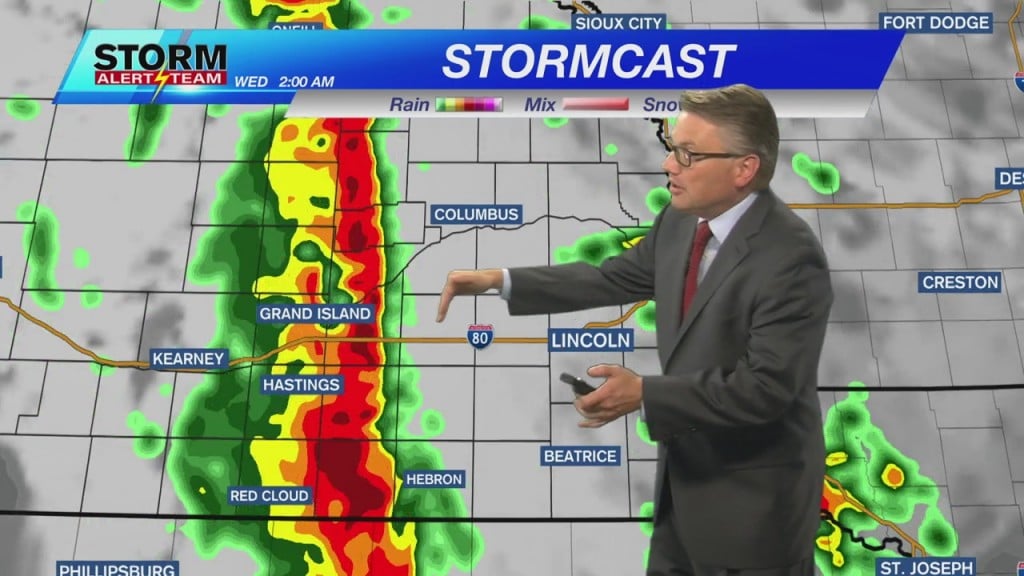 10:30 P.M. UPDATE:  While rain is covering the western third of Nebraska right now, a line of thunderstorms is moving from near McCook to southwestern Kansas.  The line is moving east with individual cell moving east/northeast.  Damaging winds will be the main threat from the line.
– Chief Meteorologist John Dissauer
6:37 P.M. UPDATE:
An upper-level low pressure system is moving through the Rocky Mountains and will send strong to severe thunderstorms across Nebraska Tuesday evening through early Wednesday morning.
A line of thunderstorms has developed in the panhandle of Nebraska and northeast Colorado as of early Tuesday evening.  While individual storms will move north/northeast, the line will trek eastward through the night.
TIMING STORMS
I think storms will arrive in the Grand Island/Hastings area between midnight and 1 a.m. Wednesday.  I am bracketing the hours between 2 a.m. and 4 a.m. Wednesday for the line to reach Lancaster County/Gage County.  The threat for storms should be east of the Channel 8 viewing area by 7 a.m. Wednesday.
The main threat from storms will be damaging winds.  Some small hail will be possible along with brief heavy downpours.
– Chief Meteorologist John Dissauer