Strong to severe storms expected this evening in eastern Nebraska 8/20/2021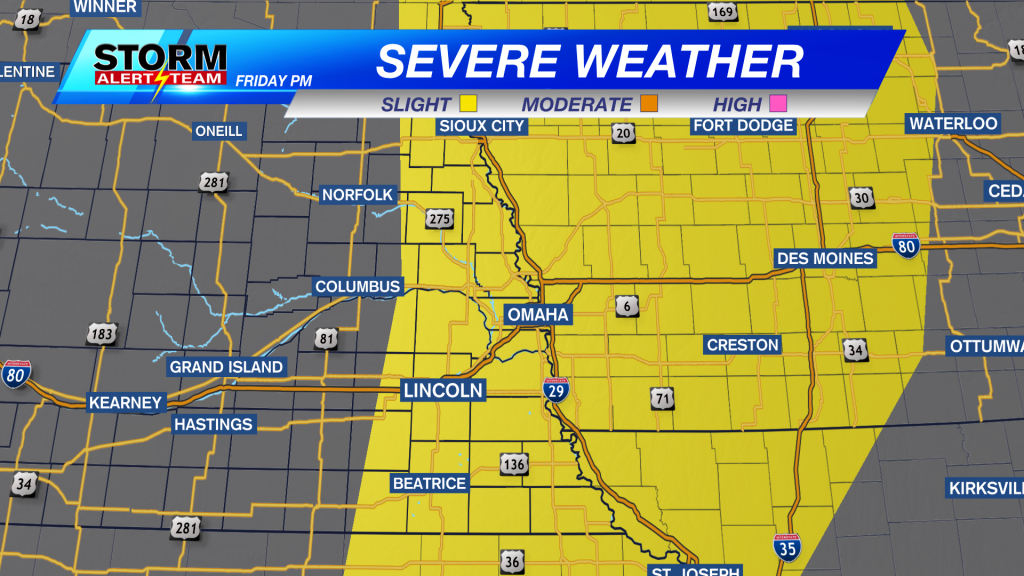 Some of us are starting off to a soggy start this morning as scattered showers and thunderstorms are moving through. A large line of storms continues to push eastward this morning, so make sure to send the kids to the bus stop with their rain gear. We are also off to a warmer start this morning as temperatures only dropped down to the low 70s for most of the area. Humidity is also high, so it's feeling a little sticky already this morning. This sticky feeling will continue into the afternoon and evening with highs in the upper 80s and low 90s. A few spotty showers and thunderstorms will linger into the afternoon, before we dry out for a bit.
Our focus then shifts to late this evening when eastern Nebraska will see strong to severe storms. Storms will likely fire up in eastern Nebraska around 5 PM, gradually pushing eastward and exiting the state by midnight.
All modes of severe weather are likely before midnight. Hail and strong wind gusts are the two biggest threats, but we can't rule out the potential for a few tornadoes this evening. Localized flooding is also possible for some.
The weekend will start off cool and less humid, before humidity returns Sunday and into early next week.
TODAY: AM rain tapers off by noon and clouds stick around for the rest of the day. Highs reach the upper 80s and low 90s today with humid and breezy conditions. Strong to severe storms will fire up after 5 PM in eastern NE. HIGH: 90
SATURDAY: Much cooler with highs in the low to mid-80s and less humidity. HIGH: 84
SUNDAY: Partly cloudy skies and a little warmer with highs in the upper 80s. Scattered showers expected throughout the day. HIGH: 89
MONDAY: The humidity returns with highs back in the low 90s. Chance for scattered showers throughout the day. HIGH: 92
TUESDAY: Even warmer with highs in the low to mid-90s. Small chance for rain in the afternoon and evening. HIGH: 94
Meteorologist Brittany Foster
@BrittFosterKLKN
bfoster@klkntv.com