Three Nebraska senators introduce pro-life legislation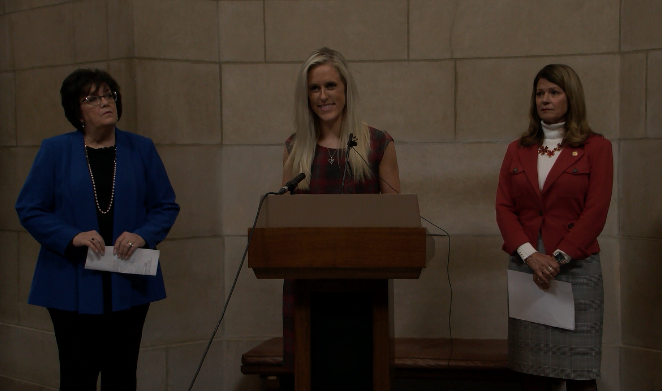 LINCOLN, Neb. (KLKN) – With heightened security but no opposition present, three Nebraska senators introduced pro-life bills in this year's legislative session.
Senator Julie Slama introduced the heartbeat bill earlier this month which would make abortions illegal in Nebraska after a heartbeat can be detected. A heartbeat is typically detected around six weeks of pregnancy.
On Monday, senators introduced two more pro-life bills which would drastically change abortions in Nebraska.
"In Nebraska, there have been almost 200,000 since Roe was decided in 1973, that's 10% of our state's population," said Senator Joni Albrecht.
Slama's heartbeat bill allows abortions but only until a heartbeat is detected, after that it would become illegal under this law.
"At 6 weeks gestation, a baby's heartbeat can be detected by ultrasound. LB781 would protect that tiny baby, whose heart is already beating, from the violence of abortion." Senator Julie Slama
LB933 would go a step above the heartbeat bill, banning all abortions in the state with the only exception being a medical emergency to save the mother's life. The Supreme Court would have the ultimate decision on LB933 if it passes.
"If and when Roe is overturned this coming June, Nebraska will have laws in place that position us as a state that is pro-life," said Senator Albrecht.
Individuals seeking an abortion would not be prosecuted but those who perform the abortion would be charged with a Class 2A Felony.
"Under the human life protection act, performing an abortion after Roe is overturned will no longer be permitted in Nebraska, said Senator Albrecht.
Senator Suzanne Geist introduced a bill still allowing abortions but with limitations.
"LB1086, what this does is it establishes a standard of care for the use of chemical abortions.  Chemical abortions make up about 70% of the abortions in the state of Nebraska, and currently, there is no prescribed standard of care," said Senator Suzanne Geist.
Doctors would determine how far long the patient is, as well as if it is an ectopic pregnancy.
"This bill limits the use of chemical agents to use during the first 7 weeks of pregnancy, as risks of complications increase substantially each week thereafter. LB 1086 would also prohibit distributing these drugs through the mail," said Senator Geist.
Senators still need to debate and vote on the legislation that would limit or end abortions in the state.
"Abortion is still fully legal in the state of Nebraska, Planned Parenthood Northcentral states is proud to provide these services in our two health centers, and we will continue to fight to protect that access and even expand it where we can," said Andi Curry Grubb, State Executive Director at Planned Parenthood Advocates of Nebraska.
Planned Parenthood of Nebraska is asking women to share their abortion stories, in an effort to help others.
"No ban on abortion is okay with us ever, and all of these are really working towards that same purpose.  It's what they have been trying to do for years and again it doesn't reflect what the people of Nebraska want state senators to be spending their time on right now," said Grubb.