Tornado destroys Beaver Crossing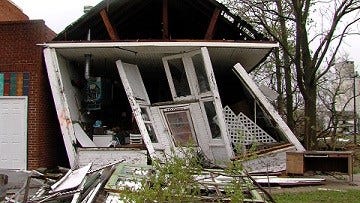 By: Brittany Paris
bparis@klkntv.com
Mother's Day took a scary and dangerous turn as a tornado ripped through Beaver Crossing.
It touched down around 5:30 Sunday evening, snapping trees, taking down power lines, destroying a town in just 20 minutes.
The road into Beaver Crossing was blocked off for hours.
"We got a family pet that's in the house. And we're trying to get in there to get it. But we're just waiting for them to open up and let us in," Eric Clemens, Beaver Crossing, said.
But in the light of day, residents can see just how bad the damage is.
Chuck Wadgli's home was completely destroyed, his roof ripped off and thrown across the street.
He wasn't there during the tornado, but his wife and kids were. Driving home, he wondered if there was even a house to go home to.
"My wife and kids were in the hallway and all I can say is that God was here with them because they're alive today. And the only roof that's left is in the hallway," Wadgli said.
He says his wife protected their kids by laying on top of them. Their neighbor pulled the tree from the home.
"Thank God for my neighbor. We have great neighbors around here. That's what a small town is all about," Wadgli said.
Zelma Nichols, a long-time Beaver Crossing resident, was home alone during the storm, taking cover in her bathroom when the tornado hit.
"It's just something you'll never forget. It's, it's devastating," she said.
And Carla Chapman, who lives across the street, fosters nearly 30 dogs. She says they're shaken up, but are all okay.
"We had cushions and bedding and all the dogs piled together," Chapman said.
People across the state will take the dogs in while Chapman repairs her home.
But despite all of the damage, no one in Beaver Crossing was injured. Nichols says that's something to be thankful for.
"You can always replace a house, but you never can replace a life," Nichols said.
Clean up has already started but residents say they don't know how long it would take to rebuild the town.
School is canceled, but Centennial High School is keeping its doors open for anyone who needs shelter.
If you'd like to help the towns affected, an Emergency Volunteer Center will be set up Tuesday from 8 a.m. to 4 p.m. at the Old Gymnasium in Utica at 4th and F streets.
It will be used to register and assign any volunteers willing to assist with general cleanup in the Beaver Crossing and Cordova areas.
To volunteer, you must be at least 19 years old.