DHHS offers $5 million in scholarships to fight nursing shortage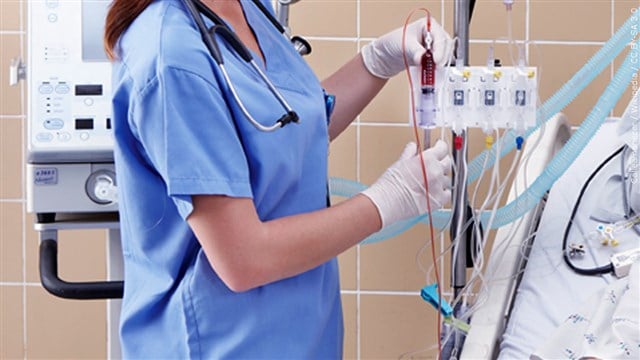 LINCOLN, Neb. (KLKN) – Across the country, healthcare facilities are seeing a shortage of nurses.
Nebraska Department of Health and Human Services is working to combat that shortage by offering scholarships through the American Rescue Plan Act.
$2,500 per semester scholarships will be awarded to nursing students across the state; that's $5 million in total.
Any Nebraska resident currently enrolled or planning to enroll in a Certified Nursing Assistant (CNA), Licensed Practical Nurse (LPN), or accelerated Bachelor of Science in Nursing (BSN) program can apply.
These scholarships will help to reduce barriers to entry in the nursing field and grow Nebraska's public health workforce.
Each scholarship recipient will help rebuild Nebraska's public health infrastructure and will advance the state's recovery from COVID-induced nursing shortages.
"Nurses are an indispensable part of healthcare across our state," Charity Menefee, DHHS Division of Public Health Director of Operations, said. "In the wake of the pandemic, it is important that we support future nurses and provide them with the resources they need to become effective members of our medical community."
University of Nebraska Medical Center's Dean of the College of Nursing, Juliann Sebastian, Ph.D., said hospitals and long-term care facilities are really feeling the impact of the shortage.
Brought on by the pandemic, the Nebraska Center for Nursing estimates there will be a shortage of over 5,000 nurses by 2025.
"The nurse is the person who's with them in the middle of the night when they're anxious or in pain or not feeling well," Sebastian said. "They know that the nurse is the person who's with them throughout the course of their treatments. People appreciate their entire healthcare team, nurses do not work in isolation, but it's that close connection with patients that's so special."
Qualified applicants will receive scholarships on a first-come, first-served basis each semester until their nursing program is complete or the ARPA funds run out.
Upon completion of a qualified nursing program, scholarship recipients will be required to practice nursing in Nebraska for a minimum of two years.
Those interested can begin the application process now for scholarship funds that will become available for the 2023 spring semester. Scholarships can be renewed each semester until the funds run out.