UPDATE: 106-year-old's wish to attend Huskers game comes true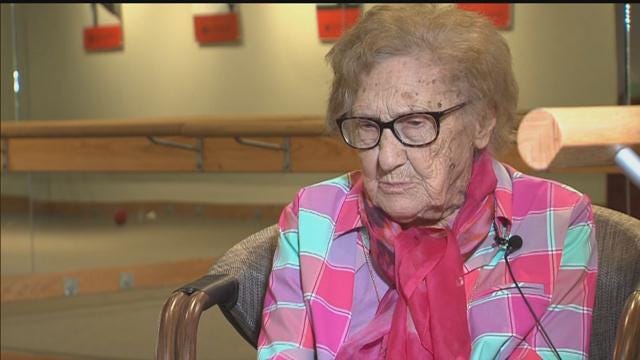 Within hours of Channel 8's story on Thelma Chase airing, dozens of viewers called and messaged Channel 8 to offer Nebraska football tickets to Thelma, who celebrated her 106th birthday on Wednesday.
"I love watching the huskers! I never like to see them lose but sometimes they do," Thelma said in Wednesday's interview.
After hearing Thelma's story, U–Stop donated two box seats to Thelma and her son for the Ohio State game, one of Nebraska's biggest match ups this year.
"When you consider the culture of Lincoln and everything that revolves around big red and the rest of that, I cant imagine first of all but the fact that you would want to kinda spoke to us," says Mark Whitehead with U-Stop convenience stores.
This year, U–Stop is celebrating 60 years. They saw Thelma's story as the perfect opportunity to give back to the community.
"Just being able to reach out to an individual who has expressed a desire and giving her the opportunity to go to a game under circumstances that might be accommodating to her," Whitehead says.
Whitehead's advice to Thelma as her first Husker experience approaches, is to get there early, and enjoy it.
"You can't even experience the journey to your seats without getting enveloped in the atmosphere and enthusiasm of a big red football Saturday."
Thelma is hopeful for this Husker season under Scott Frost. She even hopes to meet him.
"As much as he can, he'll encourage them to play every game. He's good," Thelma says.
Thelma received her tickets on Monday from U-Stop.
The generosity did not stop from there, the University reached out and donated tickets to the Northwestern game. They also told Thelma that she will be getting a visit from Scott Frost at that game.