A tale of two halves as Nebraska falls to Illinois in fourth-straight loss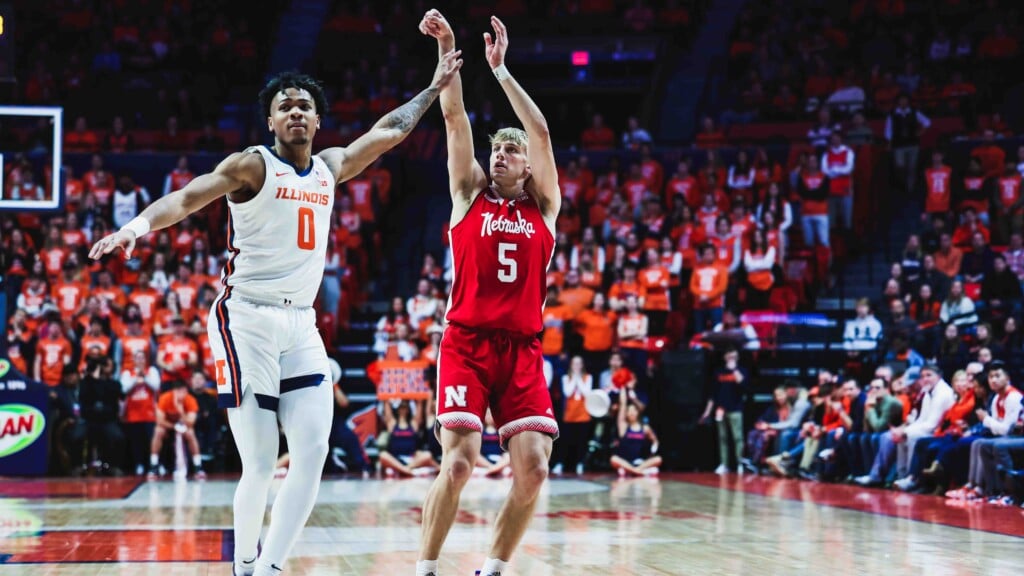 LINCOLN, Neb. (KLKN) – Sam Griesel had a game-high 21 points, but a second-half cold spell proved costly in Nebraska's 72-56 loss at Illinois on Tuesday.
Nebraska used a 9-0 run to take a 50-48 lead after a 3-pointer from Keisei Tominaga with 11:57 remaining.
But the Huskers hit only two field goals the rest of the way to fall to 10-13 overall and 3-9 in the Big Ten.
Griesel finished with 21 points and six rebounds in his highest-scoring game since the season opener, while Tominaga added 11 points off the bench, including 3 of 4 from 3-point range.
Nebraska shot just 28% in the second half after shooting 52% in the opening 20 minutes.
NU also had 13 of its 19 turnovers in the second half, as Illinois (16-6, 7-4) converted the turnovers into 20 points.
Matthew Mayer led four Illinois players in double figures with 16 points, while Terrence Shannon Jr. (13) and Jayden Epps (12) combined for 25 points.
Nebraska, which trailed by one going into halftime, got off to a slow start in the second stanza as Illinois stretched the lead to 46-39 after opening the half on an 8-2 run.
The Huskers trailed 48-41 before blitzing the Illini with a 9-0 run over the next minute. Tominaga and C.J. Wilcher combined for a trio of 3-pointers, as NU took a 50-48 lead with 11:47 remaining.
Illinois responded with an 8-0 run of its own as a Shannon basket and two hoops by Sencire Harris extended the lead to 56-50 with 7:57 left.
The Huskers kept battling behind Griesel as he got NU within 59-54 with a basket with 6:27 left.
NU trailed 63-56 with just less than four minutes remaining before the Illini closed the game with a 9-0 run to build their largest lead of the night.
In the first half, the Huskers relied on Griesel and some solid offense in the final five minutes to get within 38-37 at halftime.
Griesel scored all 15 of his first half points in the first 13 minutes, as he accounted for 15 of the Huskers' first 17 markers.
Nebraska used an early 10-2 run to build a 12-5 lead on Griesel's 3-pointer with 13:03 left in the half.
The Huskers then weathered a pair of Illini runs and trailed 28-20 with five minutes remaining in the first stanza.
NU, which held Illinois to 38.2% shooting, kept chipping away and used a 7-1 run to get within 31-29 with 2:50 left in the half.
Nebraska got 3-pointers from Wilcher and Tominaga to pull with one at the break.
The Huskers return home to face Penn State on Sunday afternoon. Tipoff at Pinnacle Bank Arena is set for 3:30 p.m.
Tickets are available by visiting huskers.com/tickets.