Animal Control conducting coyote patrols after increased sightings across Lincoln
Animal Control officials on Wednesday announced that the department is now patrolling Lincoln to search for coyotes and monitor their behavior.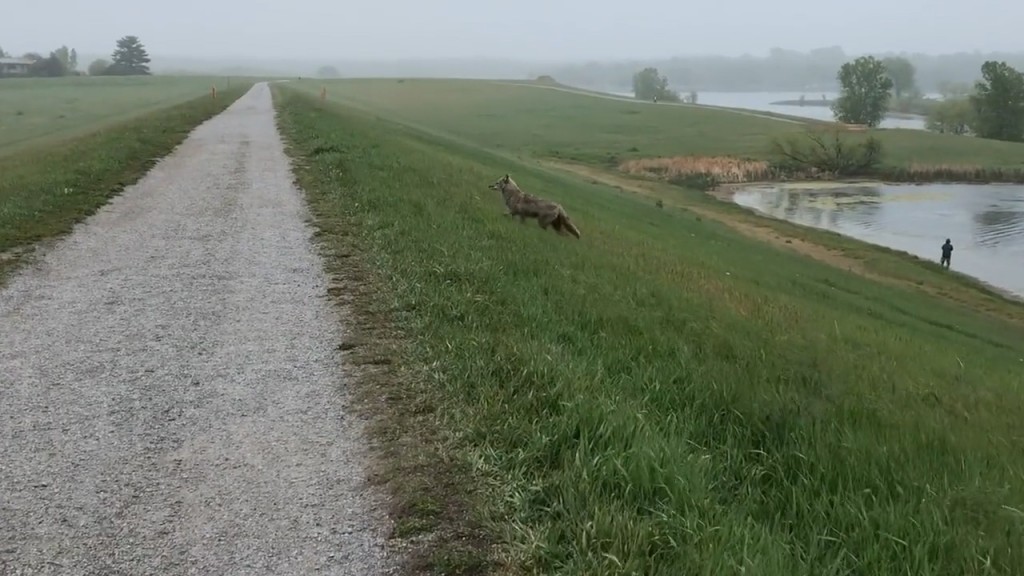 Animal Control officials on Wednesday announced that the department is now patrolling Lincoln to search for coyotes and monitor their behavior.
Patrols will start initially in Holmes Lake Park and the 76th Street and Pioneers Boulevard areas due to recent sightings and coyotes' presence in those areas in past years.
"Coyote sightings increase each spring because this is the time of the year they hunt for food for their newborn pups," said Steve Beal, Animal Control Manager.  "Seeing coyotes in your neighborhood, parks or on trails is not cause for alarm. But you must take precautions to keep pets and residential areas safe."
The patrols come after some well-documented cases of confrontations between humans and coyotes – particularly one at Holmes Lake on Friday.
A Lincoln man, who did not want to be identified, lives in the area and told Channel 8 Eyewitness News and said he was walking his dog when the coyote approached them on the dam.
Video on his cellphone shows him pulling his dog down the side of the dam, as the coyote follows them all the way to his nearby townhouse.
The man said he's seen many coyotes in the area, but never had an experience like that.
"Absolutely not," he said. "They've never been aggressive or been more brazen."
The man, who is a former Husker linebacker, said he normally would have stood his ground with the coyote, but didn't want his dog to get tangled up with the animal.
The man told Channel 8 Eyewitness News the coyote got "within five feet" of him and Duke. He said he threw Duke over a fence and then jumped over to get away before walking to his home. He said the coyote sat outside his home for about an hour before wandering off.
Animal Control Officer Scott Lowery said while the animals are naturally curious, and it's "classic coyote behavior" to follow people in their habitats, this particular animal did show some aggressive behavior in how close he got to the man and his dog.
A Channel 8 Eyewitness News reporter went out to the dam Wednesday afternoon and found a coyote in nearly the exact same spot as seen in the man's video. It's one of many sightings Lincoln residents have reported in recent days.
"We were over more onto the golf course going around the edge of the lake there and all of a sudden I heard a bark," said David Sheesley. "I didn't expect anybody else to be out there and I looked and I was like oh that's a coyote barking at us, and then I saw oh there's two of them over there."
Animal Control has received multiple reports of people interacting with coyotes – even letting their dogs play with the animals – Lowery said.
Residents are urged to follow these tips to avoid conflicts with coyotes:
If you encounter a coyote, do not run.  Look directly at it, raise your hands and make noise by yelling or blowing a whistle. Continue walking, making noise and throw rocks or sticks at the animal until it leaves.
Do not feed coyotes.  Feeding invites coyotes into residential areas and is the primary reason coyotes approach people.
Obey leash laws.  An uncontrolled dog can lead to a coyote confrontation.
Remove outdoor sources of attraction for coyotes such as BBQ grills, pet food, trash, bird feeders, brush piles, and easy access to water.  Brush piles and bird feeders attract rodents, rabbits and squirrels, which are food sources for coyotes.
Keep all pets indoor at night, especially smaller dogs and cats.
Last week, a Lincoln family shared a warning after they say their dog was killed by coyotes near a trail.
You can see the full video of the confrontation at Holmes Lake here: https://www.klkntv.com/cellphone-video-captures-coyote-confrontation-at-holmes-lake/