Be prepared with a winter car emergency kit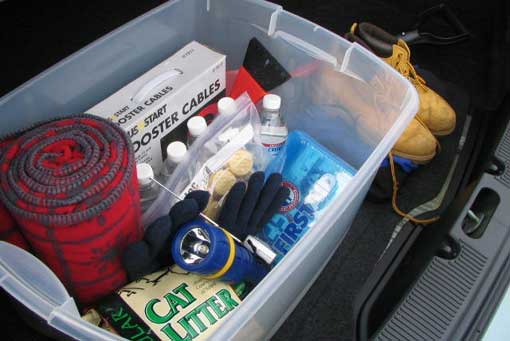 While the calendar says it's fall, the talk of snow and winter weather is upon us. Now is a great time to think about putting a winter emergency kit in your car, or at least freshening up and restocking if you already carry such a thing. 
Items in this kit should include (and are not limited too): 
-shovel
-ice scraper/snow brush
-blanket(s), or thermal blankets (enough for each person in the car)
-extra clothing (scarves, hats, gloves, jackets)
-flashlight
-extra batteries!
-bottled water
-first aid kit
-non-perishable snacks (granola or energy bars, trail mix, nuts etc)
-jumper cables
-hand and feet warmers
-car phone charger
Other items you may want to think about are flares, a tool kit or sand/cat litter for traction.
If you are travelling and become stranded, the most important thing to do is to stay with your car and to not go looking for help. You do not want to risk becoming disoriented or getting frost bite. Another tip, call someone and let them know where you are going, the routes you plan to take and your ETA. 
In the event you are stranded for an extended period of time, periodically turn the vehicle on and let it run for 10-15 minutes to allow yourself and the car to warm up. An important thing to remember is make sure the exhaust pipe is clear while running.