Breaking down the $1.9 trillion COVID-19 relief package
There is a lot to cover in this massive bill, but we've got a complete breakdown of what to expect from it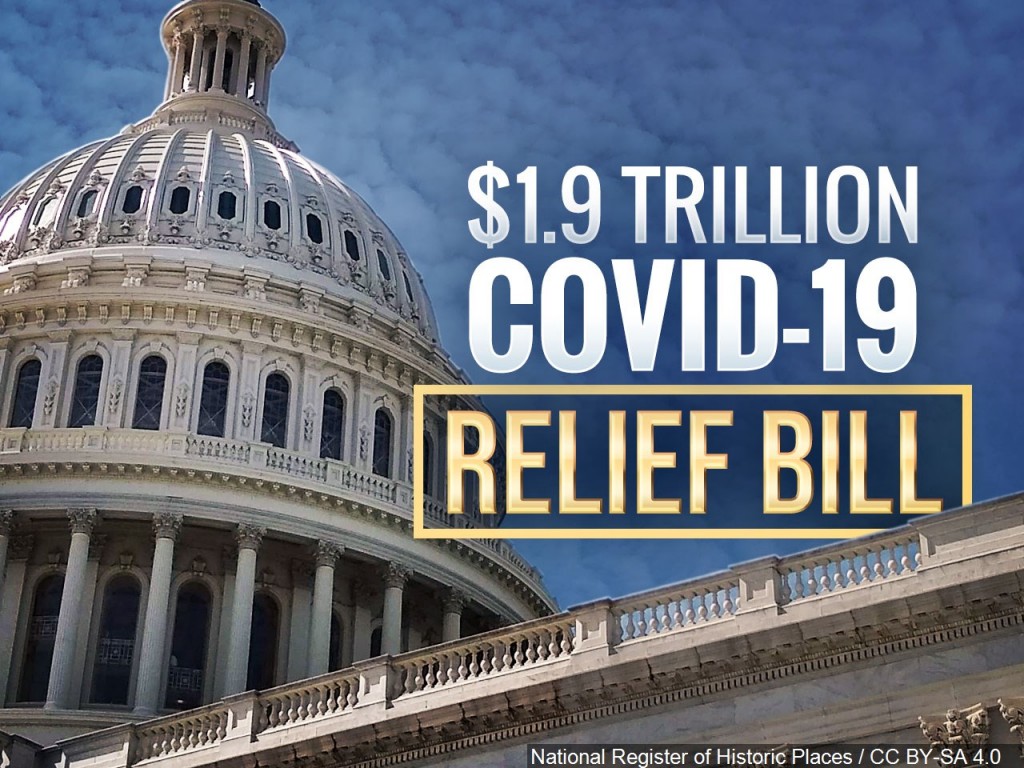 WASHINGTON (KLKN)- On March 10, the House of Representatives voted to pass President Biden's $1.9 trillion COVID-19 relief plan. Biden is expected to sign the bill into law later in the week.
Though much of the bill is the same as what Biden laid out in January, lawmakers did make a few changes: fewer people are eligible for the stimulus checks, the federal boost to unemployment benefits was trimmed, and the federal minimum wage will not be increased to $15/hour.
Here's what is in the bill:
Stimulus Checks 
The relief bill will provide direct payments of $1,400 to each person. Penn Wharton Budget Model estimates that these checks will reach about 90% of households. Families will receive an additional $1,400 per child. So, for example, a couple with one child is eligible for up to $5,600.
That is unless you're earning over $75,000 in adjusted gross income as a single person or more than $150,000 as a couple, then you will not be eligible for the direct payments.
SEE ALSO: Fewer people to qualify for upcoming stimulus checks
Unemployment Assistance
There will also be $300 boosts to weekly jobless payments and 2 key pandemic unemployment benefit programs will be extended through September 6. For households earning an annual income of less than $150,000, the first $10,200 worth of benefit payments will be tax-free.
The 2 unemployment benefit programs being extended are the Pandemic Unemployment Assistance program and the Pandemic Emergency Unemployment Compensation program. The first one offers benefits to freelancers, gig workers, independent contractors, and particular people affected by the pandemic. The latter program will increase the duration of payments for those who are traditionally unemployed.
State Aid
$350 billion will be given to states, local governments, territories, and tribes. States and Washington D.C. will be given $195.3 billion and counties and cities will be splitting around $130 billion. Territories will receive $4.5 billion and tribes will get $20 billion.
This bill also has a $10 billion Coronavirus Capital Projects Fund.
CONTINUE: Biden order could change how colleges handle sex misconduct
Food benefits 
The 15% increase in food stamp benefits will be extended through September where it was supposed to end in June.
There will also be $880 million given to the Special Supplemental Nutrition Program for Women, Infants, and Children (WIC) in order to increase participation and improve benefits temporarily. States will also be allowed to continue the Pandemic-EBT, which is what gives families with children in schools that are closed with funding to replace their meals that they would have received at school.
Housing Help
Around $20 billion will be allocated to state and local governments to assist those in low-income households with rent, rent assistance, and utility bills. The bill allows for around $10 billion to help homeowners who are struggling to pay utilities, property taxes, and mortgages.
$5 billion will go to emergency housing vouchers for the homeless and another $5 billion will be given to states and localities to help the homeless find socially distant safe housing.
MORE: White supremacists joining police & military to further their goals, FBI report warns
Tax Credits
For families and certain low-income workers in 2021, the relief package will be beefing up their tax credits. To combat poverty in America, they are expanding the child tax credit to $3,600 per child under the age of 6 and $3,000 for those older than 6 and younger than 18.
For single parents with annual incomes of up to $75,000 and joint filers making up to $150,000 will have the chance to receive an enhanced portion of the credit.
SEE ALSO: Nebraska lawmakers try once again to push for legalization of medical cannabis
This credit will also be fully refundable to allow low-income parents to take full advantage of it. They'll also be able to receive payments monthly instead of one annual payment, making it easier to pay the bills.
Optional paid family and sick leave 
This bill will not be reinstating the mandatory paid family and sick leave. But it will continue to give tax credits to those employers who voluntarily choose to offer the benefit through October 1.
Education and child care 
$125 billion will be provided to public K-12 schools in order to help students return to classrooms. Another $2.75 billion will be allocated towards private schools. But it requires that 20% of the money will be used to address learning loss by allowing extended days or summer school.
Almost $40 billion will be given to colleges. The bill stipulates that at least half of the funds have to be spent on emergency financial aid grants to students and the rest of the funds can help with the revenue that may have been lost due to a decline in enrollment and the increased costs that come with keeping their students safe during the pandemic.
Child care providers will also be given around $39 billion. The amount received will be based on operating expenses and will be available to pay rent and employees, assist families with the cost of child care, and buy other supplies.
Medicaid and health insurance subsidies 
Federal premium subsidies for Affordable Care Act policies will be more generous and the bill will eliminate the maximum income cap for 2 years.
MORE: COVID-19 vaccine side effects, what are you experiencing?
Those enrolled will be paying no more than 8.5% of their income towards coverage now. And those earning more than the current cap of 400% of the federal poverty level, which is about $51,000 for an individual, will become eligible for help.
Those who were laid-off and want to remain on their employer's health insurance will also be provided a full premium subsidy through COBRA.
Small businesses
$15 billion will go to the Emergency Injury Disaster Loan program, providing long-term, low-interest loans from the Small Business Administration. Small businesses with fewer than 10 workers will be given priority.
There will also be $25 billion allocated to a new grant program for bars and restaurants. Those businesses who are eligible could get up to $10 million and use the money for various expenses.
CONTINUED: Biden to announce 100 million more doses of J&J vaccine to come
The Paycheck Protection Program will get an additional $7 billion. $175 million will be used for outreach and promotion, creating the Community Navigator Program to help find eligible businesses.
Vaccines and testing 
$14 billion will be provided for researching, developing, distributing, administering, and strengthening confidence in vaccines. There will also be $47.8 billion going towards testing and contact tracing. $7.7 billion will be allocated to hire 100,000 public health workers. $50 billion will be given to the Federal Emergency Management Agency. $8.5 billion will be allocated to help struggling rural hospitals and health care providers.