Darin Erstad among 66 current, former Huskers earning degrees this weekend
Erstad spent 14 seasons (1996-2009) in Major League Baseball after being the No. 1 overall pick in the 1995 MLB Draft following his junior season at Nebraska.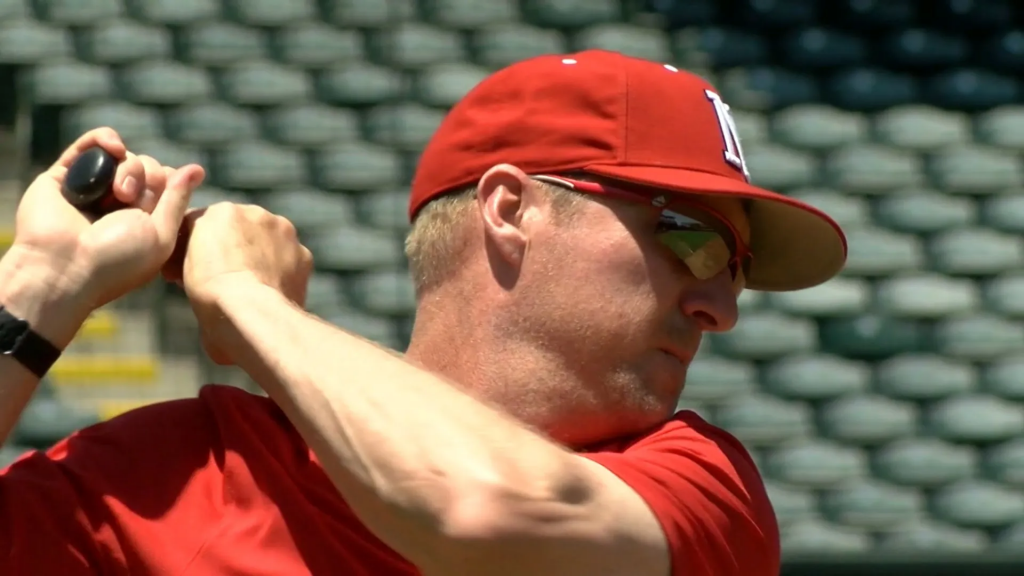 Courtesy: Nebraska Athletics
LINCOLN – A total of 66 Husker student-athletes will earn degrees Saturday in the University of Nebraska-Lincoln's virtual commencement. The Go Big Grad celebration online (https://commencement.unl.edu/) from 9 to 9:30 a.m. (CT) will feature UNL Chancellor Ronnie Green, Nebraska Volleyball Coach John Cook and other notable Nebraskans.
Nebraska's talented collection of graduates includes eight All-Americans who combined for 13 All-America awards during their athletic careers as Huskers. The list includes Nebraska's 2020 Male and Female Student-Athletes of the Year, Luke Siedhoff (Track & Field) and Sierra Hassel (Women's Gymnastics), along with two of the top baseball players in Husker history – Darin Erstad and Dan Johnson.
Erstad spent 14 seasons (1996-2009) in Major League Baseball after being the No. 1 overall pick in the 1995 MLB Draft following his junior season at Nebraska. A punter on NU's 1994 national championship football team as well, Erstad was an All-America outfielder and the Big Eight Player of the Year for the baseball team in 1995. A two-time MLB All-Star (1998, 2000) and three-time Gold Glove Award winner (2000, 2002, 2004) with the Anaheim Angels, Erstad was the first player in Major League history to win Gold Gloves in both the outfield and infield. He also led the Angels to the World Series title in 2002. Erstad spent eight seasons (2012-19) as Nebraska's head baseball coach, leading the Big Red to four NCAA Regional appearances and the 2017 Big Ten Conference title. Originally from Jamestown, N.D., Erstad earned his degree as a business administration major.
Johnson, who spent 18 seasons in professional baseball including 10 years in the Majors, was arguably the greatest power hitter in Husker history. In two seasons (2000, 2001) at Nebraska, Johnson bashed 46 home runs including a school-record 25 on his way to first-team All-America honors in 2001. Johnson, who was a seventh-round pick by the Oakland A's in the 2001 MLB Draft, was the 2001 Big 12 Tournament MVP, helping power Nebraska to its first-ever appearance in the College World Series. A student-assistant on the 2020 Husker baseball staff, Johnson (Ham Lake, Minn.) will earn his degree as a management major.
Erstad and Johnson are among seven Husker baseball players set to claim degrees on Saturday, joining Connor Curry, Nolan Hakel, Alex Henwood, Trey Kissack and Gareth Stroh.
Siedhoff, a two-time All-American in the 110-meter hurdles, leads an impressive collection of 18 graduates for Coach Gary Pepin's Nebraska track and field program. Siedhoff, who was recently named a Big Ten Postgraduate Scholar, is joined by fellow All-American Ty Moss among the track graduates. Kevin Cahoy, a CoSIDA Academic All-American in 2019, and Givon Washington, who was one of 45 Chancellor's Scholars at the University of Nebraska-Lincoln by completing his entire undergraduate career with a perfect 4.0 GPA, also add distinguished accomplishments to the Husker graduates.
Former Husker Meghan Straub earns her degree after claiming three All-America awards for the perennial power Nebraska bowling program. Former Husker Megan Schweihofer represents the Nebraska women's gymnastics team well as a two-time All-American in competition. Schweihofer was the 2018 Big Ten all-around and floor exercise champion. Samantha Peterson was also a two-time All-American for the Big Red, earning honors in the smallbore for the Nebraska rifle team in 2017 and 2019.
Nebraska wrestler Collin Purinton completes the list of All-America competitors representing the Husker student-athletes in spring graduation. Purinton was a 2020 NWCA All-American at 149 pounds. Purinton is one of six Husker wrestlers graduating on Saturday.
The Nebraska football program adds 12 graduates to the large collection of spring honorees, including Andrew Bunch, Damion Daniels, JoJo Domann, Matt Farniok, Todd Honas, Harrison Martin, John Raridon, Matt Snyder, Jack Stoll, Noah Vedral, Mike Williams and Jaron Woodyard.
The May graduates came from near and far to call Nebraska home during their careers. The group came to Lincoln from 23 states, including 17 native Nebraskans, while three more Huskers came to Nebraska from foreign countries (Colombia, Ireland, New Zealand).
Nebraska continues to feature one of the highest graduation rates in the country, while leading the nation in the number of CoSIDA Academic All-Americans (338) and NCAA Top 10 Award winners (18) across all sports.
May 2020 Nebraska Student-Athlete Graduates (66)
Alice Akers (Track & Field) – Bodyke, Clare, Ireland [Ag & Environmental Sciences Communication]
Nicole Baker (Track & Field) – Gilbert, Arizona [Nutrition & Health Sciences]
Johnny Blankenship (Wrestling) – Platte City, Missouri [Marketing]
Bree Boruff (Softball) – Mead, Colorado [Criminology & Criminal Justice]
Meg Brandt (Soccer) – Ankeny, Iowa [Marketing]
Shelby Brown (Track & Field) – Lincoln, Nebraska [Elementary Education]
Andrew Bunch (Football) – Thompson's Station, Tennessee [Communication Studies]
Kevin Cahoy (Track & Field) – Grand Island, Nebraska [Biological Sciences/Microbiology]
Nick Coghill (Track & Field) – Placentia, California [Criminology & Criminal Justice]
Mayte Corral (Soccer) – Los Gatos, California [Business Administration]
Connor Curry (Baseball) – Lincoln, Nebraska [Accounting]
Damion Daniels (Football) – Dallas, Texas [Communication Studies]
Jordan De Spong (Cross Country/Track & Field) – Dunedin, New Zealand [Accounting/Management]
JoJo Domann (Football) – Colorado Springs, Colorado [Advertising & Public Relations]
Darin Erstad (Baseball) – Jamestown, North Dakota [Business Administration]
Matt Farniok (Football) – Sioux Falls, South Dakota [Criminology & Criminal Justice]
Elsa Forsberg (Cross Country/Track & Field) – Lincoln, Nebraska [Fisheries & Wildlife]
Mark Freyhof (Cross Country/Track & Field) – Hamilton, Michigan [Agricultural Engineering]
Kayla Gadeken (Rifle) – Seward, Nebraska [Animal Science/Fisheries & Wildlife]
Hayley Haakenstad (Women's Tennis) – Chanhassen, Minnesota [Mathematics]
Nolan Hakel (Baseball) – Lincoln, Nebraska [Psychology]
Jessica Haraden (Women's Golf) – Thousand Oaks, California [Advertising & Public Relations]
Sierra Hassel (Women's Gymnastics) – Johnston, Iowa [Accounting/Management]
Zak Hensley (Wrestling) – Olathe, Kansas [Psychology]
Alex Henwood (Baseball) – Appleton, Wisconsin [Textiles, Merchandising & Fashion Design]
Mason Hericks (Track & Field) – Watertown, South Dakota [Biological Sciences]
Todd Honas (Football) – Aurora, Nebraska [Communication Studies]
Kristian Hudson (Women's Basketball) – Birmingham, Alabama [Applied Science (Master's)]
Kristina Insingo (Track & Field) – Floral Park, New York [Art]
David Jensen (Wrestling) – Mobridge, South Dakota [Nutrition & Health Sciences]
Dan Johnson (Baseball) – Ham Lake, Minnesota [Management]
Taylor Johnson (Track & Field) – San Jose, California [Global Studies/Political Science]
Judi Jones (Cross Country/Track & Field) – Lenexa, Kansas [Marketing]
Trey Kissack (Baseball) – Grand Island, Nebraska [Psychology/Sociology]
Lexey Kneib (Softball) – Webb City, Missouri [Finance]
Maddie Korthas (Rifle) – Belgrade, Montana [Nutrition & Health Sciences]
Karson LeComte (Cross Country/Track & Field) – Mount Prospect, Illinois [Finance]
Jeannie Lozowski (Women's Tennis) – Port Saint Lucie, Florida [Biochemistry]
Harrison Martin (Football) – Lincoln, Nebraska [Business Administration]
Hannah McKinney (Soccer) – Rancho Cucamonga, California [Accounting]
Ty Moss (Track & Field) – Naperville, Illinois [Marketing]
Brenna Ochoa (Soccer) – Omaha, Nebraska [Accounting]
Tanner Owen (Men's Golf) – Parkville, Missouri [Finance]
Samantha Peterson (Rifle) – Ham Lake, Minnesota [Sociology/Criminology & Criminal Justice]
Bailey Powell (Rifle) – Albuquerque, New Mexico [History]
Spencer Powell (Track & Field) – McCook, Nebraska [Nutrition & Health Sciences]
Estefania Prieto (Bowling) – Bogota, Colombia [Management/Marketing]
Collin Purinton (Wrestling) – Banks, Oregon [Nutrition & Health Sciences]
John Raridon (Football) – West Des Moines, Iowa [Business Administration]
Claire Reifeis (Women's Tennis) – Indianapolis, Indiana [Actuarial Science/Finance]
Kyle Ruettiger (Wrestling) – New Lenox, Illinois [Management/Marketing]
Savannah Savitt (Swimming & Diving) – Tampa, Florida [Marketing]
Megan Schweihofer (Women's Gymnastics) – China, Michigan [Accounting]
Luke Siedhoff (Track & Field) – Crete, Nebraska [Biological Sciences/Spanish]
Matt Snyder (Football) – San Ramon, California [Accounting/Finance]
Jack Stoll (Football) – Lone Tree, Colorado [Marketing]
Meghan Straub (Bowling) – Lincoln, Nebraska [Journalism/Secondary English Education]
Gareth Stroh (Baseball) – Kearney, Nebraska [Child, Youth & Family Studies]
Cade Svoboda (Wrestling) – Ord, Nebraska [Food Science & Technology]
Haley Thiele (Women's Golf) – Wahoo, Nebraska [Nutrition & Health Sciences]
Noah Vedral (Football) – Wahoo, Nebraska [Communication Studies]
Givon Washington (Track & Field) – Argyle, Texas [Economics]
Hannah Whitish (Women's Basketball) – Barneveld, Wisconsin [Management]
Mike Williams (Football) – Lake City, Florida [Child, Youth & Family Studies]
Jaron Woodyard (Football/Track & Field) – Gaithersburg, Maryland [Child, Youth & Family Studies]
Emma Worley (Women's Tennis) – Northville, Michigan [Nutrition & Health Sciences]