Joshua Beasley Charged With Manslaughter In Wife's Death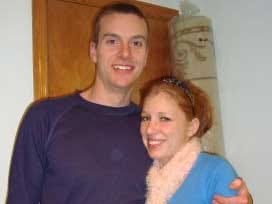 Joshua Beasley, the Lincoln man accused of fatally shooting his wife was in court Friday.
The 21-year-old turned himself into police Friday morning.
Friday would have been Alaina Beasly's 21st birthday. Instead of celebrating, her husband Joshua was charged with manslaughter.
We now know some new information from the night Alaina Beasley was killed. In court documents it says Joshua was working on his gun that had had some problems earlier. He loaded it, then took it into his bedroom and put some things away.
He then left his room, with the shotgun still loaded, and pretended to clear the house for an intruder, something they had practiced before.
Alaina pointed her hand at him forming a fake gun, and he pointed the gun back at her, pulled the trigger, hitting her in the shoulder.
Joshua said he forgot the gun was loaded. Alaina died a few hours later at a Lincoln hospital.
Manslaughter is a class 3 felony. It carries between 1 to 20 years behind bars and a $25,000 fine. Some friends of the couple told us off camera that nothing worse can happen that hasn't already happened to him.
Joshua will be back in court at the end of the month.