La Niña and how it's impacting the 2020 winter outlook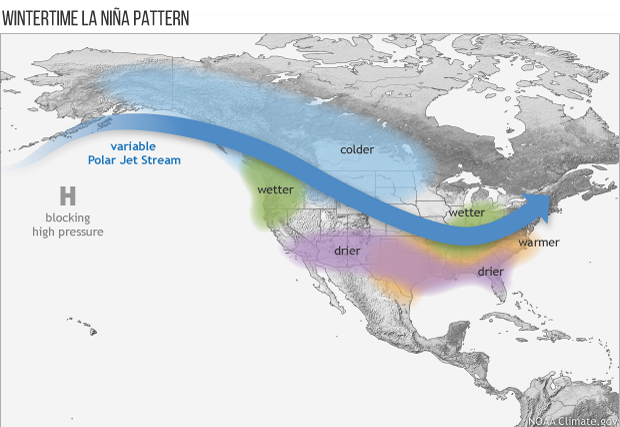 The National Oceanic and Atmospheric Administration (NOAA) released their U.S. Winter Outlook for the 2020-2021 season (December-February) on October 15th.
The winter forecast from NOAA calls for a cooler and wetter northern tier and a warmer and drier southern tier. This is all thanks to an ongoing La Niña pattern.
But, what is La Niña?
It's an ocean-atmospheric phenomenon marked by cooler than average sea surface temperatures across the central and eastern Pacific ocean near the equator.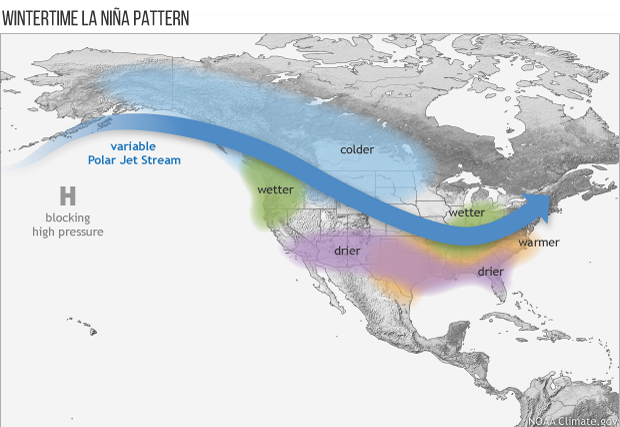 In simpler terms, during La Niña years, wetter and cooler than average conditions are typical across the Pacific Northwest and the northern Plains, while drier and warmer than average conditions prevail in the south.
Large areas of drought still extend across much of the U.S., especially the western half. With a La Niña climate pattern in place, southern parts of the U.S. could experience expanded and intensifying drought during the winter months.
So with a La Niña pattern in place, warmer than average temperatures this winter are expected from California to the southeast and stretching into New England. Cooler than average temperatures are possible in the Pacific Northwest and the northern Plains.
And that all important moisture? This winter could mean drier than average precipitation across the south, in areas already riddled with extreme drought conditions. Wetter than average across the northern U.S.
TL:DR So what does this mean for Nebraska?
Equal chances of above, below or near normal temperatures are possible. We are likely to see variability with multiple periods of below and above normal temps throughout the winter.
Equal chances of above, below or near normal precipitation are also possible. However, December and January could see more precipitation in parts of the state, with low snow winters but more frequent light snow events rather than heavy snow events. But as a whole, La Niña winters are drier, especially the second half of winter.