Nebraska falls to Michigan in heartbreaking loss
Nebraska football drops another one-possession game falling to No. 9 Michigan, 32-29.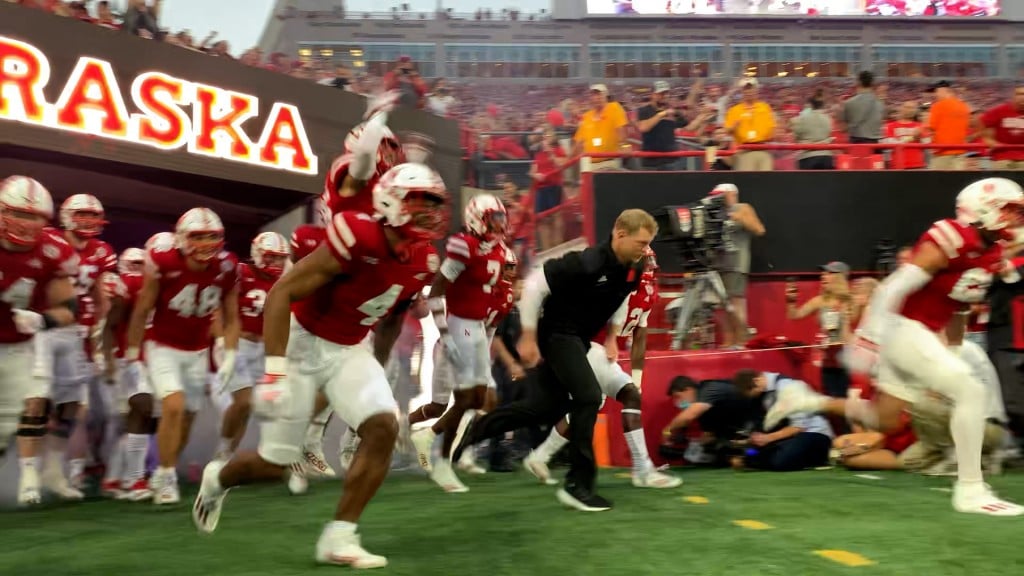 LINCOLN, Neb. (KLKN/Nebraska Athletics) – Nebraska football drops another one-possession game falling to No. 9 Michigan, 32-29.
The game was scoreless through the first quarter as the Blackshirts did not give up a point in the first 15 minutes. The Huskers had a chance to score in the red zone on fourth down, but Adrian Martinez came up short and turned it over on downs.
Michigan struck first in the second quarter hitting a 35-yard field goal following an interception from Martinez. The Wolverines almost scored the first touchdown of the game, but after review, the quarterback was ruled down. Michigan settled for a field goal and led 6-0 with three minute remaining in the half.
But before halftime, Michigan scored a touchdown with nine second left on the clock to lead 13-0 after two quarters.
Nebraska's offense came to life to start the second quarter as Martinez connected with Austin Allen for a 46-yard touchdown completion. This capped off a six play, 75-yard drive to cut Michigan's lead in half.
The Wolverines responded at the end of the third quarter with touchdown of their own. Hassan Haskins ran for his second rushing touchdown of the day. Michigan led 19-7 heading into the final quarter.
But with just under a minute remaining, Cade McNamara's pass was intercepted by Deontai Williams and returned for 20 yards to the Michigan 13-yard line. One play later, Martinez hit Levi Falck for a 13-yard touchdown pass. Martinez also tacked on a two-point conversion giving Nebraska the 22-19 lead heading into the fourth quarter.
Huskers would add another touchdown to the board when Martinez scampered in from five yards off reclaiming the lead, 29-26.
The Blackshirts made a huge stop forcing a 31-yard field goal from Jake Moody to tie the game with three minutes remaining.
A time game with Husker possession, but Martinez fumbled trying to reach the first down. Michigan's Brad Hawkins recovered and took it to Nebraska's 18-yard line. Wolverine's Jake Moody hit the game-winning 39-yard field goal with 1:24 on the clock.
Nebraska could not covert a first down with the clock winding down as Michigan won 32-29.
POST GAME NOTES:
With tonight's loss to Michigan, the Wolverines now own a 6-4-1 all-time lead in the series.  The teams have split the three games in Lincoln 1-1-1.
Nebraska dropped to 48-9 all-time in home night games, including 2-2 under Scott Frost.
Nebraska quarterback Adrian Martinez completed 18-of-28 passes for 291 yards and three touchdowns. His three touchdown passes tied Martinez's career high. He also had three TD passes against Illinois in 2018 and at Illinois in 2019. Martinez also tied his career high with four total touchdowns, as he added a five-yard rushing touchdown to give Nebraska the lead in the fourth quarter.
Martinez's 291 passing yards marked his 14th career game with 250 passing yards, tying Tommy Armstrong Jr. for the most in school history.
In addition to his 291 passing yards, Martinez rushed for 38 yards to account for 329 yards of total offense. It marked his eighth straight game with at least 250 yards of total offense, an ongoing school record. Martinez also extended his own school record with his 18th career game with 300 yards of total offense.
With his one rushing touchdown, Adrian Martinez tied Steve Taylor with the second-most rushing touchdowns by a quarterback in Nebraska history (32). Overall, Martinez moved into sixth place on Nebraska's career rushing touchdown list, regardless of position.
Running back Rahmir Johnson had a 43-yard reception on Nebraska's first offensive play, marking his career long reception. Johnson finished the game with six catches for 105 yards, including a 41-yard touchdown catch. He set a career high for receiving yards, bettering his 48 yards at Oklahoma earlier this season.
Johnson's 105 receiving yards marked the first 100-yard receiving game for a Husker running back since Maurice Washington had four catches for 118 yards and a touchdown at Colorado in 2019.
Tight end Austin Allen caught a career-long 46-yard touchdown pass on the first drive of the second half. His previous career long was a 41-yard catch at Ohio State in 2018.
Cornerback Cam Taylor-Britt had three pass breakups, setting a career high for PBU. His previous high was two breakups at Purdue in 2020.
Taylor-Britt also had a career-high 11 tackles, bettering his previous high of seven tackles against Ohio State in 2019.
Safety Deontai Williams intercepted a third-quarter pass to set up a Nebraska touchdown. It was Williams' third interception of the season and the fifth interception of his career. Williams has two of his five career interceptions against Michigan.
Linebacker Nick Henrich had a career-high 15 tackles in the game, passing his previous high of 12 tackles at Rutgers last season. It was Henrich's second double-figure tackle game of 2021 (11 at Illinois).
Defensive end Ty Robinson had a 13-yard sack in the first quarter to end a Michigan drive. It was Robinson's first career sack at Nebraska.
The Nebraska defense held Michigan scoreless in the first quarter and has allowed just seven points in the first quarter of four home games this season. The Huskers have allowed just 16 first-quarter points overall in seven games.
Punter William Pryzstup averaged 47.5 yards on four punts, including two punts of at least 50 yards.
Receiver Levi Falck had three catches for 31 yards, including a 13-yard touchdown. Falck eclipsed 1,000 career receiving yards in tonight's game.
Receiver Samori Toure caught three passes for 37 yards. He eclipsed 3,000 career receiving yards in tonight's game.